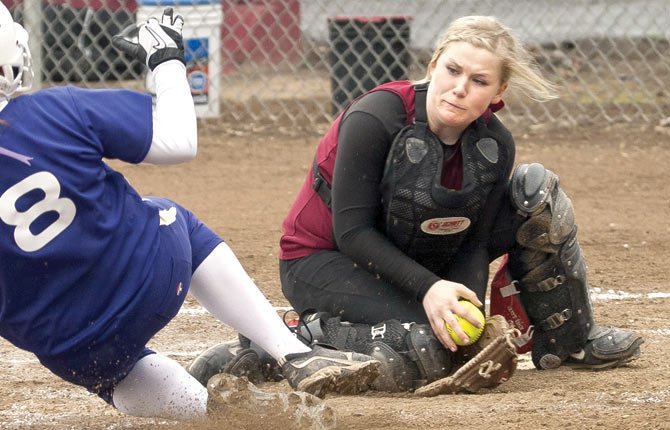 While there were plenty of memorable moments to highlight the first half of the 2013 calendar year, several athletes on all circuits stole the headlines.
Whether it is golf, track and field, skiing or coaches being recognized for years of accomplishments, communities from across the Columbia River Gorge have a lot to be proud of.
In just the third race of 2012-2013, The Dalles Wahtonka skier Eli Holeman captured his second win overall by dominating a field of 36 other Mount Hood League Skiing participants in a giant slalom event on Rams Head at Mount Hood Meadows.
Holeman's win, with a final mark of one minute and 7.07 seconds, put him in an elite class in the annals of TDW history, as he is the first boy's competitor to win a GS since the late 1990s.
On the biggest stage in front of their contemporaries, The Dalles Wahtonka swimmers Erin Nelson and Mika Hernandez both knocked it out of the park.
This dynamic duo grabbed top honors to go along with personal records, while Nelson completed the trifecta with a district record at the 5A Columbia River Conference district swimming championships at the Hood River Aquatic Center.

Against seven other competitors, Hernandez had splits of 32.19 seconds and 36.81 for her final marker of 1:08.96, a little more than one second ahead of Hood River's Rebekah Galvez.

Once she completed her 20 grueling laps in the 500-yard freestyle, Nelson stopped the watch in 5:46.85, shattering the previous record set by Danielle Miller (5:47.65) by more than one second.

After hitting times of 36.28, 36.46 and 36.43 leading up to her final lap, Nelson scorched the field with a 32.61 to seal her win.
The Dalles Wahtonka's sophomore ski standout, Holeman, scored his third consecutive victory and added the Mount Hood League's slalom title to his record on Ski Bowl at Mount Hood Meadows.
Through the opening run, Holeman got the jump on his foes with a time of 36.91 seconds.
Holeman's second run was just as hot and he crossed the line in 37.38 to finish with a combined 1:14.29.
Saturday at Marshall High School in Portland, Eric Morales, while wrestling at the 170-pound classification, scored four wins, two by pin to end up in fourth place for The Dalles Wahtonka's only state qualifier.

Morales squared off against Franklin's DeAnthony Hartley, and he won by a third-round pin to move to within one win of a state berth.
If he was going to do it, Morales had to beat Wilson's Nicholas Schachner.

This tussle lasted until the third round, but Morales pinned Schachner at the 4:55 mark to score his slot. At state, he ended up winning one match.
The Dalles resident Dakota Murr sank 18 of 25 free throw attempts and breezed through the field during semifinal action of the Knights of Columbus Free Throw Championships at Wy'East School in Mosier.
With his top performance, Murr qualified for the state free throw contest.
In his state run, Murr and his opponent, from Scappoose, earned berths in the 10-14-year-old age division and matched each other the opening rounds with a 22 for 25 effort from the stripe.
With both sessions added up, Murr sank 27 of 30, for 90 percent.
The Riverside Gymnastics Academy boys competitive team put up some top-5 scores and the level 4 team took fifth place out of a field of 15 at the John Lanz Invitational held in Beaverton on Feb. 2. with all participating team members contributing to the score.
Jaxon Pullen, Layne Ellison-Brown, Harry Proctor and Kayden McCavic each pulled their weight with Pullen bringing in the top all-around score of 57.8.
In their final regular season ski event, The Dalles Wahtonka boy's and girl's ski teams showed why they are a program to be reckoned with.
Both teams earned state berths, and the TDW boy's team had all four skiers finish in the top-11 to grab its second victory of the season at Mount Hood Meadows.
With Carsen Cordell out of the girl's ski lineup and senior Maya Barnard-Davidson disqualified after losing skis on her first run, a state berth for The Dalles Wahtonka girl's ski team rested on the performances of Bailey Cordell, Alyssa Carrico and Emma Ell-Smith.
Bailey Cordell made it through her attempt, and both Carrico and Ell-Smith put forth their top performances of the year in combining times for fifth place and a state qualification.
In March of 2013, one local coach, Steve Sugg, had his name called as part of an esteemed fraternity, as he was recognized for his dominant run of nine semifinal berths, six state championships and 300 wins in his career to earn the Oregon High School Coaches Association Hall of Fame honors.
"To all my former players and coaches, assistant coaches and volunteer coaches that have either played for me, worked under me or worked for me, they all play a part in that award," Sugg said. "Nobody can achieve all the accolades by themselves. You are only as good as the people you have around you. I just want to say Thank You to everyone that has been involved over the years."
Also on the diamond, The Dalles Wahtonka senior Dakota Walker, more than 11 months to the day from a diagnosis of Burkitt's Leukemia, got the starting call from manager J.R. Runyon to kick off the 2013 varsity season.
The right-hander faced 10 batters in his two hitless, scoreless innings with four strikeouts and one walk in the Eagle Indian's 4-0 loss in in Eugene.

"It was a pretty emotional moment for me actually," Walker said. "As soon as I set foot on that field, it let me know that I was actually better and over this thing. It just felt so amazing. Just to get back on the field after everything I had gone through was just so amazing."
Less than two weeks later, Walker flirted with a perfect game and faced two batters over the minimum in his eight-strikeout performance for a no-hitter to lead TDW to an 11-0 victory over David Douglas.
On the day, Walker forced the Scots into eight groundouts, eight strikeouts and three flyouts.
Back on the slopes, Maya Barnard-Davidson put the finishing touches on her solid career at the OISRA state championships with good performances on the Mount Hood slopes.
Barnard-Davidson competed in giant slalom and slalom events as well as the freestyle formats, with her best marks coming in the three-event freestyle.
She finished sixth overall in the standings with 476 points as she scored 166 in the half pipe for third place, 164 in Slopestyle, which chalked up her fourth place and 146 in the rail jump.
Barnard-Davidson later competed on a national stage against some of the best freestyle skiers in the United States for the 24th annual United States of America Snowboard Association Nationals at Copper Mountain.
Barnard-Davidson secured second-place recognition in her two tries on the Superpipe course and performed well on Slopestyle for eighth place in a successful two-event showcase.
Whether it was senior Aubrey Hansen or the new kid on the block, freshman Taylor Sugg, members of The Dalles Wahtonka's dance and drill team expressed elation at taking third place honors at the OSAA Dance/Drill State Tournament in Portland.
Since dominating the cheerleading platform for 12 state championships, including an impressive roll of a state-record 11 in a row, this marked the third season TDW had switched gears for dance and drill competition.
After enduring a sophomore season full of injuries, The Dalles Wahtonka track athlete Harris Farr entered this year with hopes to reach heightened potential when he is in full health.
Farr set a combined school record by soaring 22-feet, three inches in the long jump at the Mullen-Leavitt Invitational Track and Field Meet at Sid White Field in The Dalles.
In late May, Farr re-wrote the history books in his long jump event, as he traveled 22-5 to win a district title and set a new The Dalles Wahtonka combined school record from 22-3.
In late April of 2013, The Dalles Wahtonka senior catcher Katherine Kramer signed a National Letter of Intent after receiving a half scholarship to play softball at the University of Pittsburgh, where she plans to study to become a dental hygienist.
Riverside Academy gymnasts Audrey Hinatsu and Emma Smith were unbeatable at Oregon's optional gymnastic championship held in Eugene.
Hinatsu balanced her way to a first place on beam with a 9.575 and an all around fourth-place finish that scored 37.075 at level 8.
At level 7, Smith grabbed the gold on vault with a 9.25 as she turned in an all-around seventh-place score of 35.75.
The Oregon High School Coaches Association announced several year-end awards to athletes and coaches this past weekend on a festive night at Autzen Stadium in Eugene and two long-time coaches, Bill Caddy and Bob Thouvenel, received service awards for having coached for 45 years in a row.

The duo has coached for 43 years together, mainly track and field.

Six years ago in 2007, Caddy was named to the Hood River Valley High School Athletic Hall of Fame.
Fifteen years earlier, he hoisted his first OACA service award for 30 years.

In early June, Caddy decided to hang up his coaching whistle for good, retiring from the coaching ranks.
As a community fixture and leader of baseball in The Dalles, former baseball head coach, teacher and State-Metro baseball series director, Bob Brockman, will have the Oregon All-Star Series name its MVP Award in his honor.
Coming off all-league, all state and co-Pitcher of the Year honors in her senior softball season at The Dalles Wahtonka in 2012, Ann Marie Guischer, while playing for Mount Hood Community College, attained first-team all-league recognition, Pitcher of the Year and All-American status in leading the Saints to third place in the Northwest Athletic Association of Community Colleges classification.
Guischer amassed a 12-5 record with a 1.45 earned run average, while adding three shutouts.
The freshman phenom tossed 101 innings, struck out 151 batters and walked 50 in her 24 appearances.
She allowed two runs or less in 23 of her appearances, struck out 10 or more opposing batters five times and even added a no-hitter.
With a mish-mash group of softball players from The Dalles, Dufur and Hood River, the 18U Cherry City Crush softball team rebounded from a 0-3 record in pool play and reeled off four consecutive wins to secure first place at an open classification tournament last weekend in Aloha.
"The desire to learn, compete and the love of the game resulted in the success they achieved on Sunday," said Cherry City Crush head coach Bob Delaney. "These athletes really came together as a team this weekend."
In The Dalles Little League baseball play, Henry Lee induced the game-winning groundout to escape a two-out, two-on jam for the final out to give the Hampton Furniture Giants a 6-4 triumph in the majors classification of The Dalles Little League play at Kramer Field.
As the main sponsor of the Giants and many other teams through the years, Hampton Furniture has enjoyed winning title in four of the last five seasons.

On the minors' side, five players had two hits and pitcher Trenton Schacher tossed three innings of two-hit ball to lead the D-Backs to a 12-1 mercy-ruled win over the Pirates in a The Dalles Little League Minors Division city championship game at Kramer Field.
In two playoff games, the D-Backs amassed 25 runs in lopsided wins over the Pirates and Yankees.
Shelley Reynolds-Wacker notched first place as an individual and she was a major cog in a top quartet that cruised to first place in the net category during golf action at Skamania Lodge Golf Course in Portland.
Reynolds-Wacker, Amy McCormack, Karen Springer and Glenda King represented The Dalles Country Club and combined forces for a 114 for first place.
Also on the links, two strokes made the difference between the top two four-person teams at the 39th annual Sasquatch 4s Women's Best Ball event June 22-23 at The Dalles Country Club.
In this net tournament, Laura Hess, Stephanie Adams, Lori Harris and Bev Tuttle, representing TDCC, combined forces for a 255 tally to slip past Sharon Austin, Dixie Schanno, Gladys Caddy and Jill Durow, who shot a 257.