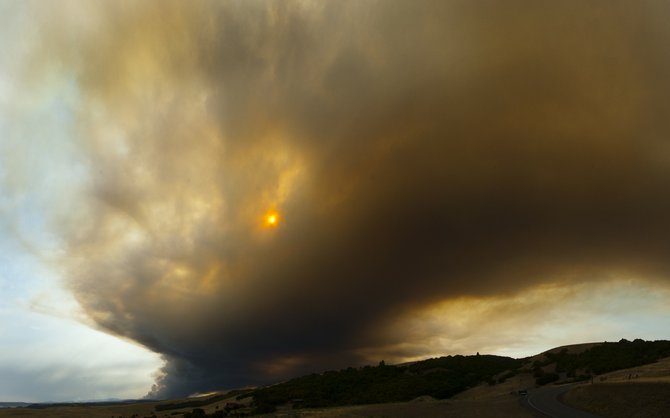 (Dates are the newspaper issue date.)
Jan. 15 – The Dalles Mayor Jim Willcox turned over the gavel to new mayor Steve Lawrence at The Dalles City Council meetings. Lawrence ran unopposed for the position vacated by Willcox.
Jan. 29 – Marion County Circuit Court Judge Dale Penn issued a ruling that moved a Walmart Super Center in The Dalles another step closer to reality. Citizens for Responsible Development in The Dalles had challenged the Department of Environmental Quality's approval of the company's development plan for the 150,000 square foot store on a 21-acre property near the Chenoweth Interchange, which the judge upheld.
Jan. 30 – The Dalles City Council approved a series of 3.44 percent rate increases in the sewer bill with two dissenting votes. Councilors Tim McGlothlin and Linda Miller voted against approval of the $1.45 per month increase that is followed by annual 3.44 percent hikes through March 2022.
February
Feb. 1 - The Dalles Main Street Steering Committee put forward a second attempt at taxing downtown properties to fund revitalization efforts. The plan levies an annual flat rate assessment of $250 per tax lot for a total of about $49,000 in revenue to cover executive director wages and promotional activities.
Feb. 7 – Searching for solutions to Wasco County's potential $700,000 shortfall in money to keep Wasco County roads passable, the new Wasco County Roads Advisory Committee is charged with advising county public works on road maintenance priorities, stretching resources and other roads-related issues.
Feb. 21 – Dan Ericksen, a "land use junkie," orchardist and former Wasco County commissioner and judge, sought county-level appointments to the commission twice before winning a governor's appointment.
Feb. 22 – The nonprofit Young Life is asking the Oregon Legislature for permission to expand its youth camp facilities in southern Wasco County. According to Linda Swearingen, a land us consultant and lobbyist for Young Life, the camps take up less than 1,500 acres of the 62,000 acre ranch, but Oregon's land use laws do not currently allow Young Life to expand beyond the Rajneesh compound's footprint.
March
March 1 - If you have a wireless tablet or laptop, or don't want to use up your data on your cell phone, you can still Google as necessary at the Columbia Gorge Discovery Center and Museum — and soon the same can be said at several parks. Google, Q-Life and Gorge Networks have been working with city officials to bring the high-tech service to the Discovery Center, Sorosis Park, Kramer Field and Riverfront Park. More wireless sites were added in the fall.
March 21 - Portland General Electric is bringing a shorter, retooled Cascade Crossing transmission project back before property owners and the public. Plans proposed in 2009 for longer, high-capacity transmission lines between locations near Baordman and Salem were scrapped for environmental reasons. The revised project now proposes to stretch a 122-mile, single-circuit 500-kilovolt transmission line between the Utility's Coyote Springs Substation in Boardman and a new substation in Pine Grove.
March 27 – A downtown business owner turned in enough signatures of opposition to stop The Dalles City Council from moving forward with a tax to aid The Dalles Main Street. Chuck Langley, owner of Columbia Wind Rider Inn, turned in signatures Tuesday of 46 people representing a total of 76 out of almost 200 tax lots that would be affect.
March 27 – For the first time in a decade, Northern Wasco County People's Utility District approved a schedule of rate increases in response to wholesale power increases from Bonneville Power Administration. The hikes are designed to generate 4.2 percent more revenue.
April
April 3 – The City of The Dalles is looking for a way to pare back costly street repairs by taking steps to preserve pavement before it deteriorates. Nolan Young, city manager, said about 46 percent of local streets need to be worked on after 10 years of deferring maintenance costs due to budget constraints.
April 17 – Erin Ford of The Dalles had already passed the finish line of the Boston Marathon, collected her belongings and headed to the underground train station when dual bomb blasts the afternoon of April 15 killed three people and wounded more than 140.
May
May 3 – Plans to hold a large music and art festival outside Dufur this summer drew criticism during a two-hour public hearing. Owners of neighboring properties encouraged the Wasco County Board of Commissioners to deny a mass gathering permit application from What the Festival, which is expected to attract between four and five thousand people to Wolf Run Ranch in July.
May 5 – Just as Oregon's Wildfire Awareness week gets under way, firefighters are hoping two simultaneous fires Friday, May 3 — one on Sevenmile Hill and another on Mill Creek — are not a glimpse of worse to come. Temperatures were in the mid-80s at around 2:30 p.m. when the first fire was reported.
May 9 – The Dalles City Council was chastised Monday for driving citizens to seek help from the legislature to lower the "unfair" cost of partitioning a lot. Landowners in The Dalles sought relief through the Oregon Legislature from fees for street improvements attached to partitions that could top $150,000.
May 10 – The Wasco County Board of Commissioners approved the county's first-ever outdoor mass gathering permit for What the Festival, the music and art festival planned at Wolf Run Ranch outside Dufur.
May 31 – The group known as Citizens for Responsible Development in The Dalles is appealing the May 10 wetlands permit issued to Walmart Stores Ind., that would allow construction of a new Walmart Super Center in West The Dalles.
June
June 7 – In a quick hearing June 6, The Dalles Planning Commission unanimously approved an application by Google to build a new building up to 80 feet tall at its data center campus.
June 11 – A fire that is believed to have been started Sunday by a careless smoker destroyed a home at 117 W. Eighth St. and damaged two other properties.
June 12 – The Dalles City Council invited residents to comment on a proposal to pay for repair of dilapidated streets with a 3 cent per gallon increase in the city's gas tax.
June 14 – An older single-wide trailer was destroyed by fire Thursday afternoon and investigators believe the cause of the blaze was a faulty electrical wire underneath the residence. Eight people were living in the trailer.
June 18 – A new nonprofit group, Friends of Celilo Falls, has lofty goals: to permanently lower the Columbia River, restoring Celilo Falls and its native fishery; and reconnecting Celilo Village to the river by rerouting the nearby rail lines and freeway to Washington. But barging interests said permanently lowering the Columbia River to expose Celilo Falls will never happen because barging is the most economical way to ship bulk items, shipping the same haul as hundreds of rail cars.
June 19 – With a stroke of his pen Monday, Gov. John Kitzhaber immediately lowered the amount of an assessment that can be charged in The Dalles for minor lot partitions to no more than $5,000. The Dalles Mayor Steve Lawrence said final approval of House Bill 3479 necessitates a broader discussion of the city's capital improvement plan.
June 20 – The U.S. Army Corps of Engineers has ruled that it will not study the potential environmental impact of having coal trains pass through communities along railroad lines on their way to three Northwest export terminals.
June 28 - Rural landowners in The Dalles and Hood River need to be on the watch for a beetle that not only infests pine trees but carries a fungus that will also plunder nutrients. The problem created by the California Fivespined Ips is something that can be partially controlled with careful stewardship, according to the Oregon Department of Forestry officials.
July
July 5 – A grass fire crept close to homes on Old Dufur Road July 4, but firefighters held the blaze at bay mere feet from some structures. Meanwhile, a major wildfire continued to burn along Major Creek west of Lyle.
July 7 – Wasco County flew flags at half-mast this past week for Allan "Al" Morrison, 64, a longtime veterans advocate and baseball coach, who died July 2 at his home in The Dalles.
July 11 - Commissioners for the Port of The Dalles unanimously approved a plan to develop the first stage of the North Chenoweth subdivision.
July 11 – A three-vehicle crash on Highway 97 and an accident on Hostetler Way in The Dalles resulted in a total of three fatalities on Wednesday. John Andrew Emilio, 72, died of injuries sustained in an accident with a Ford van at West Sixth and Hostetler Way, while the other driver, Victor H. Hernandez, 23, of Beaverton, was taken to Mid-Columbia Medical Center. Meanwhile, a multi-vehicle traffic crash on Highway 97 between Kent and Shaniko resulted in the deaths of two people.
July 11 – The City of The Dalles will keep Fluoridating part of its water supply despite accusations by opponents that it is immoral and illegal to "mass medicate" citizens.
July 12 – The Dalles City Council has tabled — for now — asking voters in November to approve a 3 cent per gallon increase in the city gas tax to pay for street improvements.
July 18 – Columbia Gorge Community college has completed its seven-year journey to achieve independent accreditation.
July 24 – The seventh architectural rendering of a hotel next to the historic Granada Threatre was shown Monday to the Columbia Gateway Urban Renewal Agency. The agency granted an extension until year end to Rapoza Development on its project to revitalize a downtown The Dalles block with a new hotel complex.
July 25 – Wildfires near Warm Springs, Goldendale and Maupin closed facilities, disrupted transportation routes and caused plenty of damage.
August
Aug. 2 – A post-mortem of this year's What the Festival shows mixed reviews from locals who were affected by the 5,000-person music and art festival held at Wolf Run Ranch outside Dufur.
Aug. 20 – Smoke blanketed the central part of town Tuesday morning after the lightning-caused Government Flat Fire Complex grew to 6,725 acres, threatening homes south of The Dalles.
Aug. 28 - A couple out celebrating the wife's birthday came home Saturday evening to a house filled with smoke. The smoke and water damage is such that the house is unliveable and the contents are destroyed.
Aug. 30 – Sherman County District attorney Wade McLeod is coordinating a multi-agency investigation into a shooting where an Oregon State trooper was injured and his apparent assailant killed along Interstate 84 near Rufus Thursday, Aug. 29. The trooper sustained a minor wound to his side. John Van Allen, 34, of Portland, was killed. McLeod later ruled the shooting by the trooper justified.
September
Sept. 3 – Obituaries appeared for two community mainstays, Janice Staver and Fay Pishion. Staver was best known in The Dalles as an accomplished artist and musician. Pishion maintained agricultural traditions through a passion for driving draft horses in the Dufur Threshing Bee and other events.
Sept. 4 – The day after Wasco County Circuit Judge Janet Stauffer exonerated a teenage rape suspect last week of all charges, Wasco County District Attorney Eric Nisley began taking steps to stop her from hearing any new criminal matters from his office. In more than 55 motions filed to-date with the court, involving 41 defendants, Nisley wrote the state "has the good faith belief that it cannot have a fair and impartial trial or hearing before the judge." An agreement between the two parties was brokered by Presiding Judge Paul Crowley later in the month.
Sept. 20 – The City of The Dalles and Wasco County have negotiated an agreement with Google to provide the company with millions in tax breaks in exchange for a long-term investment in public services. Google will invest $600 million in the new data center, three times the requirement for a tax break.
October
Oct. 17 – A The Dalles city police officer who was shot and wounded by a fleeing person of interest in a rape case returned fire, killing the man Wednesday night in Wishram. Klickitat County authorities later ruled the shooting justified.
Oct. 22 – The historic Hudson House sustained about $100,000 in damage following a Sunday evening fire that started in an upstairs bedroom. The four occupants got out safely.
Oct. 23 – The top administrators at Mid-Columbia Medical Center were found not guilty of negligence in a jury verdict rendered Wednesday evening — but the hospital was directed to pay $2.4 million in damages to three former patients who were sexually abused by a former anesthesiologist who was a contract employee of the hospital.
Oct. 24 – Department chairs and other faculty members of Columbia Gorge Community College have given a "no confidence" vote to the college's president, Dr. Frank Toda, saying faculty is underrepresented and criticizing the hiring process for the administrator who works closest with faculty.
Oct. 31 – "Sports as a business is something that we need to pursue, said The Dalles Mayor Steve Lawrence, announcing the formation of a special committee to help develop a Bicycle Master Plan.
November
Nov. 6 – Hugs, tears and laughter filled the Wasco County Clerk's office Tuesday night at the news Measure 33-80, a $3.7 million bond measure to replace the decaying Ted Walker Pool passed by a 20 percent margin.
Nov. 14 – Donald M. Hall, longtime community activist with The Dalles Traffic Safety Commission, The Dalles Rodeo Association, Lions Club and Mid-Columbia Medical Center, among others, died Nov. 30.
Nov. 19 – Funds paid to local governments by Google for its new construction will directly lead to more new construction — by Mid-Columbia Fire & Rescue. A one-time payment to the fire district will help remodel the district's currently unused station 2, a four-bay fire station at Columbia View Heights.
Nov. 21 – The Sherman County school board dismissed its interim district Superintendent Dr. Brian Metke on Nov. 20. A statement to the press said the board of directors had "unanimously voted to terminate [his] contract without cause."
December
Dec. 19 – Liquor could soon be available on grocery store shelves, if Oregonians for Competition can gather enough signatures to bring a ballot measure before voters in November 2014. But Mark Freeman, co-owner of the liquor stores in The Dalles and Hood River, said lower prices and greater economic vitality were the promises made to Washington voters in 2011 — but that didn't turn out to be the reality.