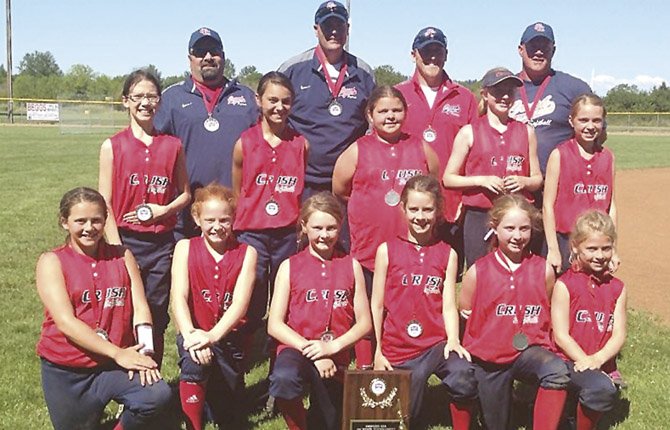 If the first half of the 2013 calendar year gave us a good glimpse at the level of talent across the gorge, the second half provided fans with enough highlights to fill a trophy case.
TD's 11U Little League All Stars came away with a dramatic 4-2 victory to punch a championship ticket in Bend.

After a gutsy 4-2 win over Bend South vaulted the 11U group into the championship game, the huge task was to claim consecutive wins against Bend North to punch a state tournament ticket.
The Bend North squad took control early on and never looked back, as it scored four runs apiece in the first, second and third innings to secure title honors with a 13-2 mercy-ruled win in the series finale at Lava Ridge School in Bend.
The baseball Gods were smiling from above Bob Williams Field on a picturesque afternoon as friends, fans, family, colleagues and ex-players memorialized the life and career of Allan 'Al' Morrison – a former The Dalles High School pitching great, who passed away on July 2 at his home.
Entering the ASA state softball tournament, the defending 2012 12U champion Cherry City Crush had a target squarely on their backs, this time on the 14U circuit.
In a two and a half day span, the Crush scored 50 runs and amassed a record of 7-2, but lost to North Medford by a 10-2 marker in their tourney finale to secure fifth-place honors in Hillsboro.
Head coach Leroy Tharp compared this 10U Cherry City Crush state performance to the movie, "Hoosiers."
The Crush came back from an early loss to win three games in a row to earn a spot in the championship game against the Reynolds Rainbows, losing 5-2 to chalk up second place in the 18-team field.
It was one of the best finishes by the 10U program in recent memory.
For the first time since 2010, the 15U Babe Ruth All Stars hoisted a state championship trophy.
And they did so in an impressive way.
The Dalles finished tournament play with a 6-0 record, capping their successful week in Baker City with wins of 9-2 and 8-5 in the final two rounds of Pacific Northwest State Baseball action.
In 40 innings, they racked up 71 hits, scored 61 runs and won every game by an average margin of 7.16 runs.
Jason Pridie, son to 1973 Wahtonka High School graduates Cathy Carleton and Keith Pridie, was named to the International All Star team for play in Reno, Nev.
The younger Pridie plays for the Norfolk Tides, a Triple AAA affiliate of the Baltimore Orioles.
The 29-year old Prescott, Ariz. High School graduate is batting .307 with 20 home runs, 20 doubles and 38 RBIs.

Entering the Pacific Northwest Babe Ruth Regionals in Jerome, Idaho, the task was going to be tough for The Dalles' 12U Softball All Stars.

This team, coached by the trio of Dawn Marie Hert, Steve Byers and Dawn Sallee-Justesen amassed an 0-4 record, but still managed to earn a spot into the championship bracket, where they lost in the finale.

The Dalles Wahtonka graduate Damian Telles had been dreaming of this moment for a long time.
Telles sank five birdies on the front nine and battled back from a first-day deficit to secure a three-stroke triumph for his first professional victory on the G Pro Tour in a Series 6 Golf event at Raintree Country Club in Charlotte, NC.

The Dalles resident Ann Goodman lives in the water. As a former collegiate swimmer, she has been swimming since 11 years old, calling herself an aquatic person at heart.

Goodman put herself to the test in the Cascade Lakes Open Water Series at Elk Lake from Aug. 2-4 and finished in first place for the age group of 50-54 in the longer series of events – the 3k, 1,500 meters and 5k.

Earning 200 wins is no small feat for a head coach. When pondering the thought of such an achievement, Dufur coach Jack Henderson was quick to defer all of the credit to those surrounding him in 27 years.

It has been a collaborative effort.

"Sometimes I look back on things and it seems like 27 years has taken 20 minutes," Henderson said of his career-building accomplishment. "It is my 200th win, but it is not, it is the Rangers' 200th win under me. There is a reason for 200 wins and it is not because I am a great coach. It is because I have had the privilege of coaching great kids coming from great families, working in a great school district with great assistant coaches through the years. It has been fun."

Somewhere up in the skies above, Bridgette Nelson was smiling.
The Dalles Wahtonka Cross Country team completed a clean sweep with wins in the boy's and girl's classification for the 22nd running of the Nelson Invitational at Sorosis Park in The Dalles.
Later in the season, the varsity girls had five harriers end up in the top-13 and both Maddie Wood and Emily Morin notched final times of less than 22 minutes for the first time this year at the Runner's Soul Cross Country Fest on a hot day in Hermiston.
"It was an outstanding effort by our five varsity girls," said TDW head coach Bob Thouvenel. "I believe that is the first time girls or boys have won this meet."
Blessed with depth and talent, there has always been the belief that The Dalles Wahtonka girl's cross country team is a group on the rise.
They realized their potential with five harriers ending up in the top-13 for a second-place team finish to chalk up a state berth this past weekend at the Columbia River Conference 5A district meet at McKay Park in Pendleton.

Even through monsoon rain conditions, hundreds of community members from across the Columbia River Gorge made their way to Sid White Field Saturday in a show of support for Donovan Doroski and Kadee Herrington in the 11th annual Pig Bowl.
Just a shade less than $30,000 was raised, until a last-second donation from an anonymous source made it possible for both recipients to receive a check for $15,000.
When putting together this esteemed group of golfers, The Dalles Country Club had its eyes on rising to the top.
Turns out, those initial prognostications were right on cue, as the 12-member team hit their drives straight and kept the scores low in grabbing top honors over the Hood River team after two days of action at the two-day Gorge Cup.
Each of these teams was comprised of members from TDCC and Indian Creek Golf Club for play on each team's home course on Sept. 28 and 29.
With a point for each match and a total of 36 points available, The Dalles Country Club team captured 21 points to Indian Creek's 15.

The 12 members from The Dalles were Dale Griffiths, Ray Shepherd, Pat Martin, Fred Stampflee, Pete Kelly, Tom Krueger, Dan Telles, Ron Krol, Dave Link, Bob Fimple, Bill Sallee and Jim Ferrer.

For the first time as youth gridiron athletes, 19 sixth graders representing The Dalles Youth Football League participated in a pair of exhibition games versus teams from La Grande and Hermiston, and put forth a promising performance for what could be a bright future in middle school and beyond.
Just some of the names to sign up for an extended season were Josue Quintin, Trenton Schacher, Mac Abbas, Mercy Iaulualo, Dalles Seufalemua, Sam Thalhofer, Hayden Pashek, Miguel Torres, Zac Bullock, and Xavier Orion-Olaez.

Up until this point, most of these players had previously been dispersed between three fifth-and-sixth grade squads all season and have never been given an opportunity to play as a complete unit of combined stars.
Blane Turner-Denley, Ophath Silaphath, Mac Cope, Jacob Buell, Caden Mathisen, Gio Avila, Michael Armstrong, Ben Nelson and Asa Farrell put their skills on display on the gridiron as well.
For the second time in the past three years, the Dufur volleyball squad ended its season with a win.
Although the long road of twists and turns did not end in a championship, there is much to be said about the accomplishment of earning third place honors after a four-game victory over Country Christian at the OSAA 1A State Volleyball Tournament in Redmond.
There are a select few individuals in the officiating world who can stake claim to winning the highest honor amongst their brethren.

Paul Bish has that distinction, and so does Bob McFadden.

Now add Amanda Payne to the list.

Payne, out of Wasco, was awarded the Oregon Athletic Officials Association Volleyball Official of the Year award last Saturday in Redmond.


Not one to over-hype the notion, Payne said she was very humbled by the award received, as she is not accustomed to the notoriety.

"There are so many great officials throughout Oregon that have been officiating a lot longer than me that deserve this award," Payne said. "It is a great honor."

Riverside Gymnastics is talkin' turkey.
The local academy, out of The Dalles, took second and third place team trophies at the Northern Sectional meet in Hillsboro.
And qualifying 25 athletes for state… that was all gravy.
Blessed with so many intangibles needed to build a championship team, TDW senior Emily Bailey was offered a full scholarship to play hoops for the Division II Colorado School of Mines Orediggers.

Bailey was not the only local athlete to vault into the upper echelon of collegiate performers.

Oregon Tech head softball coach Greg Stewart announced that Mount Hood Community College's All-American pitcher and The Dalles Wahtonka graduate, Ann Marie Guischer, would join the Oregon Tech roster for the 2015 season.

Guischer is currently in her second season at Mount Hood Community College and will transfer in to Tech as a junior.

It was a historic night Saturday for the South Wasco County Redsides.
Sophomore guard Travis Hayes drilled 11 3-pointers for a career-high 37 points, and the Redsides sank a program-best 19 3-pointers to set a new school record with 104 points in a 104-45 victory over Culver in the Culver Boy's Basketball Holiday Tournament championship game.
Never in his wildest dreams did The Dalles Wahtonka senior Kauone Sefo believe he would be part of an esteemed fraternity of all state football players.
The TDW linebacker not only achieved consideration as the Columbia River Conference's first team all league class as a linebacker, but he had his name call as the 5A classification's all state honorable mention for his play at linebacker.

He is the first Tribe gridiron player to earn this distinction since the 2010 campaign.

Alexa Macias, Teneille McDonald and Taylor Darden were linchpins for success this season as leaders of the Dufur volleyball program.
It is through their due diligence on and off the court that the Lady Rangers were able to win 31 matches and finish in third place at the OSAA state tournament.
That trio was recently named as part of the 1A all-state team, as voted on by coaches.
For the second time in as many years, Darden picked up a first team selection, while Macias and McDonald had spots on the second squad.
Before that trio added their names to the all-state list, another gridiron trio from Sherman and Dufur were recognized for their solid season on the football field.
Sherman's Brian Simantel had the distinction of being named as an all-state recipient on both sides of the ball with second team recognition as a guard to go with an honorable mention selection for his defensive line play.

He was also selected to play in the annual eight-man all-star game later this year as a starter.

For Big Sky Conference champion Dufur, it was a breakthrough season for a football squad that won eight games and advanced to the second round of the state playoffs.

Cole Parke and Austin Olson were honored for their efforts with each recognized as honorable selections on both defense and offense, as Parke was picked as a defensive back and Olson for his work put in for the offensive line.
Three runners representing The Dalles – Jony Nelson, Emily Morin and Avery Cardosi – finalized their winter cross country campaign last weekend at the 2013 Junior Olympic Cross Country Nationals in San Antonio, TX with some good results put up versus some high-end competition.
Morin had the best finish of the trio with 60th place out of the field of 152 harriers, and Cardosi was right behind her in 65th place.