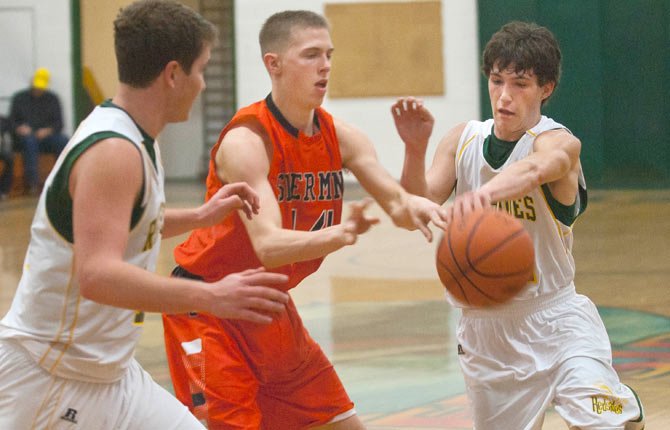 Whenever Sherman and South Wasco County do battle, moments are tense and each possession is fought for with great passion.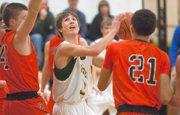 The Redsides surged forward with a 10-point fourth quarter lead, and needed some big plays down the stretch to pull out a 71-68 victory in Big Sky Conference boy's basketball action Friday in Maupin.
"We did exactly what we had to do tonight," said SWC head coach Jim Hull. "We hit the shots when we had to and we had a little luck. Every game has that mixture. I expect every game in our league to be extremely tough. It showed us that we would be in for a hard-fought 32 minutes of basketball, so we need to be better prepared for that."
With the Huskies down 69-64 with one minute and nine seconds left in regulation, the Redsides missed a shot and Sherman gained possession.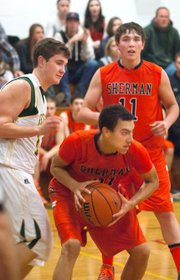 However, they gave the ball right back after a turnover with 53 seconds left.
Sherman then committed fouls in an attempt to put the Redsides on the free throw line.
The tactic appeared to work, as SWC missed a front-end free throw with 31.1 left on the watch.
Sherman freshman Max Martin rattled home a 3-point basket with 12 ticks left on the watch to draw his team to within a 69-67 deficit.
On their next possession, the Redsides threw the ball out of bounds to give the ball back to Sherman with time running out.
After a mad scramble, Sherman drew a foul and had two shots from the free throw line with 7.3 seconds remaining and a chance to tie the score.
The Huskies managed just 1 of 2 from the line to make it 69-68. SWC sophomore Travis Hayes added two free throws to swell the Redside lead out to 71-68.
With no timeouts left, Sherman tried to inbound the ball, but Hayes swiped at the ball and knocked it away as time expired.
"I think the biggest part this team showed me is that we have grit to battle back when things get down," said Sherman coach Bill Blevins. "At one point, I think we got down by 12 points with five minutes to go. We could have hung our heads and we could have packed it in right there, but we didn't. We battled back. We picked up the pressure on our end and created opportunities to come back to win or tie the game. Our shots just didn't fall for us."
David Ocacio led all scorers with 32 points, including nine of the team's 13 points in the fourth quarter.
Hayes tacked on 21 points and Loreto Morelli 10 points, as SWC sank 28 baskets, 11 from 3-point territory and went 4 for 5 from the line.
Sherman hit 30 field goals, two from long distance and went 6-11 from the free throw line.
Austin Kaseberg dropped 27 points, 23 coming in the second half and 15 in the final frame.
Isaiah Coles scored 16 points, Nick Coleman notched 10 points and Martin was good enough for eight points.
"It is good to play in games like this because it builds on our experience early on," Ocacio said. "When it comes down districts and stuff, it can be easier to handle. When we can show that we can handle those situations, it will make things easier for us. We still have a lot to work though, but I think we are doing pretty well so far."
Both teams were in action Saturday.