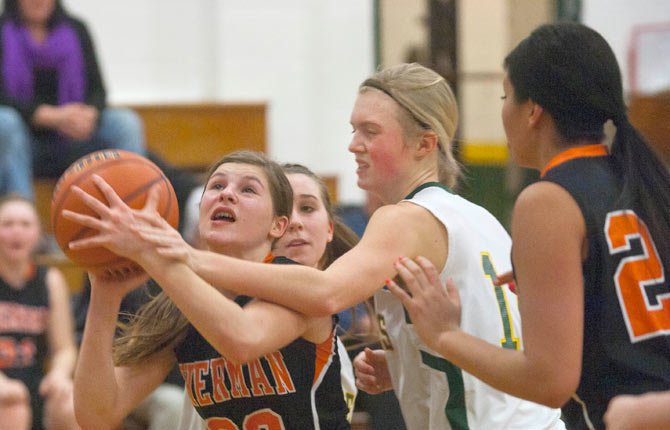 Just as it appeared that the Sherman Huskies were about to run away with a lopsided road win, the South Wasco County Redsides stormed back with a 17-10 run in the final eight minutes to secure a 38-33 girl's basketball win in Friday's Big Sky Conference tussle in Maupin.
In the fourth quarter, the Redsides answered every Sherman basket with a basket of their own.
Kyra Shannon drilled a jumper with three minutes and 56 seconds left in the fourth quarter to move the Redsides to within a 30-28 deficit.
On Sherman's next possession, Katie Poirier hit a layup, but then SWC center Zoe Morelli netted a rebound and a putback to make it 32-30.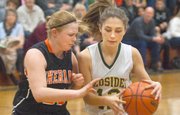 Sherman had an opportunity to add to its lead, but missed two free throws with 2:50 left.
After a Redside turnover, the Huskies missed another two free throws with 2:07 left to keep it a 32-30 advantage.
SWC forward Molly Foreaker evened the tally at 32-apiece with a jumper, but on Sherman's next time up the floor, the Redsides had a stop to gain possession with a chance to take the lead.
Joy Kelly did just that, as she retrieved a pass from Morelli and tickled the twine from 15-feet to move the Redsides in front by a 34-32 tally with less than a minute left.
In the next three possessions, Sherman had a miscue, but SWC gave the ball right back, before the Huskies had an over-back called to put the Redsides in a prime spot to add to its lead.
However, Sherman point guard Andie Harrison stole a pass and soared all the way to the basket for the tying layup, but was fouled.
The Husky senior hit on 1 of 2 free throws with 18.5 seconds left to draw her team to within 34-33.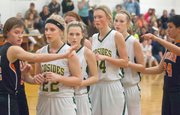 On the ensuing inbounds pass, Kelly broke free from the pack, hauled in a pass, and laid in a basket and she was fouled to make it 36-33 with 14.8 ticks on the clock.
Kelly missed the free throw, and Sherman had two scoring opportunities clang off the iron.
Roxanne O'Neal then drained a pair of free throws with 1.1 seconds remaining to secure the comeback triumph.
In all, Sherman hit 13 field goals and went 7 of 17 from the line, as Harrison led with 10 points and Janet Guzman dropped nine points. Poirier poured in eight points, and Brittney Orendorff and Meagan McKinney scored two points apiece.
"The girls played hard, but South Wasco County executed better down the stretch than we did," said Sherman head coach Steve Kaseberg. "We will learn from this game and be better for it."

For the Redsides, Morelli notched 12 points, and the duo of Foreaker and Kelly added eight points apiece.
"It was good to come out and play like we did to win our first league game," said SWC guard Peggy Espeland. "We played pretty good and we all played together."
In addition to the top trio, Espeland, Ally Mulheman, Shannon, Sonya Schmitz and O'Neal tallied two points each for the Redsides, who had five different players hit field goals and six score points, as part of the 17-10 run.
"It helps when we get every girl on the team doing everything they can to help out," O'Neal said. "We had girls hitting shots and making plays at important times. We have a well-rounded team and once girls get more comfortable in their roles, I think we are going to see more of that."
Even after a sluggish start where Sherman used runs of 6-4 and 9-7 in the first two quarters, O'Neal said her team never lost faith that they could shake the cobwebs and stage a resurgence.
"Something that we have been learning a lot this year is that there is always hope," she said. "As long as we push ourselves, we can be a good team. Believing you can win is the first step to winning. We kept in mind that we could do this. We trusted in each other as much as we could. It is a huge win for us and we are excited. Every win is a good one. Now we have to focus on building on each game."
Sherman (4-6 overall, 0-1 league) travels to Condon Friday for a 6 p.m. tilt, while South Wasco County (5-7, 1-1) heads to Ione for another Big Sky contest at 6 p.m. Friday night.