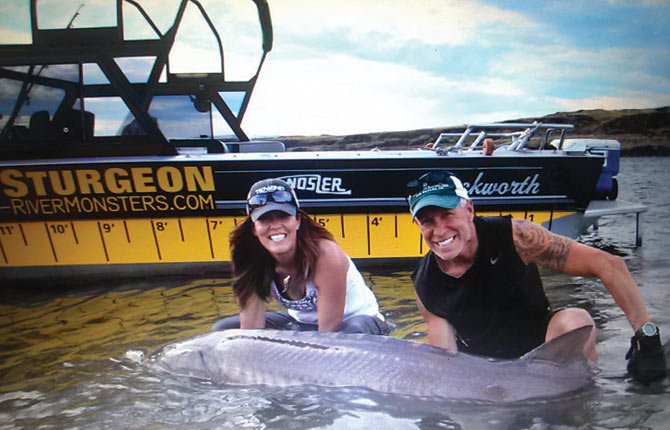 The monsters that dwell at the bottom of the Columbia River around The Dalles will be featured on the Sportsman Channel's "Skullbound TV" starting Jan. 8.
Fisherman Greg Gustafson's Sturgeon River Monsters took hostess Jana Waller on the hunt for big sturgeon, filming the entire segment around The Dalles. The show will air at 5:30 and 8:30 p.m. Wednesday, Jan. 8, and repeat later in the month.
"Her show has really taken off and she's been nominated as one of the best for the past two or three years," Gustafson said. "She found out about me through a hunter friend who took her hunting outside Heppner. She saw pictures of sturgeon and called to ask if she could do it."
Gustafson said he promised Waller at least one fish over 9 feet. She had been sturgeon fishing before with less spectacular success. He said through one morning and one afternoon fishing, they pulled in multiple fish of that length each day.
"The last fish of the day was 11 feet — she was absolutely thrilled," he said.
The fish was also one of the most challenging to pull in.
"That fish was so smart, it got hung up five different times on rocks," he said. "Fish are like people; some people are tougher than other people. This fish was amazingly tough."
Gustafson's daughters, Mandi Fitzgustafson-Williams and Heather Fitzgustafon, are regular hands on his fishing trips and were aboard for this trip. "They've been fishing with me since they were kids," he said. "Literally, between them they've caught hundreds of the large sturgeons."
Gustafson recently passed all of his Coast Guard classes and other tests to become a professional guide. He plans to start guiding in May.
He has also filmed segments with other programs that should be airing later in the year.