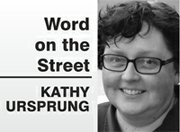 Was The Dalles economy on the upswing in 2013? A snapshot of all the moving and shaking of the year past might suggest yes
It's that time of year again, when we take stock of the business year that was. As is occasionally the case, we may have missed someone or something in our limited business page space.
If your event or activity falls in that category, give me a call and The Chronicle can either add it to the list of stories we've already published or get rolling with stories we haven't.
You can reach me at 541-506-4601 or kursprung@the
dalleschronicle.com.
New on the block
Jan. 9 – Water births are a new option to help relax and ease pain through Columbia River Women's Clinic and First Impressions at Mid-Columbia Medical Center.
Jan. 16 – Mother and daughter Dee and Kacie Davidson have launched Gone Country, offering western-themed merchandise.
Jan. 30 – Jim Wiles opens a Great Clips hair salon in The Dalles as part of his franchise, aiming to marry easy online access with service.
Jan. 30 – Family members make up the staff of the new Tacos Del Rio, owned by Renaldo Cruz Sr. and Jesus (Jesse) Alva. The new restaurant at Fourth and Union streets includes cheerful murals inside and out done by family members.
Feb. 6 — Alex DeVlaeminck and his Tuff Wash are in the super-clean business. DeVlaeminck runs a mobile pressure-washing and steam-cleaning business in The Dalles.
Feb. 20 – Andrew J. Myers joins the legal firm of Thomas Peachey PC.
March 13 – A Kidz Dental Zone opens its new The Dalles office providing strictly pediatric dentistry.
March 13 – When Kim Salvesen talked about purchasing Windermere Glenn Taylor Real Estate in The Dalles, she talks about bringing a family back together. The purchase reconstitutes the four real estate offices once owned by Taylor in The Dalles, Bingen, Hood River and Stevenson, and later sold to separate owners when Taylor retired.
March 20 – Kristin Klindt and Joaquin Perez are the newest husband-wife team to take ownership of Klindt's Booksellers and Stationers in The Dalles. Klindt is the niece of the late Phillip and Linda Klindt, who owned the more than 140-year-old store through most of the past three decades.
April 3 – Odyssey Tours by Liz opened for business in Dallesport and owner Liz Clark offers to design travel experiences catered specifically to the wants and needs of the client.
April 17 – Carlos and Socorro Quezada want to help downtown The Dalles grow with their new restaurant, La Cabaña.
April 24 – Laura and Dan Berkovich of The Dalles recently launched JD Audio, specializing in custom audio installs and auto security.
May 1 - Lindsey Shouse wants to help people capture the special moments and milestones they want to remember forever. Shouse launched "That Good" Photography at 502 Washington St. in The Dalles.
May 1 – Oxarc celebrated its opening at 900 E. Third St. in The Dalles. The company sells welding and industrial supplies, fire equipment, and more.
May 8 – Fresenius Medical Care North America celebrated its grand opening, which marks the first time a dialysis clinic has been based in The Dalles.
May 15 – The largest Verizon Premium Wireless Retailer in the United States, the Cellular Connection, launched its first store in The Dalles with a grand opening event.
June 9 – There's more going on in those old upstairs rooms of The Dalles than most people might think, say the investigators of the Gorge Paranormal Society, a new business offering ghost tours through some of the city's historic buildings.
June 12 – Redline Tactical, LLC, opened recently at 213 E. Third St., selling guns and related equipment, ammunition and services.
June 19 – A group of seven long-time The Dalles-area real estate brokers joined together to create a local branch of the Copper West Properties firm based in Hood River. Dennis Morgan, Keef Morgan, Bob McFadden, Bob Smith, Carolyn Layson, Bonnie Long and Jim Rodey are the brokers involved.
June 19 – Molly Donnell has joined Windermere Glenn Taylor Real Estate as a broker in The Dalles.
July 24 – Rachel Collins is the new veterinarian at Columbia Veterinary Hospital in The Dalles.
July 31 – Lacey and Colter Bolton are now welcoming guests for tastings at the new 15 Mile Winery.
Aug. 7 – The foundation is already in place for the first house going up at the Gorge Vista housing development in Rufus. Groundbreaking took place Aug. 6, with developer John Schmidt inviting the family who will be its first residents as well as Rufus and Sherman County officials.
Aug. 21 – Flyfishing fans of all styles and skill levels, or no skill level at all — yet — are welcome at the new Flyfishing Strategies Fly Shop, says owner Paul Anderson.
Aug. 28 – The Wamic-Pine Hollow area has welcomed a new family and business, ABC Diesel, to the community.
Aug. 28 – Firefighters from all over the state and even Canada converged on The Dalles last week to help fight the Government Flat Fire Complex, but one fire crew had a bit of a head start. Steelhead enterprises is based right in The Dalles and was able to respond to the call for fire crews within an hour of getting the call Friday, Aug. 16 and were battling the flames that very night.
Sept. 11 – Jose "Joe" Morales has been in the construction business since age 18, and since moving to The Dalles several months ago, he has begun offering those services as a handyman to local residents.
Sept. 18 – Community Bank has announced the opening of a new loan office to serve the Columbia Gorge at 320 E. Fourth St. in The Dalles.
Oct. 9 – A brick red school bus with a cast iron grill in tow is how to identify the new Skyline Grill, owned by Jesse Brewer, which has set up shop on West Second Street in the lot opposite The Dalles Area Chamber of Commerce.
Oct. 16 – The Healthy Weight and Treatment Center, headed by Dr. Miriam McDonell, aims at helping those struggling with excess pounds with a variety of tools to help them achieve a healthy weight.
Oct. 23 – Bryan LaRoque has put his 38 years of woodworking experience to use on a small scale, building Growler Holsters to transport craft beer growlers.
Nov. 6 – The Dalles Main Street has a new face at the helm; New Hampshire native Matthew Klebes will be serving as the downtown program's coordinator for the next 11 months.
Nov. 13 – Look for a new face, new hours and new activities at Breezeway Antique Boutique. Terry Lee has joined Marti Hunt as owners of the antiques and collectibles shop in downtown The Dalles at 313 E. Second St.
Nov. 13 – Jeweler Adam Ungar has joined the staff of J.D. Smith Jewelers in The Dalles.
Transitions
Feb. 13 – La Clinica del Carino Family Health Care Center, Inc., is changing its name to One Community Health as a way to better reflect the organization's mission.
Feb. 20 – Shawn McCleary is retiring the Creative Cottage, her business of 18 years to focus more of her attention on Cottage Café.
March 15 – Discover Development was given the go-ahead Monday to purchase the Sunshine Mill Winery property and continue with improvement plans.
March 27 – Ten years after it first opened in The Dalles, Studio Hair and Nails is celebrating the grand opening of its new location, 1008 W. Sixth St. in The Dalles. Owners Henry and Kathleen Tran purchased the building formerly occupied by the Habitat for Humanity ReStore.
April 10 – Preparations are under way to install six more brine ponds on Oregon Cherry Growers property just north of the Sunshine Mill and the railroad tracks, said Tim Ramsey, Oregon Cherry Growers' new president and chief executive officer.
April 24 – The North Central Public Health District wished a fond farewell to Glen Pierce, who retired from his longtime role as supervising sanitarian at the health department.
May 15 – John Coats, an 18-year veteran of financial services and planning with New York Life Insurance Co., has joined forces with David Jackson of Camas to form the Coats Jackson Financial Group.
May 29 – Greg and Francie Mengis are moving Mengis Vacuum Sales and Service out of its longtime storefront location at 305 E. Second St., but will continue to service vacuums and sewing machines for their regional customers.
July 3 – Canyon Rim Manor Assisted Living in Maupin changed hands. White River Health Living Inc., led by Deanna McDowell, originally developed and built the 18,000-square-foot community. The new owner, Maupin Senior Living, LLC, officially took ownership July 1.
July 3 – Windermere Real estate in the Columbia Gorge has established an affiliation with Property Management The Gorge, according to an announcement by Kim Salvesen, owner of all four Windermere offices in the gorge.
July 10 – Mid-Columbia Medical Center and Oregon Health and Science University are making plans to align medical and administrative services to improve efficiency and expand access to care.
July 17 – Guardian Real Estate Services officials and their invited guests celebrated the post-renovation grand re-opening of Sunrise estates in West The Dalles July 11. The complex now includes 20 new units and upgrades of existing units.
Aug. 14 – The Springs at Mill Creek senior living opened the first 18 of 25 new memory care residential units in The Dalles.
Sept. 4 – As the signs in its windows suggest, The Dalles Furniture is going out of business and owner Bonnie Jones is retiring. "I'm just very thankful for the many years people have come in and bought furniture from us," Jones said.
Sept. 18 – Daniel and Lori Bonham, owners of Maupin's Stoves-N-Spas, are making an investment in downtown The Dalles. The couple closed last week on purchase of the former Turner Furniture building and have been busy clearing away the interior structures to make way for a big, open showroom.
Sept. 18 – Norco Medical Supply is planning a move at the end of the month. The company has purchased the former Barry Rents Building next to Dairy Queen.
Sept. 25 – Romuls Restaurant is taking on new owners and adding new cuisine to its Italian favorites starting this week. Henry and Kathleen Tran, owners of Studio Hair and Nails, have purchased the restaurant from former owner Romul Grivov. In keeping with their heritage, they have added Vietnamese cuisine to the menu.
Aug. 28 – Tony Morin has sold his printing business to Optimist Printers, the long-time printer said. I'm retiring to be a grandpa, take care of my wife and dogs, and help the kids with their projects around their homes," Morin said.
Sept. 1 – "Addictive" may not be quite the word most people would apply to employment in the low-income housing industry, but that's how Ruby Mason, retiring executive director of the Mid-Columbia Housing Authority describes her job. "I think seeing the difference housing can make in people's lives — it's really the foundation we need for all other social services to be effective — it matters," Mason said.
Oct. 3 – Mid-Columbia Council of Governments board approved a 20 percent increase to Building Code Services fees Oct. 2, but contractors mustered enough opposition to the plan to convince board members to suspend plans for additional increases — for the time being, at least.
Oct. 9 – Washington Federal Savings acquired 51 branches of Bank of America in Washington, Idaho, New Mexico and Oregon, including the branches in The Dalles and Hood River. Customer accounts were automatically transferred to Washington Federal before conversion Dec. 6.
Nov. 20 – Columbia Laser Skin Center is consolidating its operations starting this week so that all services are provided within it's the Dalles offices at 301 Cherry Heights Rd.
Dec. 4 – Larry Keller had good reason to celebrate the second anniversary of Keller's Brew Supply; it has grown enough to allow the business to move from a small space tucked away in the back of the commercial building at 1800 W. 10th St. to the large main showroom.
Dec. 11 – A second generation of Denneys will take charge at Gary Denny Floor Covering, building on the 36 years of experience the first generation has put into their The Dalles business. Marcus Denney will bring financial experience gained through 10 years in banking to the company, giving founders Gary and Wendy Denney a chance for a little more relaxation.
Dec. 18 – It's been 10 years since Mary Merrill was hired as the director of Columbia Gorge Community College's Small Business Development Center. This month marked her retirement with the hiring of a new director, Jeff Nichol of Hood River, effective Dec. 9.
Notable
Jan. 16 – John Fredrick of ELF Cleaning Service recently begame a Certified Carpet Cleaning Technician.
Jan. 23 – Windseeker's Restaurant operators are enjoying the fame associated with appearing on a national television show after appearing on "Restaurant Impossible."
Jan. 30 – Fun Country Powersports, owned and operated by Mike and Lisa Erland, was named one of the top 100 dealers in the United States and Canada by their industry publication, Dealernews.
Feb. 27 – Eileen Teas, insurance agent at Kargl, Elwood & Geiger, Inc., in The Dalles was granted the designation Certified Insurance Counselor.
March 6 – The 12 silos at the historic Sunshine Mill in The Dalles could be converted into seven floors of hotel rooms within the next five years, with a rooftop room where grapes will be crushed to make wine.
March 6 – If the groans of pleasure and thumbs up are an indication, product testing was the favored activity during business class at Mosier Middle School. Taught by Jeff Leonard of Mosier's Survival Garden, the class teaches business principles to seventh and eighth graders.
March 13 – Roger Prowell, manager of Chenowith Water PUD, was surprised by a reception in his honor as he received a Friend of Rural Water award prior to the PUD's monthly board meet. Prowell suffers from an aggressive form of ALS and left the PUD at the end of July.
April 10 – Northern Wasco County People's Utility District is among 184 of the nation's more than 2,000 public power utilities to earn Reliable Public Power Provider recognition from the American Public Power Association for providing consumers with the highest degree of reliable and safe electric service.
April 17 – Walmart has signed a 99-year lease for property at the west end of The Dalles to house a 150,000 square foot super center.
April 17 – Sawyer's True Value and Just Ask Rental celebrated 73 year serving The Dalles.
April 25 – A representative of Hilton Hotels and Resorts told city officials that the company is interested in siting a Hampton Inn in downtown The Dalles.
May 1 – Members of the Oregon Association of Realtors have honored local Realtor and community leader Jim Wilcox with a 2013 Distinguished Service Award.
May 1 – Quenett Cellars was identified as the second-largest wine producer in Oregon, on a list of the top 25 wineries by Tam Jenkins of the Portland Business Journal.
May 8 – Catherine Ruggles, a physical therapist with Visiting Health Services in The Dalles was named the therapist of the year by the Oregon Association for Home Care. Ruggles provides therapy in both Sherman County and the south end of Wasco County.
May 15 – Tourists aren't the only people who can acquire a keepsake representing The Dalles, and discover local businesses in the process. The Sunsational Charm Trail of The Dalles is designed to entice people to visit local businesses, purchase a charm and check out what else the business has to offer.
May 22 – The Dalles tattoo artist Jacob Hanks and his father Larry Hanks were inducted into the Hall of Fame at the Northwest Tattoo Museum in Coeur d'Alene, Idaho.
May 22 – The Dalles was awarded the certificate of achievement for Excellence in Financial Reporting from the Government Finance Officers Association of the United States and Canada.
Aug. 14 – C.H. Urness Motors was honored for selling Chrysler products for the past half-century.
Aug. 21 – Businesses around The Dalles rallied in support of firefighters as the Government Flats Fire ground on near The Dalles.
Sept. 4 – Wayne von Borstel has found his purpose in helping people realize their financial well being. He has been a financial planner for 28 years and recently wrote, "The Truth Project: Finding the Courage to Ignore Wall Street," as a way to share his knowledge and encourage people to learn how to maximize their potential.
Sept. 25 – Mid-Columbia Economic Development District is hosting an Americorps volunteer through the Resource Assistance for Rural Environments program. Maggie Hanna will work as the district's Agora Investment Platform coordinator for 11 months.
Oct. 23 – A new group aimed at helping The Dalles area businesswomen connect and socialize is receiving an "amazing response," said group founder Melissa Lee. The first meeting of The Dalles Professional Women's Alliance was Oct. 24.
Oct. 30 – When United States athletes step out for the Parade of Nations at the 2014 Winter Olympics in Sochi, Russia, they'll be wearing a little bit of Wasco County sunshine. Imperial Stock Ranch announced Oct. 29 that its wool will be used to produce the sweaters the athletes will be wearing.