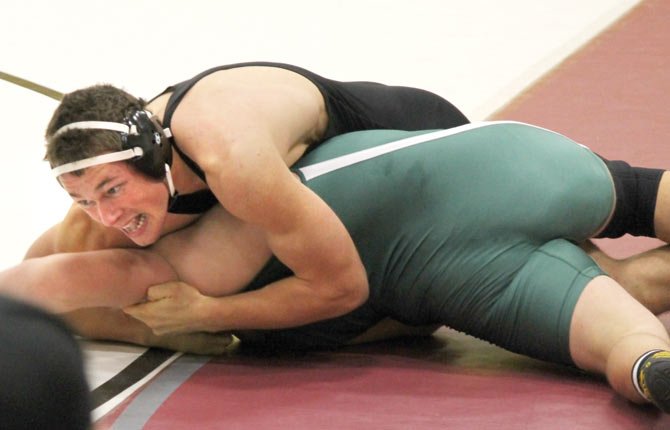 As the wrestling season progresses, The Dalles Wahtonka is turning out better performances in time for what could be a successful stretch run.
Tribe standouts Eric Morales and Joe Linebarger each turned in fifth-place finishes and Izaac Tapia carded sixth to pace the team at the annual Don York Invitational at Cleveland High School in Portland.
Morales (18-8 record), wrestled at 182 pounds and won his first three matches to punch a semifinals ticket, before two losses put the senior in the fifth-place match versus Centennial's Ryan Ybarra.
Both grapplers went toe-to-toe in this battle, with Morales squeaking out a tough 9-7 decision to earn his medal.
Earlier in his run, Morales claimed his initial win of the tournament with a 9-2 decision over Ybarra.
With that win, the Eagle Indian senior went to work against Molalla's Adam Carr, and he tallied a pinfall victory in the second round at the three minute and 47 second mark.
That win over Carr moved Morales into the quarterfinals for a berth versus South Albany's Nick Smith.
Smith proved to be no match for Morales, as he notched a 10-3 majority decision.
On a roll with three consecutive wins, Morales hit a two-match speed bump with losses to McNary's Zach Hammerschmith (pin) and Pendleton's Tanner Yeager (2-0 decision).
While wrestling at 195 pounds, Linebarger (20-8) started the tournament on a bye, but wasted little time flexing his muscles opposite Sunset's Ryan Ford, winning at 44 seconds of the opening round to move into the quarterfinals.
There he hit the mats against Putnam's Doug Fry and the Tribe sophomore notched a second-round pin at 2:57.
In the semifinals, Sherwood's Ryan Jurgens stopped Linebarger's surge with a pinfall win in the first round.
Centennial standout Artie Simpson then scored another first-round pin in the consolation semifinals to put Linebarger to the fifth-place match.
Coming in with a full head of steam, Izaac Tapia notched three wins at the 138-pound classification, two by pin after moving on in the opening round with an injury default.
In the second round, Tapia dropped Forest Grove's Jerry Bolkan with a first-round pin at 24 seconds.
He added another pinfall triumph in the quarterfinals at 1:36 over McNary's Drake Repp.
Unfortunately for Tapia, he would go on to lose his next three matches to pick up sixth place recognition.
Samuel Tyler (113 pounds) won a match by pin in the second round, and former state qualifier, Daniel Madrigal (160), won two matches, one by pin at 5:04 and another with a 5-1 decision over Pendleton's Laramie Boston.
Luis Herrera (138) picked up a pair of pin wins in consolation action, the first coming over Forest Grove's Jerry Bolkan (20 seconds), and the second at the expense of Woodburn's Rex Ramirez (42 seconds).
At 145 pounds, Mitchell Waters netted three wins and racked up nine team points along the way.
His first win came in the consolation rounds in a pinfall win at 19 seconds over Franklin's Biko Moore.
Waters also had a second-round pin of Beaverton's Joey Espero, and followed that up with a second-round pin win over McNary's Blake Gerstner.
For the first time since 2008, the Tribe wrestling team hosts a four-team tournament Saturday at Kurtz Gym in The Dalles with action kicking off at 11 a.m.