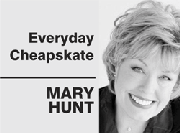 Today's first tip is going to make my fellow hand knitters wonder, "Why didn't I think of that?" Is this just the greatest idea ever? I couldn't wait to share this and other clever tips with you today.
CHEAP ENTERTAINMENT. Instead of spending our precious entertainment dollars at restaurants, I'm always on the lookout for church or social hall dinners and festivals. Many churches in our area hold dinners as fundraisers and social clubs like VFW and Knights of Columbus frequently hold pancake breakfasts. These meals are usually quite delicious, very reasonably priced and provide wonderful opportunities to meet new people and support good causes. Can't get that from a drive through! —Shannon, Minnesota
SPIN DRY. I love using a salad spinner as a quick way to get the water out of a knitting project before blocking. Yay, centrifugal force! — Kathleen, Washington
CARPET CLEAN-UP. Baby wipes get every stain you can imagine out of carpet! I use Huggies Natural Care (unscented). This works on coffee, chocolate and even blood stains. Baby wipes are cheap and it takes about 2 seconds to remove the stain. Example: My little boy fell and cut his head, leaving blood spots on the carpet. He's fine, but the carpet suffered. When the carpet cleaning service couldn't remove the spots, I decided to hit them with a baby wipe. It was amazing. My mom had 11-year-old stubborn stains on her carpet and the wipes took them out, too. Baby wipes are my carpet spotter of choice because they're so easy to use. — Annette, Pennsylvania
FLATWARE TIMESAVER. When loading silverware into that compartmentalized basket in the dishwasher, use one compartment for knives, one for forks and so on. Then make sure you insert each piece handle up. This saves a lot of time when you're putting the clean silverware away because you can just grab all of the knives, all of the forks, etc., quickly and efficiently. — Clare S., Louisiana
EZ STORE, QUIK THAW. When hamburger is on sale, buy a lot and then put one-pound portions into freezer bags. Before closing, use your rolling pin to flatten it out. Now seal it up and stack these in the freezer. When you need a pound, it will thaw quickly because it is so thin, and these flattened bags stack nicely in the freezer, too. — Mary, Pennsylvania
CHEAP GLASS CLEANER. I used to buy name-brand glass cleaner for $4 a bottle. Now I purchase windshield washer fluid for 89 cents a gallon. It does an incredible job on mirrors, windows, crystal chandeliers and jewelry, too. — Jeanne, email
Would you like to send a tip to Mary?
You can email her at mary@everydaycheapskate.com, or write to Everyday Cheapskate, P.O. Box 2099, Cypress, CA 90630.
Mary Hunt is founder of www.DebtProofLiving.com.
To find out more about Mary and read her past columns, please visit the Creators Syndicate Web page at www.creators.com.