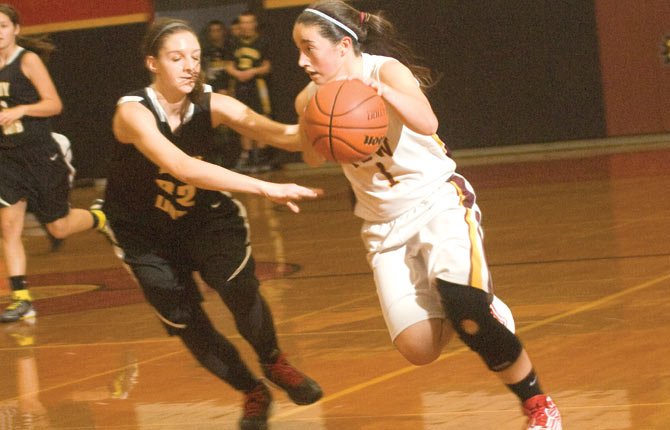 The Dalles Wahtonka freshman Iliana Telles scored a career-high 17 points, and senior Emily Bailey added five points, 10 rebounds, eight assists, seven blocks and seven steals to lead their No. 13-ranked varsity girl's team to a season-high fifth consecutive win in a 63-35 drubbing over the Wilsonville Wildcats Tuesday night in non-league hoops play at Wilsonville High School.
All told, eight players on the roster made notches in the scoresheet for 25 field goals, four from long distance, and a 7 for 13 split from the free throw line.
On those 25 field goals, the Eagle Indians posted 19 assists, and 12 of the 21 two-point baskets were within three-feet.
"Tonight, we passed the ball really, really well," said TDW coach Craig Compton. "It all started with rebounds and steals, but the main thing was all of the girls were moving the ball well and playing unselfish."
Along with the efforts of Telles and Bailey, Katie Conklin reeled off 14 points and teammates Olivia Starks and Brooke McCall poured in nine points each.
"The young freshmen and sophomores coming in are playing very mature and are doing well to help this team," Compton said. "Iliana, Lori Cimmiyotti (team-high eight rebounds), Brooke McCall and several others have come in off the bench and done very well. They are stepping up and getting the job done."
The added depth from the six underclassmen during this winning streak, has re-charged a Tribe offense to an average of 56.4 points a game and the stout defense is holding up for 34 points given up.
Overall, the Tribe is ranked fourth in the state with 53.4 points scored a matchup.
"They are maturing as they go," Compton added. "They are just getting a little bit better and gaining more confidence in themselves and that is all we can ask for. It is definitely a big plus to get them on the floor to get that confidence built up."
At one point in the opening half of Tuesday's contest, the Eagle Indians held a 34-point lead, as they stymied Wilsonville to the tune of two field goals, both in the second quarter.
While the Wildcats found the iron unkind, TDW had one of its largest first-half offensive outputs using spurts of 22-2 and 16-4 to jump out in front by a commanding 38-6 margin.
Up by 32 points entering the second half, the Eagle Indians did not let up on the gas pedal, as they kept hitting shots for a 16-11 run to swell the cushion to 54-17 with one period remaining.
Given the defensive execution put forth by the Tribe, Wilsonville had its fair share of struggles offensively scoring 13 field goals.
Wildcat forward Carlin McNeil had seven points.
TDW (9-1 overall) has another stiff test ahead of it at 7:15 p.m. Thursday against No. 8-ranked Dallas (4-3).
After that, the Eagle Indians have Aloha and Southridge on the docket before starting Columbia River Conference play at 7 p.m. on Friday, Jan. 24, in Hermiston.
Compton and head coach Dan Telles still want to see more from this group if preseason goals of punching a state ticket are going to be realized.
"We have to have everyone continuing to improve their games like ball handling, shooting, but most importantly defense," the coach said. "Our man and zone defenses need to excel to keep us getting those fast break chances. We need to continue to play confident team basketball."