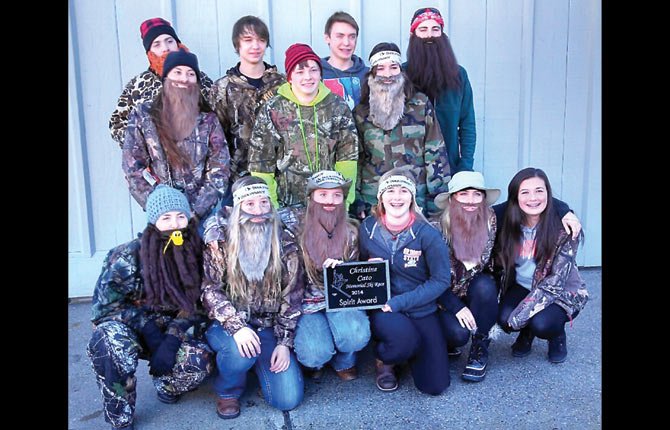 The field was full to the brim with 341 racers Saturday on the Timberline Ski Area for the annual Christine Cato Memorial Event on Mount Hood Meadows.
While congregating on the West Mile Run, the conditions were sunny, cold and windy on a very slick course, as the participants were donned in costumes for a festive event.
Dressed in regalia reminiscent of cast members of the reality television show "Duck Dynasty," The Dalles Wahtonka ski team scored the coveted Spirit Award for having the best costumes and the most enthusiasm.
"I am so very proud of our team," said Tribe head ski coach Jeff Cordell. "The team was happy with our results, but we were super stoked to be recognized for the sportsmanship and spirit that we show. That was really the big prize for the day."
All the teams entered put together one run on the afternoon, and TDW had two entries wind up in the top-15, led by Bailey Cordell, who garnered 13th place on the varsity side with a final marker of 38.15 seconds.
Carsen Cordell grabbed 38th at 46.15, Alyssa Carrico had a time of 53.51 for 65th place, and Emma Ell-Smith rounded out the girl's varsity slate in 54.54 for 68th place out of 82 one-run finishers.
Hood River Valley's Lucy McLean had the best time amongst the girls with her 31.53, and Jesuit's Jenna Jansky motored through for her 31.87 for second place.
In the junior varsity ranks, TDW Italian foreign exchange student Susanna Talenti had the fourth best time of the 47 other participants at 32.36 to pace the Tribe.
Although teammates Timarra Roth, Robin Pashek and Courtney Anderson did not net any times, coach Cordell feels this group could be solid down the line.
"The girls had some trouble with the icy course except for Susanna, who wore Bib No. 1 and had a very good run," the Eagle Indian coach said.
The race was held in memory of Cato, who was killed in an accident at Timberline back in the 1980s, and coach Cordell said his team put their best foot forward to honor Cato and her family.
State qualifier, Eli Holeman, paced the TDW boy's ski team in 14th place with a first rally of 34.87.
Mark Johnson placed 38th in 42.15, and newcomer, Preston Klindt, fared well in his first high school foray in 48th place with his time reading of 45.28.
Griffin Martin notched 81st in one minute and 56 seconds, and Marty Carter secured 82nd place in 1:01.04.
"We have eight new kids on the team and they all did very well, especially Preston Klindt, who put in a great varsity run, in his first ski race ever," said coach Cordell of his young prodigy. "I think we are going to see some really good results from Preston."
The Eagle Indian ski team next hits the quick slopes again at 10 a.m. Saturday for a giant slalom run on Ski Bowl.