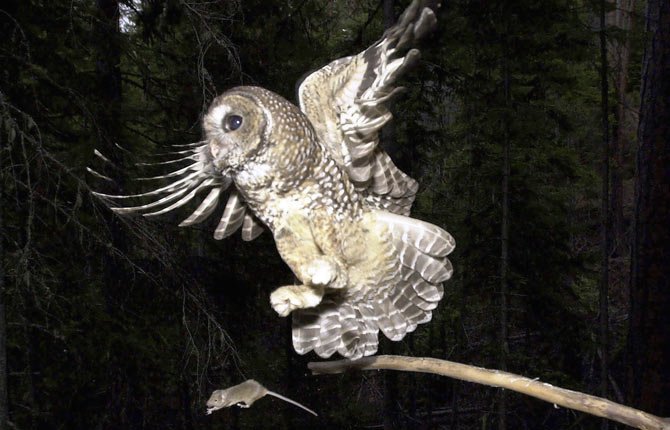 The Daily Astorian, Jan. 7:
The U.S. just marked the 40th anniversary of the Endangered Species Act, a milestone that inspired Oregon Public Broadcasting's Amelia Templeton to blog about some key ESA debates. These deserve to spur a thorough re-examination of a law that is both still valuable and seriously outdated.
Reforming the ESA is one of those perennial "to-do list" items that doesn't ever jell. Lawmakers and activists most passionate about averting the extinction of species and preserving habitats are loath to engage in an ESA rewrite. Like the long-discussed and always-deferred idea of tinkering with the U.S. Constitution, there is a realistic fear that any "improvement" might be manipulated by corporate interests or contain bigger flaws than the original.
No matter how valid these concerns may be, helping endangered species in a time of extinctions — on a scale unseen in millions of years — is going to require deeper thought and more deliberate strategizing.
One of Templeton's points, based on a suggestion from some scientists, is that humans may need to assist species with "climate migration." For example, there are what amounts to islands of species that occupy mountain crests or isolated habitats bounded by human highways, farms and cities. A fast-shifting climate will doom species that can't keep pace — things like coastal yellow cedar and alpine whitebark pine. We can help by replanting new colonies of plants and animals in less impacted areas.
A similar question is whether it is time to engage in a kind of ESA triage, to borrow a term from emergency medicine. This means that instead of throwing a lot of money at a few charismatic species like tigers and pandas, scientists would make a rational effort to prioritize species that have the best chance of surviving. We might also want to take into account how much a species contributes to the health of its ecosystem. By this measure, an unglamorous species like sardines is far more important than northern spotted owls.
On the topic of wild salmon, the Wild Salmon Center "has proposed protecting the Northwest's strongest salmon runs and healthiest rivers as the most effective approach to salmon recovery," according to Templeton. Good idea.
Regional partnerships — like the interesting work the Cowlitz Indian Tribe is doing in the Youngs and Grays river watersheds — is a related necessity. Old jurisdictional lines must not interfere as habitats shift northward and migrating salmon deal with lower in-stream flows and higher temperatures.
These issues and others demand open-minded discussion and thorough scientific examination. We have entered an age when everything from tropical coral reefs to Arctic tundra is in the middle of transformational degradation. This is no time to remain rigidly attached to an antiquated bureaucratic approach that looks at one species at a time.
Life forms that have prospered for millennia are struggling to survive. We know right now that many won't make it. But if we are smart and diligent, we can stave off the most damaging losses and preserve functional ecological systems. This is happening on our watch. Dealing with it is up to us.