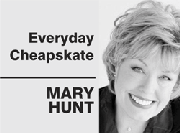 Dear Mary: A red rag somehow managed its way into a load of what used to be white clothes. How can I get the pink tint out of the clothes and return them to bright white? —Anne P., email
Dear Anne: Three words: Rit. Color. Remover. Find it where Rit Dye is sold. It's miraculous.
Dear Mary: I just bought my granddaughter an old (1927) edition of my favorite children's book, "Heidi." It stinks! Is there any way to get rid of that smell? Thanks. —Patricia, email
Dear Patricia: The minute I read your message I connected with you on two counts: Heidi was my favorite book as a child, and I can't stand that smell of old, musty, mildewy books.
Somewhere along the line, this book got left out in the rain or was stored under damp conditions. What you smell is mold.
Mold is the problem and Nok-Out is the solution — a non-toxic product that contains no bleach or anything else that could be considered harmful to you, your granddaughter or to this precious book. The challenge is that Nok-Out must come in contact with each and every page. Are you up to it? Here's the process to fix your book:
Get a plastic bag that is larger than the opened book. A zipper-type bag would be ideal if you can find one that is large enough. Spray the inside of the bag with Nok-Out, completely saturating the bag's interior.
Quickly place the open book inside and tightly seal. Allow to rest for up to three minutes. Remove the book and dry the surface of the opened pages as quickly as possible with a fan or blow dryer set on cool."
When completely dry, repeat the process with the book open to the next pages. Again, dry quickly. Nok-Out must come in contact with every part of the book in order to completely eliminate that smell.
This is going to take time to get through the entire book. But understand that the level of stinkiness indicates how severe the odor pollution. The musty mildewy condition didn't happen overnight. What you're doing is destroying fungus spores. Mold stains may not be removed, but that musty smell will be eliminated.
Keep in mind that the glue in this old book will be especially sensitive to moisture. That's the reason you want to dry the project very quickly and carefully.
You can learn more at NokOut.com. And be sure to use the coupon code DPL to get 10 percent off single items. Bundles are already discounted with a built-in 10 percent off.
Mary invites questions at mary@everyday cheapskate.com, or c/o Everyday Cheapskate, P.O. Box 2099, Cypress, CA 90630.
Mary Hunt is founder of www.DebtProofLiving.com.
To find out more about Mary and read her past columns, please visit the Creators Syndicate Web page at www.creators.com.