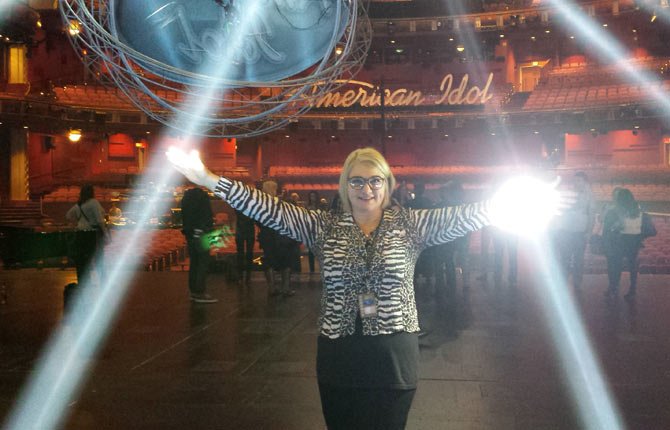 On Dec. 7, Elizabeth Traub was spending her evening quietly at home in The Dalles, curled up on the couch watching a football game while snow fell lazily outside.
While others might have chosen to ignore the chirp of his or her cell phone at such a time, Traub, an avid social media maven and businesswoman of many stripes, immediately reached for hers when it buzzed.
What she found, she said, both surprised and perplexed her.
It was a tweet from the hit TV show American Idol, inviting her to come to LA "for an exclusive Idol event!" It included instructions to send them her email if she was interested.
"I thought it was a joke," Traub told The Chronicle.
"What could something like American Idol want with me? I figured I was probably one in thousands to be contacted."
She checked Idol's Twitter page to see if "any of it was actually for real," then sent her email. Within a few hours she got a reply from the host, Ryan Seacrest, telling her she'd been randomly selected to participate in an all-expenses paid trip to Hollywood to view the December recording of the season 13 premiere of the musical talent show.
"I definitely freaked out," Traub said. "I'd been really trying to keep my cool and not get my hopes up too much, but this was it: I was going to Hollywood!"
She was part of a group of about 15 other women from across the U.S. selected to participate in the event, all of whom she described as "incredibly engaging people, all with an active presence in social media."
A Huffington Post contributor, Traub works from her home in The Dalles as a brand and development strategist and participates across several social media. Her Twitter handle is @ElizabethTraub.
"The big mystery was why we were all asked to be there," Traub said. "None of us really knew."
Traub said the entire group arrived to discover they were being given the full "red carpet treatment."
Personalized welcome letters, wine and chocolate greeted them at the plush Roosevelt Hotel in LA, a place often frequented by celebrities and located directly across from the famous Dolby Theater.
The 48-hour "trip of a lifetime" included attending the more than six-hour recording of the premiere, where the women were seated directly behind the panel of judges and were allowed to watch the entire live program from beginning to end.
"The judges gave advice like loving parents and we were all just so incredibly excited to be there," she said.
Of course, Traub admitted, she has her own ideas about why they had all been brought out to view the premiere.
"As far as I'm concerned, women are pretty much the hand that rocks the cradle of future musicians and, therefore, the future of the music industry, so why not bring a group of intelligent women out here to see what Idol's doing to bring back wholesome family entertainment?"
Traub and several other group members decided to launch the Twitter handle @IdolTweethearts, where "savvy, social, passionate women chosen by American Idol [share] photos, sneak peeks and tweets" about all things Idol.
"That being said, I think it's important to say that an airplane ride and a swag bag is not going to influence me or what I think," she laughed.
"But what does make a big impression is seeing firsthand what [Idol's] trying to do to bring back family-friendly entertainment. We wanted to create a space that would allow us to reach out and connect with the Twitter and Facebook communities and get their opinions on the subject."
In all honesty, Traub said she hadn't watched the show for years, but the visit put it back on her radar when she witnessed the effort they were making to be more family-friendly.
"I have musicians in the family, I'm a lover of music and I am a mother of five. Aside from all the fun of this, quality family programming is really lacking in our culture, and from my experience as a mother sifting through all the junk that's out there for something decent for my kids and I to watch, it's going to take more than a cute mug and a t-shirt to convince me to tune in. What's really made an impression on me is that these guys really are serious about making changes to bring positive, worthwhile entertainment to all the families back at home. That's what I'm really excited about."
The two-night American Idol season 13 premiere will broadcast on Jan. 15 and 16 at 8 p.m. on FOX.
For more information about Idol Tweethearts and updates on what they'll be doing in the weeks leading up to the premiere, visit @IdolTweethearts or https://www.facebook.com/Idoltweethearts.