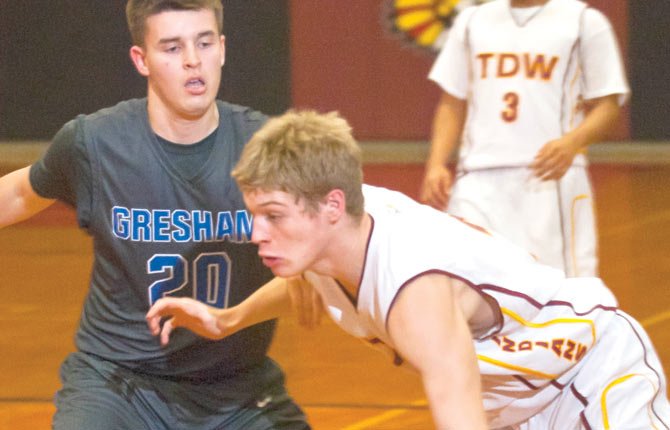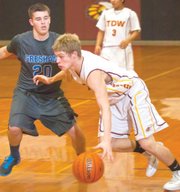 Free throw shooting and accurate shooting from the field can make or break teams in the game of basketball.
Tuesday in Woodburn, The Dalles Wahtonka boy's basketball team converted a season-worst 14 of 28 from the free throw line and missed all eight 3-point shots in a 49-41 loss to Woodburn in a 5A non-league hoops matchup at Woodburn High School.
For a squad that is struggling to establish some momentum this season, several elements of the game have to work in their favor to enjoy success.
"Our defense was very good, but missed quite a few shots around the basket," said TDW coach Bob Townsend. "It is difficult to win on the road when you don't shoot well. I thought our kids competed better, we just need to start finishing some plays."
The Bulldogs inched ahead early in this contest, using a 12-8 run to gain an edge.
In the second quarter, the lead swelled to seven points after an 11-8 tally for a 23-16 cushion at the break.
Woodburn added an 11-9 split in the third frame, but TDW finally had things rolling in the final period dipping into the deficit, but the Bulldogs had a few shots make good to keep the Tribe at bay.
In all, the Eagle Indians had a balanced offensive attack with nine players hitting the scoresheet.
Starting point guard Steven Bartells and senior swingman Zach Nerdin paced the offense with eight points apiece.
Colin Noonan netted seven points, Coby Conlee was good for five and Clay Copper rolled in four points for the Tribe scoring.
In Saturday's home tilt versus Gresham, the Eagle Indians had its fair share of struggles against the Gophers in their 70-39 loss at Kurtz Gym.
Gresham staked itself to a big advantage in the opening 16 minutes of action, as rallies of 16-6 and 17-13 pushed a lead to 33-19 at halftime.
The Gophers put a final stamp on matters in the third quarter with a 22-10 run to jump out in front by a 55-29 margin entering the fourth frame.
Nerdin and Conlee led the way on the scoresheet with nine points each, and point guard Angel Esiquio rattled home six points.
Senior forward Chaise Shroll muscled home four points, and the duo of Copper and Noonan ended up with three points to the books.
TDW (1-9 overall) is riding a three-game losing skid, but has its best chance to get back on track with a home tussle at 7 p.m. Friday against Parkrose (0-8).