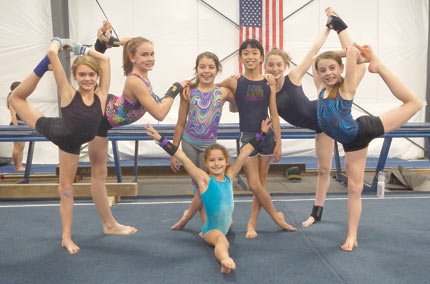 Results
Riverside Gymnastics Academy State Meet
in Grants Pass
Dec.7-8, 2013
Level 5
McKenna Bailey: 4th vault, 8.75; 7th bars, 8.6; 7th beam, 8.55; 1st floor, 9.225; 6th all around, 35.125
Celia Peterson: vault, 8.65; bars, 8.3; beam, 7.8; 6th floor, 8.8; all around, 33.6
---
Level 4 (2nd place team)
Emily Adams: 1st vault, 9.15; 4th bars, 9.055; 5th beam, 9.05; 7th floor, 9.225; 1st all around, 36.475
Alexa Baldy: 3rd vault, 8.65; 1st bars, 9.5; 1st beam, 9.275; 3rd floor, 9.175; 1st all around, 36.6
Sofia Blair: 5th vault, 8.5; 4th bars, 9.025; 2nd beam, 9.125; floor, 8.825; 4th all around, 35.475
Meara Crawford: 1st vault, 9.2; 4thbars, 9.075; beam, 7.75; 4th floor, 8.95; 6th all around, 35.0
Zoe Dunn: 6th vault, 8.3; bars, 8.075; 6th beam, 8.225; floor, 8.675; all around, 33.275
Halle Haskins: 1st vault, 9.0; 6th bars, 8.425; 4th beam, 8.9; 6th floor, 8.975; 5th all around, 35.3
Griffin LaVigne: vault, 8.25; 6th bars, 8.85; beam, 8.325; floor, 8.725; all around, 34.15
Poppy Miller: 1st vault, 8.9; 3rd bars, 9.125; 7th beam, 8.95; 4th floor, 9.1; 3rd all around, 36.075
Ashley Quisenberry: 2nd vault, 8.8; bars, 8.5; beam, 8.075; floor, 8.525; all around, 33.9
---
Level 3 (2nd place team)
Marissa Baldy: vault, 8.85; 6th bars, 8.925; 2nd beam, 9.15; 4th floor, 9.15; 4th all around, 36.075
Annika Baumgarten: 3rd vault, 9.4; bars, 8.1; 3rd beam, 8.925; 8th floor, 9.0; 7th all around, 35.425
Shaela Bradley: vault, 9.0; 6th bars, 8.925; beam, 7.95; floor, 8.45; all around, 34.325
Krissy Carter: 2nd vault, 9.5; 1st bars, 9.4; 1st beam, 9.325; 1st floor, 9.4; 1st all around, 37.625
Gabbe Haskins: 2nd vault, 9.4; 3rd bars, 9.175; 5th beam, 8.275; 3rd floor, 9.0; 3rd all around, 35.85
Amy Hernandez: vault, 8.55; bars, 8.05; beam, 7.125; floor, 8.275; all around, 32.0
Karla Hernandez: 1st vault, 9.625; 1st bars, 9.675; 4th beam, 8.9; 3rd floor, 9.125; 1st all around, 37.325
Jacy Johnston: 1st vault, 9.45; 7th bars, 8.825; 2nd beam, 8.975; 1st floor, 9.325; 1st all around, 36.575
Zoe LeBreton: vault, 9.175; bars, 8.9; 7th beam, 8.5; floor, 8.425; all around, 35.0
Regina Sanchez Macias: vault, 9.1; 7th bars: 8.9; beam, 7.9; 6th floor, 8.9; all around, 34.85
Madilyn Markwood: vault, 9.25; bars, 8.375; beam, 8.0; floor, 8.25; all around, 33.875
Margo Mayo: 3rd vault, 9.45; 2nd bars, 9.425; 6th beam, 8.8; 2nd floor, 9.2; 2nd all around, 36.875
Daisy Morales: 3rd vault, 9.325; 2nd bars, 9.275; 3rd beam, 8,975; 2nd floor, 9.2; 1st all around, 36.775
Ahnikah Rubio: vault, 9.0; 4th bars, 8.975; 3rd beam, 8.7; 6th floor, 8.7; 4th all around, 35.375.
The presents came early for Riverside Gymnastics.
Except they weren't gifts – but hard-earned medals and trophies at the Oregon State Gymnastics Championship held in Grants Pass on Dec. 7 and 8.
Riverside had 10 athletes bring home first-place honors in the culmination of its fall season.
Twelve-year-old Krissy Carter leaped her way to an all-around score of 37.625, besting 112 top competitors from around the state.
Carter started on bars with a 9.4, moved to beam for a 9.325, and finished with a 9.4 on both floor and vault.
Carter said good advice from coaches kept her on track.
"Mrs. (Candy) Smith told me to 'stay controlled and suck in my stomach,'" she said of her beam routine.
Coach Jacque Johnston told Carter to "Just do what you do in practice in the gym and it will show through."
It did.
Good coaching from Mike and Sara Smith also helped bring home the hardware. Both the level 3 and 4 teams took home second place state champion trophies after competing against 16 teams.
In addition to Carter, 9 other Riverside athletes scored first place finishes during the meet.
At level 5, McKenna Bailey took first-place on floor with a 9.225.
At Level 4, Emily Adams and Alexa Baldy were first all-around with scores of 36.475 and 36.6, respectively.
Baldy also topped all scores on bars with a 9.5. Meara Crawford, Halle Haskins and Poppy Miller dominated on vault, rising to the top of the podium with scores ranging from an 8.9 - 9.2.
At level 3, Karla Hernandez led her team with an all-around 37.325 and a first-place finish. She was joined by Jacy Johnston and Daisy Morales in going first-place all around.
Riverside Gymnastics Academy is a nonprofit with recreational and competitive programs for boys and girls in the mid-Columbia.
For more information, call (541) 993-8625 or visit at 2221 River Road, The Dalles.