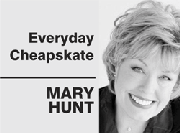 Do you have any idea how much money you spend each month to feed your family? Even if you think you know, you may be shocked to learn the truth.
Recently I heard from a reader in Ohio who decided to keep track of how much she spent on food for one entire month. She was all but speechless when she told me it came to more than $850. On food. Now, had she planned to spend that much as part of a carefully charted budget, that would be one thing. But this is the same person who'd told me previously that she thought that number was more like $450 "at the most."
It's no secret that food costs are skyrocketing. Every week I am amazed, if not worried. While we can't control the cost of food, we can control the ways that we spend our food dollars.
There's more at play that just the cost of food. There's the time required to track sales, shop carefully and then prepare and cook our meals. I don't know about you, but I need all the help I can get. I rely on multiple sources, but probably none as much as the online menu-planning service, eMeals. This is simply genius. Here's how it works:
Once you sign up, you pick your meal plan based on your family size, grocery store and your eating style. You can choose a plan from Paleo to Slow Cooker, Gluten Free to Classic Meals and many more. Actually, there are 14 different plans from which to choose, depending on your family's dietary needs and preferences.
Once each week your meal plan will arrive in your inbox, complete with seven simple, creative and family-friendly dinner recipes, including an entree and side dishes for each meal.
Along with the meal plan, you'll get a shopping list specifically created for your grocery store that coordinates with that store's weekly sales. See what I mean? Genius!
Years ago, I'd heard of eMeals, but that's about all. I knew the name. It wasn't until my niece Abby B. mentioned how eMeals had rescued her from a life of culinary angst and chaos that I took a more serious look. She'd come to think of eMeals as her personal assistant, taking all the hard work out of creating a grocery list and menu planning. It didn't take me long to get on board with the eMeals program.
There is no doubt that food has become a major budget challenge for most American families. I don't see relief coming any time soon. That means we have to do something drastic to stop wasting money by getting on board with menu planning, grocery shopping and cooking at home.
Thousands of my readers now subscribe to eMeals, and that just makes me happy.
Our friends over at eMeals have a great offer for EC readers. Head to www.everydaycheapskate.com/emeals15 to sign up and you'll get a 20 percent discount when you use this CODE: DEBTPROOFLIVING. It's nice to have friends!
Mary Hunt is founder of www.DebtProofLiving.com . You can email her at mary@everydaycheapskate.com, or write to Everyday Cheapskate, P.O. Box 2099, Cypress, CA 90630.