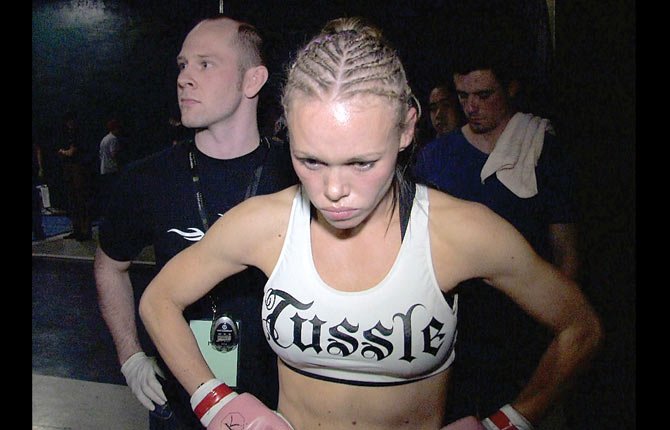 Since the winter of 2010, film director Allan Luebke has always believed in his labor love, a documentary picture featuring mixed martial arts fighter Glena Avila.
He spent more than three years working on this project, amassing more than 150 hours of footage to try to tell the story of a single mother and her rise from amateur status to the professional ranks while dealing with life and relationship issues along this whirlwind journey.
Luebke first started filming in November 2010 and the footage covers close to one year of Avila's life, starting after her fourth amateur match, following the progression to her first pro match. Filming took about one year, while editing has been ongoing.
At first, the plan was for a 20-minute short story, but the plot thickened to the point where Luebke edited and pieced together an hour and a half piece that will be shown as a feature called "Glena" on Jan. 18 and 22 in Park City, Utah for the Slamdance Film Festival.
"This year alone, Slamdance got about 5,000 movie submissions and we were one of eight documentaries picked," Luebke said. "Slamdance is one of the most difficult film festivals in the world to get accepted to and we did. It is amazing that this happened."
Luebke called this project a grueling process because of the emotional roller coaster ride he was on trying to figure out what works together to develop characters and then working other scenes to establish the conflict of the story. From there, he worked on what to do to strengthen the relationships forged between all of the characters.
"I thought it was a going to be a great documentary, and then I would be riddled with anxiety," Luebke said. "I literally got to the point where I had a list of 100 problems and there were times I wanted to quit. I could not get it to work together, so I started watching movies like The Wrestler, a movie called The Warrior and Rocky was a big one."
He would break these movies down scene-by-scene and write one sentence about each scene, then look at them in small pieces to see what works well.
Therefore, taking one problem at a time, Luebke, a 2000 Hillsboro High School graduate, worked toward solving them, doing everything he could for long hours at a time, in order to get the story right.
This past September, Luebke began submitting "Glena" to several established film festivals across the nation.
His eyes were dead-set on Sundance and Slamdance, where press outlets, top directors and A-List actors and actresses would attend for the biggest week in independent filmmaking.
Three months passed without a word, so he gave up hope.
He resigned to just showing the movie to locals in Portland.
"I did not think it was going to go anywhere," Luebke said. "I thought I needed to go out and get a job at a bookstore because I was so down that I thought that I was never going to make it as a filmmaker."
In late November, Luebke opened an email from the Slamdance people asking for a call back. Luebke said he didn't have any emotional reaction because he didn't know what they wanted to talk about.
Luebke returned the call and had a conversation with all three of the head programmers.
"They told me that they loved the movie," Luebke said. "They told me they thought it would be a huge hit, a huge crowd pleaser and that Glena is a great lead character. She was inspiring and that this movie was going to have a long, long life. All three people took the phone and told me how much they wanted it to be part of the film festival."
During the conversation, Luebke put the call on speakerphone. After hearing the news, executive producer Ashley Scherman, began to cry.
He had 48 hours to return a call with confirmation that he would submit his film for the festival.
"We both started crying and we hugged for like three minutes. That is a long time to hug someone," Luebke said. "We could not believe what had happened. I then called the music composer, Peter Bosack and story consultant, Matt Mastrantuono, and they were totally shocked. This was something we wanted."
Luebke has started an online fundraiser to raise money to hire an experienced publicist to work during Slamdance to help generate the kind of attention the movie needs.
Luebke admits that the feeling of making a film about a local MMA fighter from the Columbia River Gorge area, who worked for the Oregon Veteran's Home, lived in The Dalles and balanced all of life struggles in an attempt to realize her dreams, has been a worthwhile investment.
"To see it get all of this recognition for something we have always wanted, something we have always believed in and to have that type of validation, it just sort of lets you know that all of those really hard times in those three years, and all of the money you have invested into it and the time you sacrificed, that you were doing it for a good reason," Luebke said.
---
To donate to the film, interested parties can go to https://www.indiegogo.com/projects/glena-at-slamdance-film-festival.