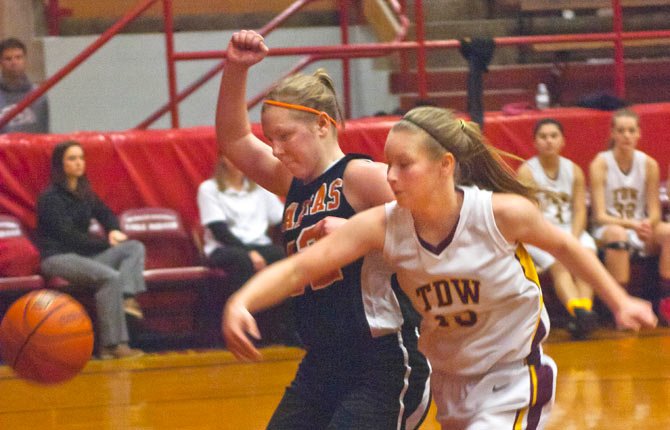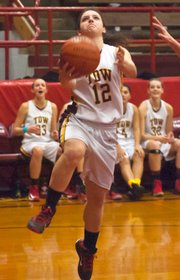 This The Dalles Wahtonka basketball team takes pride in its defense.
With its furious speed and aggressive style, this group has held opponents to less than 30 points five times.
Thursday night proved to be yet another impressive defensive display.
The No. 9-ranked Eagle Indians racked up nine steals, forced 15 turnovers, blocked six shots and limited Dallas to a paltry 9 of 41 shooting from the field, cruising to their sixth consecutive win of the season in a 55-25 victory at Kurtz Gym in The Dalles.
"We try our hardest to frustrate them as much as possible because when they get frustrated, they start to get flustered and we take them off their game," said sophomore forward Lori Cimmiyotti. "I just feel like we practice it so much that it is set in stone what we have to do and we know our responsibilities, so we go out and execute it to the best of our abilities. It is working good so far."
The Dragons managed just three field goals in the opening half of play and added two more baskets in the third quarter, never establishing any rhythm on that side of the court.
Using their ferocious defense, TDW managed to get out on the break with its quick passing and backdoor cuts for a high-percentage of 25 for 42, 15 of those field goals coming on layups.
All this coming against one of the state's top-10 ranked scoring defenses.
"We knew coming in that they had a very strong defense and that we needed to find a way to control it," Emily Bailey said. "We passed the ball very well. We moved the ball around for an open teammate to take a better shot. That is basketball right there. It is what we need to do to be successful."
With four minutes and 28 seconds remaining in the opening quarter, Dallas forward Sarah Mitchell hit on a layup to draw her team to within an 8-3 deficit, but TDW ended the frame on a 9-0 run.
Cimmiyotti hit a free throw, Bailey had a rebound and putback, Olivia Starks kissed a bank shot off the glass, and Katie Conklin ended the run with a layup and another putback to give the Tribe a 17-3 lead after one period.
In the second quarter, the Eagle Indians swelled the lead to as much as 21 points, as Conklin, who finished with a season-high 21 points on 10 of 13 shooting, hit a layup on a pass from Iliana Telles to make it 29-8 with 1:28 left in the half.
Dallas guard Becca Ronco ended matters with a 3-pointer, but the Dragons were far behind at 29-11 at intermission.
"I thought we played such a great first half," Cimmiyotti added. "Even when we had a big lead, we did not turn it off, we kept going. It is important for us to play hard from the start of the game until the end."
TDW went on to outscore Dallas 12-5 in the third quarter, with seven different players making notches in the scorebook.
Up 41-16 in the final frame, TDW coach Dan Telles sent out some re-enforcements, Morgan Goslin nailed two baskets, and both Brooke McCall and Starks added one each. Conklin continued her furious pace with three more hoops to cap her night.
Aside from Conklin's explosion, Starks added eight points, eight rebounds, three blocks and three assists.
McCall filled the stat sheet with six points, six rebounds and two assists, and both Goslin and Iliana Telles added five points each.
Bailey took only five shots in the game for five points, but the reigning Columbia River Conference Player of the Year tacked on seven assists, five rebounds and four steals.
Most importantly for the senior Bailey is that she notices a huge step up in skill from several of the underclassmen on the roster.
As the season wears on, they will be depended upon more heavily when the stakes are raised in February and March.
"The freshmen are great athletes and they help us in every aspect of the game, like running the floor, rebounding and shooting," she said. "Each of them helps us in different ways and it is great that they can come off the bench and provide us with the energy. They are very confident and their composure and control is just awesome."
TDW (10-1 overall) will embark on one of their toughest stretches of the season in the next four road games, three of them non-league matchups against Aloha, Southridge and La Grande.
They start CRC play at 7 p.m. on Friday, Jan. 24 at No. 2 Hermiston (8-4).
"Hermiston is always on our mind, but we still need to focus on our next game and not look too far ahead," Bailey said. "Even though we killed it tonight, tomorrow we are going to come out hard and prepare for our next game. That is the most important thing."