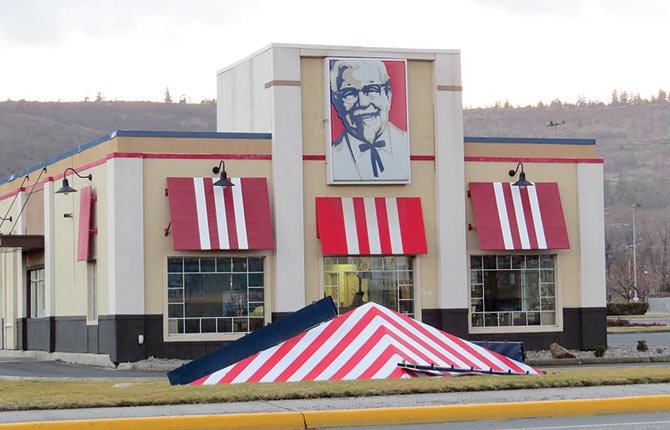 The Dalles KFC restaurant had its trademark peaked, red-striped roof facade blown off by gusting winds in the early morning hours today — and more wind is yet to come this weekend.
The Dalles 911 dispatch received a report of the roof piece blocking traffic on West Sixth Street, Police were dispatched to move the piece to the grass along the sidewalk. Also reported were a downed tree out Mill Creek Road and scattered recycling and old Christmas trees on the east side of The Dalles.
Central Oregon and Washington were under a high-wind advisory overnight. Gusts were measured at the Columbia Gorge Regional Airport at 33 miles per hour, said Ann Adams of the National Weather Service in Pendleton.
A new storm system is predicted to enter the area about midnight and advisories indicate the possibility of sustained wind speeds over the weekend starting of 35 to 45 miles per hour out of the west-southwest with the possibility of 60 mile per hour gusts.
Homeowners may want to secure items left outdoors. And motorists may want to be particularly cautious on north-south roads where crosswinds may be trecherous.