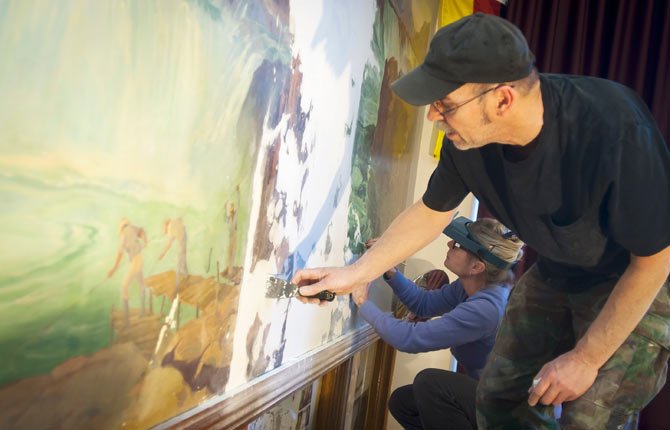 If you attended The Dalles High School anytime after 1946, you're likely familiar with the collection of murals depicting Celilo Falls that have graced the library's westernmost walls for almost 60 years.
Painted by renowned Columbia Gorge artist Percy L. Manser, the murals suffered severe water damage long enough ago that even graduates from over six years ago shrug and say, "It's always been that way," when asked what they thought about the previous state of the murals.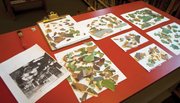 Enter Troy Lucas, second generation head of The Lucas Conservation Laboratory, Inc., the first fine arts conservation business established in the Northwest.
"Our mission is to bring the spirit of the original painting back to life," Lucas said. "It's a process of reanimation that requires a huge attention to detail. The goal is that what we do here will allow what lies beneath to withstand the test of time."
Manser, famous for the many iconic Pacific Northwest landscape scenes he painted from all across the region, was incredibly prolific and left his mark on many a historic building and landmark throughout the gorge.
Alongside his assistant, Tina Henderson, and several others belonging to his team, Lucas and his crew traveled to The Dalles on Jan. 2 to work diligently on restoring and preserving the old murals.
"Before we even arrived, we'd gone looking for photos of the original murals, but none were found," Lucas said. "We requested that the old school archives be searched for any kind of reference we might use, but none ever turned up.
We did manage to get ahold of a shot of the painting before it was damaged from a vantage point located clear across the room, so that at least gave us an idea on how to go about the restoration."
The extent of the water damage, which was caused by a significant roof leak recently repaired by the school district in preparation for the conservators' arrival, made it necessary for a two and a half foot wide, five foot tall section of the wall to be replaced before Lucas said he could even begin restoring the mural.
"The whole wall was compromised, and there was just no other way to move forward without tearing out the entire section," Lucas said. "When I first took on the job, I hadn't anticipated it would be this bad. But, if you're really going to make it in this profession, you have to be willing to jump in feet first and swim to the other side. They gave us a five-day window to get this done, so we just had to make it work."
Before painting could begin, Lucas and his team marked off where the original mural began and sketched an outline of the rest in graphite, using the photos of the original work as their guide.
"I'm accustomed to filling in spaces where small swatches of paint are gone, but this is probably the largest fill I've had to do in one particular area," he said. "It's definitely been a challenge."
Using resin paint, Lucas and his team labored to restore the murals' vibrancy without disturbing Manser's original work. According to Lucas, the ethics behind fine arts conservation dictate that everything a conservator does has to be reversible.
"We're just putting back what's already been gone for a long time," he said. "Our job is to 'trompe l'oeil,' or 'fool the eye,' mimicking what used to be there so no one will be able to tell the difference."
When one high school art student asked how Lucas and his team managed to figure out how to match Manser's original colors, he said, "You can't think like an artist when you're a conservator. Our business is to duplicate things that are gone, which is a completely different goal with a completely different outcome in mind than the one an artist has. You have to be humble in this line of work if you're going to do a good job.
"Basically, the only way to do it is to keep experimenting and, if you don't have clear references to work, you've got to envision what was there before you ever even saw the painting and just… make it work."
When asked what being a painting conservator meant to him, Lucas said the whole point of his work was "to keep striving forward and preserve artwork for the community that will hopefully stand the test of time."
"You guys are really lucky to be able to go to a neat old school like this," Lucas told a group of art students. "A lot of other ones like it are being torn down every day and replaced with modern structures devoid of history… You should be very proud."
If you know of something that needs to be restored, Lucas said its best to contact a museum before reaching out to a conservator.
"Not everyone follows the same code of ethics good conservators go by, so it's important to make sure you're getting the right one for the right piece of art."
After finishing the restoration on Jan. 6, Lucas said he and members of his team will return to The Dalles sometime in the next two months to do a "gratis" conservation examination of The Dalles High School library's other murals in order to determine how these too might be "brought back to life."
"Because that's what we're really doing here," he said. "We're breathing on old creations and giving them new life so they can continue to be enjoyed by future generations passing through these hallways."