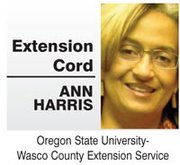 What is Open Oregon Campus and what can it do?
Perhaps you have heard about it but are still wondering, "What is this 'Open Campus' and what can it do for me?"
Open Campus is a new idea that is built upon the rich history of a program that you are probably familiar with: OSU Extension. Like Extension, the goal of Open Campus is to bring educational opportunities to people in all parts of our great state—not just those who can attend classes in Corvallis.
Open Campus has 3 main priorities:
To increase college and career readiness

To increase the number of people completing college degrees

To promote local economic development
The really exciting thing about Open Campus is that it is indeed open to the needs of each community individually. Working toward meeting these needs may look differently in each community that we serve.
Here are some things that Open Campus can do for you:
Complete a degree. You don't even have to leave home. OSU eCampus offers many online bachelor's degree programs. In fact, OSU eCampus is rated #4 in the nation among online research universities. For a list of undergraduate and graduate degrees and certificates, go to www.ecampus.
oregonstate.edu.
Build Skills with professional and non-credit courses. Ever dream of turning your favorite recipe into a profitable business? Need help with Digital Brand Management? Open Campus can provide the classes you need, whether you want to simply learn something new or to earn a career-building certificate to become a paralegal, pharmacy technician, personal fitness trainer, veterinary assistant and more. Go to www.pne.oregonstate.edu for more information.
What can Open Campus do for you and for your community? Open Campus is about creating new opportunities in the Gorge by partnering with local schools, businesses, non-profit organizations, economic development organizations and local government. We will be working to build on the great things that are already happening and to create new possibilities that increase educational opportunities for everyone from pre-school to adults.
How will Open Campus accomplish all of this? The key word is collaboration. Unlike many programs, Open Campus is not fully formed and ready to be implemented by staff people. On the contrary, Open Campus will be built by collaborating with local people to identify needs and to develop ways to meet those needs.

In order to make this successful, we need your participation. What are your ideas? What needs do you see in your community? Please contact me with your input on Open Campus or if you would like help getting started in an Open Campus educational program at ann.harris@
oregonstate.edu or by calling the OSU Wasco County Extension Office at 541-296-5494.