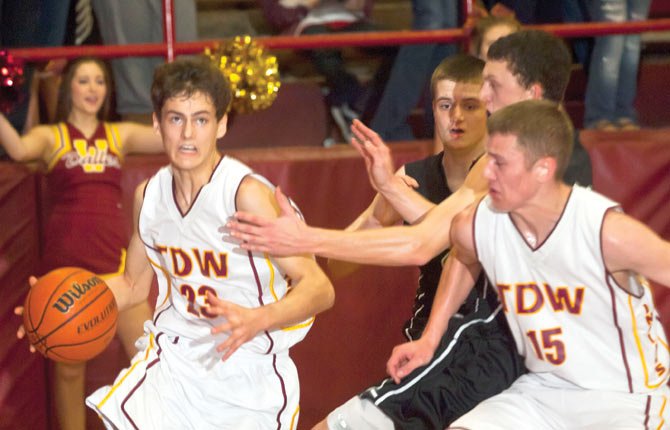 Box Score
TDW 52, Parkrose 48
Parkrose.10 18 9 11 — 48
TDW........18 8 15 11 — 52
---
Parkrose (48)
Lindsay 2 0-0 4, Lee 0 0-2 0, Vandermeer 2 5 0-0 19, C. Wilson 0 1 2-4 5, Dace 2 3 0-0 13, Rowley 0 1 0-0 3, Mazon 1 0-0 2, Mann-Edwards 1 0-0 2. Totals 8 10 2-6 48.
TDW (52)
Copper 0 3-4 3, Bartells 5 1 1-4 14, Nerdin 4 2 4-10 18, Conlee 1 2-6 4, Noonan 1 2-2 4, A. Wilson 1 3-4 5, Douthit 2 0-0 4. Totals 14 3 15-30 52.
Playing short-handed and needing a win to stop a three-game losing streak, The Dalles Wahtonka put together a team effort across the board to stake claim to a 52-48 victory Friday over the Parkrose Broncos in a non-league boy's basketball matchup in The Dalles.
Tribe forward Clay Copper commended the play of teammates Zach Nerdin, Steven Bartells and Austin Wilson, but he said it was contributions from unheralded reserves that helped the team erase a 28-26 halftime deficit to get a big win.
"Coming into the game, we knew we were short some players, so I was more impressed with the guys who came off the bench," said Copper, who scored three points. "(Colin) Noonan came in and stepped up big time in the second half making key plays. Sant Strassheim did well for us and I give credit to Storm Douthit. He is young and inexperienced, but he played a lot of minutes and contributed a lot to our win tonight."
With six minutes and three seconds left in the fourth quarter, Parkrose grabbed a 42-41 lead on a 3-pointer by Cody Rowley.
As the quarter progressed the Tribe defense stiffened and Parkrose was held to just two field goals (both in the final 30 seconds) the rest of the way.
Copper drained two free throws to move the Eagle Indians to a 43-42 lead, and then Noonan hit a layup at the 4:19 mark to extend the cushion to 45-42.
ON TDW's next possession, Douthit snared a pass from Nerdin for a layup, and Nerdin drilled a jump shot on an assist from Bartells to swell the lead to 49-42 with 3:02 on the clock.
Parkrose guard Chris Wilson hit a free throw to make it 49-43 with 2:43 left to keep things interesting, but each team went scoreless over the next 2:15 until a 3-pointer by Caleb Vandermeer drew the Broncos to within 49-46 with 28 seconds remaining.
With the pressure mounting, Austin Wilson was sent to the line looking to extend the Tribe advantage.
The lefty gave TDW a little breathing room with two free throws to move the lead to 51-46 with 22 seconds left on the watch.
Vandermeer drove in for a layup with 13 seconds left to make it a one-possession game at 51-48, so the foul game played a role once more.
With 10 seconds left, Austin Wilson hit 1 of 2 charity shots to make it a four-point game, and then Parkrose misfired on a desperation heave as time expired.
Coaching in his first game since the sudden resignation of head coach Charles Gill on Thursday, former Oregon State University hoops player Dino Tanner was thrust into duty as the Broncos' interim coach.
His squad fell behind by 10 points (18-8) in the first quarter and held a 43-42 lead early in the final period, but could not establish consistent offensive continuity when the stakes were raised.
"They play a real good 2-3 zone, they play together and they run it well," Tanner said. "Shots fell for us early in the game and late in the game, we stopped making shots. Next time we face a 2-3 zone, we need to be a little bit more aggressive at attacking the basket. In the second half, we settled for too many jump shots."
TDW led 18-10 after one quarter, as Bartells had the hot hand with 11 points.
Parkrose turned the tide in the second frame using an 18-8 rally for a 28-26 halftime lead.
The Broncos were out in front by a 32-28 margin at the 6:22 mark of the third period, but TDW put together a 12-3 spurt over the next six minutes to move ahead 41-35 with 19 seconds left.
Parkrose guard Campbell Dace rattled home a 3-pointer to draw his team to 41-37 entering the final eight minutes.
"I was real pleased with the way we competed," said TDW head coach Bob Townsend. "We kept battling down the stretch. That shows a lot of guts by the kids to keep fighting, trying to make every play. We got a few rebounds and stops when we needed them."
TDW went 15 of 30 from the free throw line, 5 for 12 in the fourth quarter, and missed 17 layups, so Townsend said there are still coachable moments with this team, as it heads towards the meat of the schedule.
He did say, however, that even with the 1-9 start to the campaign, every player on the roster is still coming to practice every day ready to put in extra work to get some momentum going.
"It is definitely nice and refreshing to get a win like this," Copper said. "We all know what we are capable of and that we can come out and compete with anybody we play. It is just we haven't had a game yet, except for tonight and one other game, where we put all the pieces together on the same night. This win has turned the light on. Now that we have everything mapped out, we can get at it from here."
Nerdin finished with a team-high 18 points, and Bartells had six field goals for his 14 points.
Austin Wilson chipped in with five points and the trio of Coby Conlee, Noonan and Douthit netted four points each for the Eagle Indians, who hit on 17 baskets, three from long range.
For Parkrose, Vandermeer totaled 19 points, Dace added 13 and Chris Wilson was good for five points in the books.
The Broncos managed 18 field goals, 10 from 3-point distance, but hit seven total baskets (four 3-pointers) in the second half.
TDW (2-9) hosts Centennial (3-8) at 7 p.m. Tuesday.