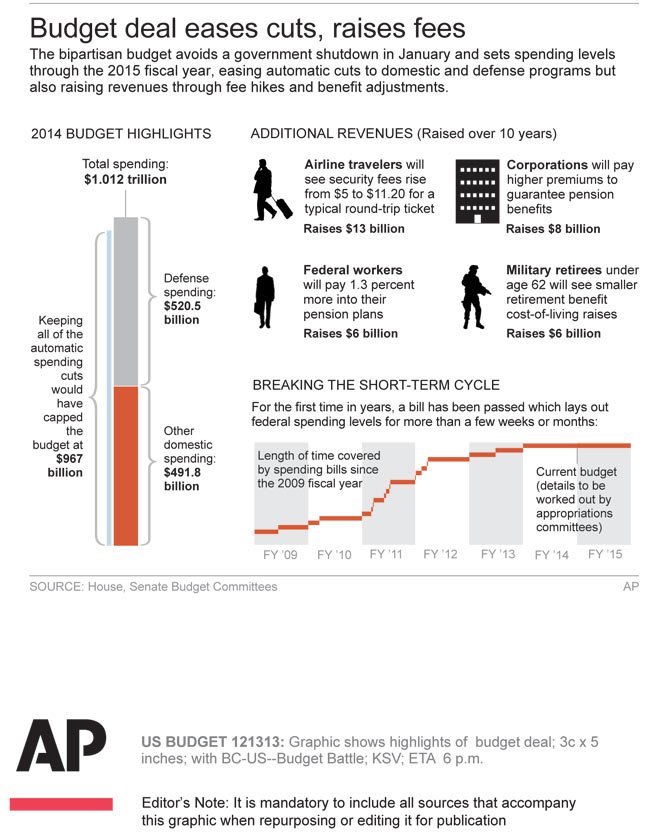 Like making sausage, putting together a bipartisan federal spending bill isn't a pretty sight.
But the fact that Congress actually will be voting on such a bill must be a sight for sore public eyes, even worthy of a tick or two increase in public approval ratings.
That couldn't have been far from the legislators' minds as a mid-term election looms and even well-established and generally popular legislators like U.S. Rep. Greg Walden (R-Ore.) are seeing challenges within their own party.
Regardless of the reason, Congress may just have a bill a majority of its members can live with — but not before they must pass an emergency short-term spending bill to keep the government from going over one last brink this Wednesday.
Neither party is proclaiming this bill a major victory. But the bill forged by House Budget Committee Chairman Paul Ryan (R-Wis.) and Senate Budget Committee Chairman Patty Murray, D-Wash.) represents the kind of budget process that is supposed to occur in Congress, one of give and take.
The 1,582-page bill contains dozens of trade-offs between Democrats and Republicans that flesh out the Ryan-Murray deal with wins and losses for both parties.
The omnibus measure contains trade-offs between the two parties, including modest relief for both the Pentagon and domestic agencies after deep budget cuts last year.
While some tea party conservatives are likely to oppose the bill, which provides much of the money needed to pay for implementation of the Affordable Care Act and the 2010 overhaul of financial regulations, Democratic support may tip the balance. It also provides new investments in early childhood education and infrastructure.
Meanwhile, conservatives will get new money for abstinence and blockage of restrictions in the sale of less efficient incandescent light bulbs, as well as continuation of defense projects including construction of new aircraft carriers and next-generation fighters jets, and the knowledge that spending for daily operations has been cut by $79 billion or 7 percent, rising to $165 billion or $13 percent when cuts in war funding and disaster spending are added to the tally.
One provision both parties should be able to get behind is restoration of full cost-of-living increases for military members on medical retirements.
It doesn't help all military retirees. Those younger than 62, in other words still working-age and not disabled, will see a 1 percent reduction in increases (which will be restored at age 62), which Ryan explained in USA Today Dec. 22: "The need for reform is undeniable. Since 2001, excluding the costs of the wars in Iraq and Afghanistan, the cost per service member in the active-duty force has risen by 41 percent in inflation-adjusted dollars. Defense Secretary Chuck Hagel, a combat vet himself, has said "that we can no longer put off military compensation reform."
One group who won't be helped by this bill are the long-term unemployed, who saw extended benefits come to a close in 2013.
At the same time, the food stamps program is due to be cut by $9 billion — more than twice as much as Democrats wanted, but a far cry from the $40 billion proposed in the House bill.
In summary, this is a spending bill that few people will like in total and many will like even less piece by piece, but it represents gained ground and a chance to quit using the budget as a political football and start using it to move this country forward out of its lingering economic troubles.