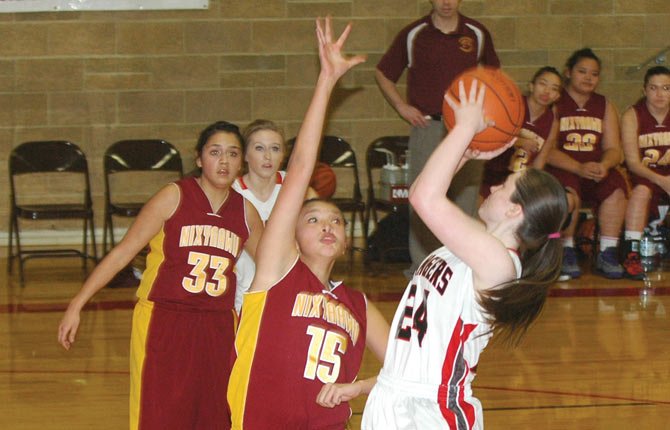 With all-leaguers Teneille McDonald and Taylor Darden sidelined, along with a few other names out of the lineup, the No. 6 Dufur Rangers used the first three quarters to build as much as a 20-point lead on their way to a 44-30 victory over Nixyaawii Saturday in Big Sky Conference girl's basketball action in Dufur.
Even with such a short-handed roster, Hannah Harris said it is up to key reserves to step into larger roles until the reinforcements return.
"It is pretty critical that we have all of the players prepared mentally and physically for each game," Harris said. "We have a lot of injuries, so we need everyone to step up and do everything they can to help us be successful. The younger girls are really stepping up in practice and working just as hard as everyone else is. They will get there, though, with time."
With a 17-7 run in the opening quarter, Dufur got a big jump on the Golden Eagles, who entered the contest as winners of five of six games.
In front by a 7-5 score with three minutes and six seconds left in the opening frame, Dufur went on a 10-0 run in three minutes.
Alexa Macias and Sammi Ghramm sank consecutive 3-pointers, Megan Elam hit a layup and Kelly Heemsah muscled her way to a short jumper to make the score 17-5.
The Rangers then went on a 9-5 run in the second quarter to go ahead by a 26-12 tally at the break.
Dufur continued its spurt in the first 4:01 of the third period as a 9-3 count moved the lead out to 35-15.
Ghramm ended the quarter with a layup after taking a lead pass from Harris to make the score 37-17 with one quarter left to play.
Nixyaawii staged a bit of a rally in the first two minutes of the fourth period to make it 37-25, but Dufur kept its wits 7-1 run over the next 3:08 to put the lead to 44-26 with time running out.
Dufur hit 15 field goals, and went 12 of 24 from the line.
Kelly Heemsah and Sammi Ghramm scored 11 points apiece, and Hannah Harris added nine points. Alexa Macias kicked in another six points.
"It was a great win for us," said Dufur coach Hollie Darden. "We have had a lot of success and the girls are playing with a lot of confidence right now. We have kids who shoot the ball well and we have some decent post players inside who work hard."
Nixyaawii hit 11 baskets, five in the opening half. Ronnie Simpson led the Golden Eagles with 10 points, Charlotte Barkley kicked in eight points, and Karen Jackson was good for four points.
Although his team is still trying to maintain its edge given the circumstances, coach Darden has a course of action in his mind to better prepare his group in this next month before the postseason.
"We have been working hard in practice every day," the coach said. "I still want to see a little consistency on both sides of the floor. It is important to continue that to the point where they are playing added minutes in the playoffs. If we can keep that up, we can have more poise in those big games where we are finishing plays and doing all of the little things necessary to come out on top."
Dufur (9-2 overall, 3-0 league) is at last-place Horizon Christian (2-10, 0-2) with action starting at 6 p.m. Friday.