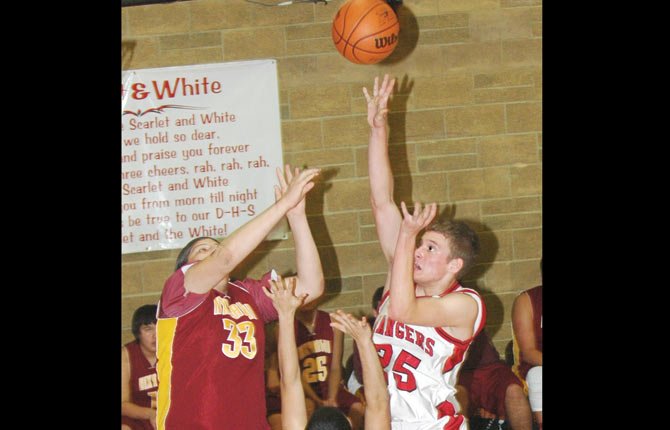 Dufur — Faced with a bitter pill to swallow in Saturday's four-point home loss to Nixyaawii, Dufur head coach Tony White is hopeful his group can use that feeling to rebound against their next few opponents.
The Rangers held an 11-point first half lead, but saw Nixyaawii move ahead with a 30-25 run in the second stanza, including a 8-4 rally in the final four minutes and 22 seconds for a 54-50 victory in Big Sky conference action at Dufur High School.
"Our boys are pretty disappointed because they felt like they gave that game away," coach White said. "The locker room was pretty quiet after the game. Not because we lost, but because we felt like we had worked hard enough to take that game, but we didn't execute well enough in the end. It is going to make them angry. That's a good thing."
Both teams went back-and-forth in the final frame with Nixyaawii jumping ahead 46-43 after a layup by Angel Corona.
On two successive possessions, the Rangers got a 3-point basket from Caleb Morris and a 10-foot bank shot off the hands of Jake Kortge to move their team ahead by a 48-46 margin with 3:36 left in regulation.
Nixyaawii then took the lead for good at 49-48 with 3:07 left after a long ball from Ira Ashley.
Hunter Melton sank a layup and a foul shot with 2:55 on the clock to swell the Golden Eagle cushion to 52-48.
Both teams traded turnovers and missed shot attempts over the course of 2:16 until Kortge had a rebound and a putback with 39 ticks on the watch to move the Rangers to within a 52-50 deficit.
On Nixyaawii's next possession, they ran down the clock until six seconds remained, when Ashley swished two free throws to seal the win.
"We have to be more polished. You cannot turn the ball over like that," coach White said. "You cannot play at Nixy's tempo if you are not built for it. In the second half, we got into Nixy's rhythm and it was hard for us to get out. That is pretty much it in a nutshell. Both teams played hard and both teams played well. When it comes down to it, we just made too many errors to win that game."
Dufur hit five field goals in the fourth quarter, and wound up with 22 baskets, two from long range. They also hit on 4 of 9 free throw attempts.
Jake Kortge paced the Ranger offense with 20 points, six in the second half.
Bryson Caldwell kicked in 11 points, Caleb Morris had nine and Nick Little notched two field goals for his four points.
"We definitely could have won that game," said Caldwell. "It is a tough loss. It is no easy thing to lose like that. We just have to be more fundamentally sound and we will be able to win a game like this next time. We can definitely rebound from it though. We just need to get back at it and start over again with practice preparing for our next game like this loss never happened."
Corona had a team-high 18 points to lead Nixyaawii, Elijah Bevis added 13 and Hunter Melton tallied eight points.
Dufur (7-3 overall, 2-1 league) travels to Hood River for a Big Sky contest at 7:30 p.m. against No. 1-ranked Horizon Christian (10-1, 2-0).