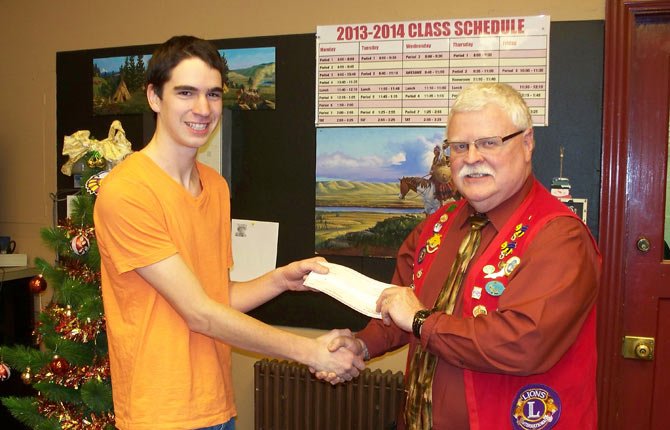 The enormously destructive typhoon Yolanda, which hit the Philippines on Nov. 8, 2013, may already be fading from the minds of many of the U.S. citizens who saw the initial reports of the devastation on the evening news.
Students at The Dalles Wahtonka High School, however, may be slower than most to forget.
Images of the destruction were shown in a school-wide assembly following the event, after which donation jugs were placed around the school in connection with a challenge issued by Principal Nick Nelson that urged students to donate to the cause.
"Spare change from lunch money, ones, fives, even twenties were dropped into the collection jars," High School Secretary Kristal Corey told The Chronicle. "One family even donated $200... Not bad for teenagers at Christmas!"
By the time the collection period concluded, students had donated $870.31.
In order to get the money where it could be put to the best use in the Philippines, high school staff came across the Lion's Club International Relief fund program, which "had a high percentage of the donation going directly to the people served," according to Corey.
Vice President of The Dalles chapter of the Lion's Club, Tim McGlothlin, found the club had a preexisting relationship with a small village called Bontac, located in the Leyte area of the Philippines, and one of those hit hardest by the devastation.
According to McGlothlin, the village's main income relied on the selling of coconut milk and dried coconut meat to a nearby city, but with the storm, both the trees and the livelihood of the about 129 residents of Bontac were swept away.
McGlothlin received reports that the people of Bontac were forced to eat bullfrogs and roots in order to survive, since relief efforts were primarily being conducted in heavily populated cities, allowing rural communities to slip by the wayside.
One of these reports stated that, as a direct result of the storm, "crops were destroyed and the price of rice had tripled."
"Much of the infrastructure on Leyte was devastated," McGlothlin said. "Electricity, phones, roads and essential government services have been non-existent since the storm. Corruption before the storm was a major government concern, but since the typhoon, greed and corruption has found a new home. The rich profit and the poor suffer."
Aided by the funds raised by students of The Dalles Wahtonka High School, the Lion's Club International Relief agency was able to wire the money to Marilyn and Susan Langely, fellow Lion's Club members and residents of the Philippines.
From there, they were able to contact Justice of the Peace Captain Diosado Lamoste of Bontac, where the total donation amount was converted to the Philippine's native currency and used to purchase rice, noodles, soap, and kerosene to fuel lamps in the village still devoid of electricity.