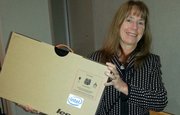 The Columbia Gorge was well represented when hundreds of public and private leaders convened at the Oregon Convention Center in Portland Dec. 9 for the Oregon Business Summit, an annual event that helps define state policies for the coming year.
Local attendees included Wasco, Sherman and Hood River county commissioners and port officials, Mid-Columbia Economic Development District and Gorge Technology Alliance directors, city councilors, and representatives from Columbia Gorge Community College, among others.
This year, as in recent years, the summit focused on aligning industry workforce skills with Oregon's education and training system. State and federal elected and appointed officials including Gov. John Kitzhaber, U.S. Senators Ron Wyden and Jeff Merkley, Dr. Nancy Golden, chief education officer for the Oregon Investment Board, and OSU President Dr. Ed Ray described their vision for Oregon's future, all with a continuing emphasis upon connecting education and workforce training to careers.
The summit also had an unexpected benefit for renewable energy students enrolled at Columbia Gorge Community College.
Suzanne Burd, the college's education and renewable energy coordinator, entered Columbia Gorge Community College Foundation for a drawing organized by Intel Corporation, which was open to all the hundreds of individuals attending the summit; the drawing was designed to benefit any of the non-profit organizations represented at the summit. Grand prize was an Intel Ultrabook laptop valued at $1,040 – and Burd's entry was the winner.
As laptop recipient, the non-profit college foundation will be offering the laptop for its own drawing during the annual Founder's Cup golf tournament, scheduled Aug. 2, 2014, at Indian Creek Golf Course in Hood River.