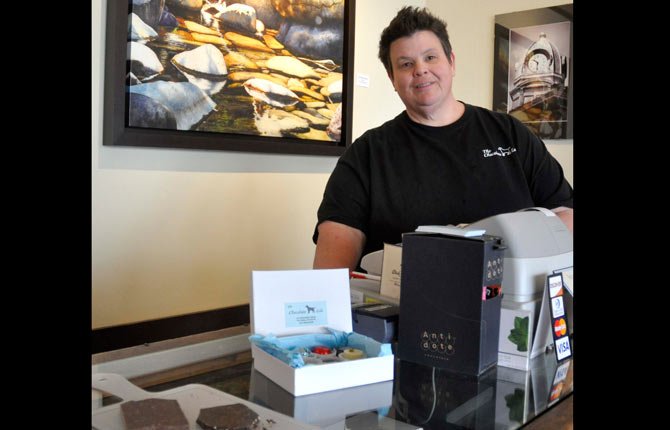 Sunde Carroll brings gourmet chocolate to The Dalles from all over the world and she wants you to try it at The Chocolate Lab.
Her new shop, featuring not only high-quality chocolates (or cacao) but also infused sea salts, opened Dec. 1 at 214 Washington St. She hopes her store will play a role in helping enliven downtown The Dalles.
"I'm wanting The Dalles to pick up and become a new scene," she said.
Carroll describes herself as a "chocolate gourmand." As such, she hopes to bring the experience of fine chocolate to people from all around.
"I have a love for chocolate," she said. "And because I am a gourmand, I love the pairing of things."
Wine is the primary pairing. On this particular day, a bottle of Quinnett red sits on the counter next to a selection of chocolate bars infused with flavors like pear and almond, ready to complement one another.
"I'm in communication with all the local vineyards to do pairings with them," she said.
Art also adds to the experience. Her shop is adorned with the work of local and regional artists, which she also sells.
Carroll's colorfully packaged and artfully designed chocolates are made by private chocolatiers.
"I order them fresh and they make them as soon as I order," she said.
They also make her signature chocolate-covered caramels, which are topped with a dusting of applewood-smoked sea salt, designed to enhance the caramel and chocolate.
The caramels are one of the most popular items in the store, as are the wild balsamic cherries — wild Italian cherries macerated in eight-year-old balsamic vinegar in a dark chocolate shell.
Her selection also includes choices from more than 50 fine and unique chocolatiers from around the world. If even the darkest chocolates seem creamy in texture, Carroll credits the use of raw, organic cacao.
"From bean to bar, that's really the healthiest way to go when you're considering chocolate these days," she said.
Carroll, also an experienced personal trainer, has helped clients with special health considerations choose healthful and safe chocolate selections. For example, someone on a diet may need something a little sweet, but also need a bar high in antioxidants. Someone with allergies to chocolate may be affected by milk or peanuts. Carroll says she has solutions for those challenges, too.
"I've made sure that on the shelves and in the store we have chocolate for everyone," she said.
Carroll also stocks a broad range of sea salts from around the world, among them a popular pinot noir salt, Meyer lemon and even black truffle sea salt from Italy with a rich and strong flavor.
"It only takes a little," Carroll said.
Carroll also stocks Himalayan salt blocks designed for cooking in the oven or on the grill, and salted shot glasses.
"You just lick them and drink," she said.
She also sells related cookbooks.
Remodeling at the shop — once home to a barber, then a tailor — was done entirely by Carroll.
"I've completely transformed the whole place," she said.
It now holds the ambience of an "old-world confectionery," wrote one reviewer, with fresh flowers enhancing the lobby daily.
In addition to the tasting that goes on through the day, Carroll also offers private tastings featuring chocolate-wine pairings. She also creates special-order gift boxes, which she will even deliver.
The Chocolate Lab is open 10 a.m. to 6 p.m. Tuesday through Saturday and Sunday from noon to 5 p.m. During the summer, she will be open seven days a week.
Reach Carroll by phone at 541-340-0806, email at thechocolatelab@yahoo.com and on Facebook as "The Chocolate Lab."