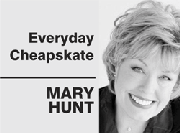 In a recent column I showed you how to make a very effective fruit fly trap. I thought my trap was quite effective because I caught those flies that were driving me nuts. Then I got an email message from reader Betty, who offered a couple of improvements. I immediately upgraded my trap accordingly. So much better.
DELUXE FRUIT FLY TRAP. I make fruit fly traps and just put apple cider vinegar in a small bowl and mix in a little bit of dish washing soap. The soap breaks the tensile strength of the surface of the water and the fruit flies sink and drown. No plastic wrap needed.
I have heard of using saran wrap on top of the bowl and poking small holes in the top — apparently they can get in and not out, but I have great success with just the bowl, vinegar and dish soap. — Betty B., email
"THE WORKS" WORKS! We live in the country and have very hard water. My fiance's white work shirt fell victim to a wash where the water softener ran out of salt and turned a horrible rust color. After bleaching and even trying OxiClean with no luck, as a last resort I took a large plastic bowl, put about 1/4 bottle of The Works Tub and Shower Cleaner, then filled with cold water. I put the shirt in, swished it around, gave it a good rinse, and it was as good as new. A bottle of The Works sells at our Walmart for less than $5 and works effortless wonders on any rusty surface. — Kara S., Ind.
EAT OUT, MAKE FRIENDS. Instead of spending our precious entertainment dollars at a restaurant, I'm always on the lookout for church or social hall dinners and festivals. Many churches, social clubs like the VFW the Knights of Columbus frequently have pancake breakfasts and spaghetti dinners. These meals are usually quite delicious, very reasonably priced, provide wonderful opportunities to meet new people and contribute to a good cause. Can't get that from a drive-thru or an IHOP. — Shannon H., Minn.
REBATE ROUTINE. Whenever I apply for a rebate, I make a note in my calendar on the date the rebate is due. If it is 4-6 weeks, I give it the full 6 weeks. Then, if I the rebate has not arrived in my mailbox, I contact the company. I recently had to call Volvo customer service about a missing rebate on some auto accessories. They told me that they had a separate company take care of processing rebates. The rebate company had "no record" of receiving my paperwork. I sent copies (always make copies!) of my receipts directly to Volvo and had my $60 rebate in a couple of weeks. I'm not saying companies are dishonest, but I wonder how many rebates never show up, even after the customer has met all the conditions. — Janet C., email
HALF-PRICE HAIR COLOR. I found a way to make hair color that's packaged for one application good for two uses. The kind I use comes in two separate bottles. The instructions say to mix these together. Instead, I pour half of each bottle into a bowl and mix for one application (there is plenty of product). I carefully cap both bottles, which are now half-full, for next month and then I just pour the contents of one into the other for the second application. You cannot mix all of the product at one time and save half. That won't work because once mixed, you must use it right away. I have been doing this for months now. It's like getting hair color for half the price, all the time. — Cathy R., Ohio
Would you like to send a tip to Mary?
You can email her at mary@everydaycheapskate.com, or write to Everyday Cheapskate, P.O. Box 2099, Cypress, CA 90630. Include your first and last name and state.
Mary Hunt is founder of www.DebtProofLiving.com.
To find out more about Mary and read her past columns, please visit the Creators Syndicate Web page at www.creators.com.