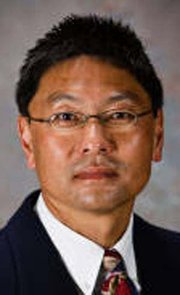 The Dalles native Lance Fujiwara has been named the College/ University Athletic Trainer of the Year by the Virginia Athletic Trainers' Association.
"I'm honored to be voted in by my colleagues," he said.
Fujiwara is the director of sports medicine for Virginia Military Institute and is in his 27th year there.
Fujiwara is a certified member of The National Athletic Trainers Association and is also a licensed athletic trainer in the state of Virginia.

Fujiwara graduated from Wahtonka High School in 1979, competing in football, basketball and track. That experience led him into athletic training.
He attended Mt. Hood Community College for a few years before transferring to Oregon State University's physical education program, majoring in athletic training.
"Then I took a year out to work," he said. "I was trying to figure out where I was going to go. I was working at a shoe store in Corvallis and as fitness director at an Albany athletic club. Then I got into the [athletic training/sports medicine program] at the University of Virginia."
Fujiwara graduated from that program, then went directly to work at the Virginia Military Institute. After serving in this role for one year, he was promoted to head athletic trainer/director of Sports Medicine and has served in this role for the past 26 years. He gained the added responsibility of associate athletic director in 2008.
He is a member of the McCue Sports Medicine Society and serves as a clinical instructor in athletic training for the University of Virginia, Western Carolina University and Longwood University. He is also on the editorial board of the journal Training & Conditioning.
Fujiwara served as a graduate assistant athletic trainer at Fork Union Military Academy in Fork Union, Va., during the 1986-87 academic year while concurrently pursuing his master of education degree and graduated from the University of Virginia in the summer of 1987, at which time he came to VMI. Fujiwara went on to earn a second master of education degree from the University of Virginia in counselor education with an emphasis in higher education in 1998.
"I'd like to come back to The Dalles, especially now that my mother is getting older," Fujiwara said. "She's 86 and my father has passed away. She just moved into Flagstone in November."
He has an older sister in Bend and two grown children living in San Francisco, Kace and Jamieson. He returns to visit The Dalles once or twice a year and was married for the second time last summer at Mt. Hood.
"I loved living in The Dalles," he said, noting that he maintains friendships with many high school friends. "It was a good experience. I eventually want to go back there and retire."