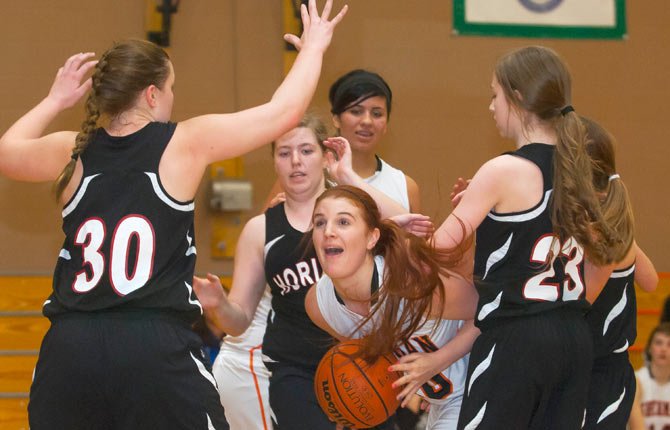 Even while riding a four-game losing streak, the Sherman Huskies have not stopped believing they have the potential to accomplish so much more as the season hums along.
Box Score
Sherman 47, Horizon 11
Horizon.........2 0 3 6 — 11
Sherman.....14 16 6 11 — 47
---
Horizon (11)
Lingel 0 1-2 1, Carter 0 0-2 0, Becnel 3 0-0 6, Hicks 0 4-6 4. Totals 3 5-10 11.
Sherman (47)
Harrison 4 0-0 8, McKinney 5 0-0 10, Orendorff 1 1-2 3, Busler 1 0-0 2, White 3 0-2 6, Guzman 4 2-2 10, Poirier 2 3-4 7, Hill 0 1-4 1. Totals 20 7-14 47.
Tuesday, this squad came out with one of its better efforts of the season in a 47-11 blowout win over Horizon Christian in a Big Sky Conference girl's hoops matchup in Moro.
Sherman senior Katie Poirier is a big believer in such potential.
"I think we have good leadership all the way around and we get each other pumped up and we do not let the little things bother us," she said. "I think so far that we are on the right track. We have a lot to work on, but I think we are getting to where we want to be, so I am really proud of us in the part of it."
In this game, not only did the Huskies produce one of their highest scoring outputs, but also they dropped the hammer down on defense limiting Horizon Christian to 11 points on three field goals, all in the second half.
Sherman scored the first 10 points and rode that quick start to a 14-2 advantage after one quarter of play.
Up by 12 points, the Huskies then padded their lead using a 16-0 run in the second quarter to jump ahead by a 30-2 score.
With the scoreboard reading 20-2 and more than three minutes left on the clock, Sherman had its defense create several scoring opportunities for a 10-0 spurt to end the half.
Janet Guzman started the rally with a rebound and putback, and on Horizon's next possession, point guard Andie Harrison grabbed a steal and went coast-to-coast for a layup to make it 24-2.
Brittney Orendorff sank a layup and then Poirier followed with consecutive baskets on a putback, and another steal and a layup to swell the lead to 28 points.
"We came out and I thought our pressure defense was good," said Sherman head coach Steve Kaseberg. "We created good opportunities because of it. That is what we have to do going forward. We have to play good defense, get the opportunities from that and we have to capitalize on them."
With 6:33 left in the third quarter, Horizon Christian finally got on the scoreboard with a field goal, as Haley Becnel rattled home a short jumper to make it 30-4.
She hit two more in the final frame at the 4:23 mark and another late in action with 1:49 remaining. Becnel finished with those six points, and teammate Trista Hicks had four points on 4 of 6 free throws.
Sherman nailed 20 baskets and went 7 for 14 from the charity stripe. In the opening half, the Huskies sank 14 baskets.
Meagan McKinney and Guzman netted 10 points apiece, and Harrison tallied eight points.
Poirier had seven points, and Lily White was good for six points.
Getting good production from their frontcourt is an area of emphasis for a Husky squad that has four players measuring 5-foot-10 inches or taller.
In order to make that part of the court an added advantage, Kaseberg wants that group to be aggressive with calling for the ball down low.
"It is extremely important that our posts continue to do a good job of scoring points, rebounding and doing all of the little things," Poirier said. "Janet, myself and Katie Asher and even Meagan, when she plays post, are doing an excellent job of getting open and calling for the ball. I think our wings and point guards are doing a good job of looking for us too."
With the win, the Huskies are two games behind first-place Dufur and a half game behind Central Christian. However, South Wasco County is right on their heels for the final district slot.
In order to make that jump, Kaseberg still wants to see his team improve in three main areas – scoring, rebounding and playing with confidence.
"They got that nasty taste out of their mouth," the Husky coach said. "I want them to take the momentum they built up tonight and get ready for this weekend. This is a good step in the right direction. If they want to get where they want to go, they need to be better."
Sherman (5-7 overall, 1-2 league) plays in Redmond at 6 p.m. Friday versus Central Christian.
After that, the Huskies hit the road for a game against Siletz Valley at 2 p.m.