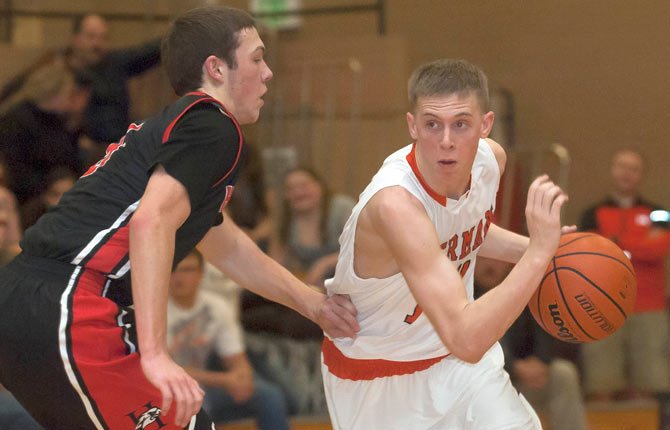 If the No. 1-ranked Horizon Christian Eagles are going to win their fourth straight district title, they will need a performance just like Tuesday on a consistent basis to do so.
Box Score
Horizon 79, Sherman 44
Horizon..22 17 20 20 — 79
Sherman..8 9 15 12 — 44
---
Horizon (79)
Davis 4 1 4-6 15, Johnston 2 2 0-0 10, Engel 1 1 0-0 5, Evans 2 1-2 5, Bloomster 6 4-6 16, Totaro 7 2-4 16, Hicks 5 0-2 10, Anderson 1 0-0 2. Totals 28 4 11-22 79.
Sherman (44)
Winslow 2 1 1-2 8, Kaseberg 1 1 9-14 14, Holliday 2 1 2-2 9, Coles 2 0-0 4, Martin 1 2 0-0 8, Fields 0 1-2 1. Totals 8 5 13-20 44.
Senior forward Matt Totaro and teammate Mason Bloomster scored 16 points each and the Hawks used the first three minutes and five seconds to jump out to a 14-0 lead onto a 79-44 victory in Big Sky conference boy's hoops play in Moro.
"We knew that if we came out soft or flat, we were not going to win," said Hawk junior guard Jared Davis, who poured in 15 points, as five players went over double digits.
"We cannot afford to let up on anyone. It does not matter if the team is in a high bracket or a low bracket, we got to take it like it is a championship game every night if we want to be successful."
Up by that initial 14-point spread to start the game, the Horizon lead swelled to as much as 22-2 with 2:36 left on the clock, before Sherman battled back with consecutive 3-pointers by Austin Kaseberg and Max Martin to make it 22-8 after one frame.
Horizon then added a 17-9 edge in the second quarter to go up 39-17 at the break.
At the start of the third quarter, the Hawks got two baskets apiece from Micah Engel and Bloomster for a 25 points lead with 4:32 left in the third frame, and the scoreboard read 59-32 entering the fourth quarter.
There, Horizon finished things off the final 1:28 on a 6-0 run to produce the final margin.
"I am happy that we did not stop putting out the type of effort that we need to in order to come out on top," said Sherman coach Bill Blevins. "Even though the game was in hand in the fourth quarter, I did not see this team quit. That is a good sign of character. We are a pretty young, we have a ways to go and a lot to learn yet. This is a learning experience."
Sherman's Austin Kaseberg had a team-high 14 points with most of them coming on 9 of 14 from the free throw line.
Ben Holliday hit on nine points, and the duo of Maverick Winslow and Max Martin managed eight points each.
All told, the Huskies had 13 baskets, five from long distance, and they connected on a 13 for 20 split from the stripe.
Sherman struggled offensively in the opening half with four field goals, just one in the second period.
"That comes down to the intimidation factor," Kaseberg said. "We were not driving to the basket like we normally do. We were scared to go inside and rebound and we were scared of their height. You cannot be intimidated by a team, you need to fire back and play hard."
Much of what Horizon did defensively with its pressure defense flustered Sherman in several ways.
Five times this season, the Hawks have held their opponents to less than 45 points, including the past four games.
That defensive trend has been a huge boost for a team that is currently on a streak of 11 straight victories.
"Our offense is generated from our defense," said Horizon head coach Darrin Lingel. "When we get really active defensively, our offense picks up and we move the ball better. That has been something that we have really worked hard to make sure that we do."
Sherman is still putting out five freshmen on a nightly basis, so Blevins said there is still a learning curve for this squad.
Alex Fields made his return to the lineup after missing the first month and change due to a hip injury. With Fields in the lineup, Blevins plans to use him as a post presence to free up the perimeter shooting of the guards. That added size can go a long way towards rebounding and defense as well.
"It will take a little bit of time before we start playing at a really high level," Kaseberg said. "It is going to take them (the freshmen) time to get with us and for us to get with them. It will take a little bit of time before we are on the same page more consistently."
Kaseberg is confident this team can sneak into the top-3 in the Big Sky West, but it will contend with Horizon, South Wasco County and Dufur if they are to do so.
"I feel this team has a lot of talent and I feel that anything we set our minds to, we can win," Kaseberg added. "I know we can win and I have seen us win before, so we just need to play to the best of our abilities every night."
In his first season as coach, Blevins re-iterated that the effort and execution that his group is putting out in a game is something that will put more wins on the board. Losses and wins aside, he likes the makeup.
"Every day they are getting a little bit better and every day they learn a little more," the coach said. "When those kids do come along and figure out the consistency with which they need to play along with the effort they need to play with, we are going to be a lot better."
Sherman (6-6 overall, 1-2 league) plays at Central Christian at 7:30 p.m. Friday.