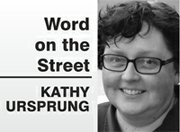 Transit Center:
A transit operation center is up for consideration at a City of The Dalles Planning Commission quasi judicial public hearing Thursday, Jan. 16, at 6 p.m. at the City Hall council chambers.
The application from Pivot Architecture and Mid-Columbia Council of Governments is to construct the transit center at 802 Chenowith Loop Road, next to the Home Depot. Comments may be submitted prior to the hearing by mail or personal delivery.
Drone impact: The Gorge Technology Alliance recently collected data about the economic impact of the unmanned aerial system industry in the five counties of Hood River, Wasco, Sherman, Klickitat and Skamania. The alliance found that GTA companies who work in or supply the industry account for just over 1,000 people with average annual pay of around $68,000.
Among the companies involved are the best known, Insitu, as well as Aerovel, American Aerospace Engineering, Cloud Cap Technology, Hood Technology, Sagetech Corporation, Sightline Application, Trillium Engineering, Custom Interface Inc., Innovative Composite Engineering, Prigel Machine and Fabrication, Real Carbon and Zepher.
"The reason, in part, why this region has done better than state averages during this last recession is because of the diversity of our economy," said Jessica Metta, GTA executive director.
Shop and help: That next bag of potatoes or can of corn can help a homeless cat or dog.
Fred Meyer is donating $2.5 million per year to nonprofits in Alaska, Idaho, Oregon and Washington, based on where their customers tell them to give.
Shoppers can link their Fred Meyer Rewards Card to various local nonprofits at www.fredmeyer.com/communityrewards. Among those on the list for the local area are Northern Wasco County School District, St. Vincent de Paul, The Dalles Main Street, Home at Last Humane Society, Mid-Columbia Health Foundation and The Dalles-Wasco County Library Foundation.
Linking the card to a nonprofit doesn't affect your own rewards points, fuel points and rebates.
Can you hear me now? Verizon Wireless has expanded 3G and 4G LTE service to areas east of The Dalles along Interstate 84 and south along Highway 97, including Biggs Junction and Maryhill south to Wasco, Moro and Grass Valley. They're promising faster web surfing, music and video, social media sharing and file downloads.
Six new cell sites will be providing the transmission.
Government Affairs: The Dalles Chamber's Government Affairs Committee will host Dennis Morgan talking about performing arts in The Dalles this Thursday, at 7 a.m. at the Barbecue Restaurant.