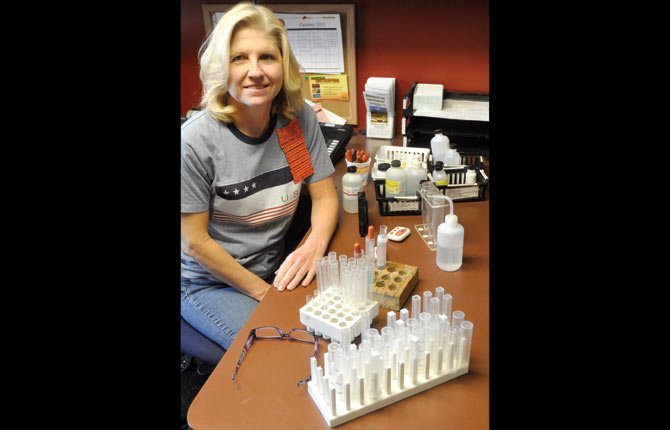 Master Garder training deadline nears
A Master Gardeners social will offer information about the upcoming Master Gardener training program Thursday, Jan. 23, at 6 p.m.
Learn more about gardening and share gardening experiences. Learn what they are doing within the community and how to join.
Applications for Master Gardener training are due by 5 p.m. Jan. 29 at the OSU Wasco County Extension office.
"I think we have put together an interesting training program again this year," wrote Lynn Long, Extension horticulturist. "We've got some great programs and speakers lined up for classes. Among other things we'll learn about native plants, vermiposting/composting (Don't know what that is? Come and find out), and we'll visit some of the most interesting gardens in The Dalles as three Master Gardeners show us what they are planning for their 2014 garden. "
Other topics include ecological planting design, attracting native pollinizers and lawns, among others.
Classes begin Wednesday, Feb. 12, at St. Paul's Episcopal Church in The Dalles and continue every Wednesday through March 26, with a short morning class from 9 to 10:30 a.m. April 2.
"Every year I'm asked what we are looking for in new Master Gardeners," Long said. "Our main requirement is a love and enthusiasm for gardening and a desire to share that love with others. Most Master Gardeners have at least two or three years of gardening experience before they join the program, but we do not require extensive knowledge."
Those included in the program agree to contribute 42 volunteer hours within the next eight months in exchange for the classes they receive. Volunteer opportunities include plant clinics, Seeds 'n' Soils for fourth graders, planning and participating in garden fairs, the Imagination Garden, Junior Master Gardeners and other learning events.
Those interested in the program should send submit an application (available at the Extension office) and two checks, one for $90 for class tuition and the other for $15 for membership in the Wasco County Master Gardeners Association (both fully refundable if not accepted).
Submit application and payment to OSU Extension Service, 400 E. Scenic Dr., Suite 2.278, The Dalles, OR 97058, Attn: Master Gardener Program. The application must be received no later than 5 p.m., Wednesday, Jan. 29. Late applications will not be accepted.
Twenty-year Master Gardener Cheri Austin says one key to an enjoyable gardening experience is to not go overboard — a little advance planning doesn't hurt either.
Austin has been enjoying gardening for most of her life and she says it has also offered benefits in coping with the multiple sclerosis she has had since her diagnosis 30 years ago, which forced her to quit her 9-to-5 job.
"Gardening is therapy and relaxation," Austin said. "I can do it on my own time."
She's a morning gardener, because her condition makes it difficult to cope with temperature above 70 degrees.
"This disease treats everybody differently," she said.
Austin's early gardening focused on flowers, but once she and her husband got a place of their own and started raising children, she found she wanted to grow vegetables.
"There's nothing like the taste of that home-grown tomato," she said.
Today she grows not only tomatoes but green beans and a variety of peppers, both hot and sweet. Some of them she grinds into spices such as chili powder and paprika. She also enjoys squash and bush zucchini, which she grows in pots.
As a natural extension of her gardening interests, she has also become a Master Food Preserver and cans tomatoes, spicy dilly beans and other treats.
This time of year, while frost is still coating the landscape and the idea of snow isn't a distant possibility, is a good time to start dreaming and planning for the coming season's garden and what it will contain.
"This is the time to go through the seed catalog and consider trying something new," Austin said. "If you have questions, you can definitely call the Master Gardeners. We'll do all we can to help."
Austin often staffs the question line from home at this time of year.
While local stores have started to carry more seed varieties, seed catalogs can open up whole new growing vistas with hundreds of heirloom and specialty varieties. And don't be afraid to shop around, Austin said. Online research can yield a variety of seed store options. Just make sure to deal with a reputable company.
If space is limited, Austin recommends trying bush varieties of some of the vegetables that can take over the garden, like zucchini and cucumber. They can be planted in separate pots and won't take over the garden.
She also suggests growing some of these plants vertically. She grows cucumbers on vertical trellises, as well as squash, making sure the structures can support the heavier gourds.
If you've saved partially used seed packets with the idea of using them again, consider that different seed varieties have different shelf lives. The best place to store them from year to year is in the refrigerator, or in a cool, dark place.
This is also a good time of year to clear away last year's garden remnants, if it hasn't been done already, Austin said, so seeds aren't left to sprout.
It's also a good time to not only choose this year's varieties, but to plan where they will be located and, if you choose, to diagram the garden and what plants will go where.
"Make sure when you are planning the garden to practice crop rotation," she said. "Don't plant things in the same spot more than two or three years in a row … Master Gardeners recommends rotating every year, if you have that option, although some people have limited space."
Failure to rotate vegetable crops regularly can exhaust the soil's minerals. Rotation can also help avoid the build-up of pathogens and pests, and can even help improve soil structure.
These are the types of science-based practices that Master Gardeners teaches in its annual training program (see related sidebar).
Some other garden landscape activities to be thinking about at this time of year include:
• putting clean cuts on tree limbs that may have been damaged during winter snow and wind events. Leaving ragged breaks in place can invite disease, Austin said.
• considering changes like raised beds or adaptive tools that can help with physical limitations. Raised beds can be a boon to aching backs and gardening stools and ergonomic tools can help with other physical concerns. "We really need to pay attention to what we are physically capable of doing," Austin said.
• starting perennials. Some can be started now and "some take a whole lot longer and should have been started last year," Austin said.
• dormant spray fruit and nut trees. Since Wasco County is a fruit-growing region, the sprays are required by law to stop the spread of disease. "Lynn Long [Extension Service horticulturist] has put out a spray schedule specifically for Wasco County," Austin said.
Starting around March 4, the Master Gardeners will also be providing soil testing, which can be an important step to learning what amendments will help gardens grow better. Austin warns east-side residents to use caution in taking the advice of regional gardening shows where soil composition is concerned.
"These programs are more geared toward the west side than the east side," she said. Soil west of the Cascades Range is more acidic she said and garden shows often recommend liming garden beds to counteract that. But eastside gardens are typically very alkaline.
"Liming is going to have the wrong effect on garden soils," she said.
Testing for pH level is free at the Extension office. An additional fee is charged for addition testing for major minerals such as nitrogen, phosphorus and potassium, as well as organic matter and soil texture.
"Wasco County has such a huge diversity of soils," Austin said. Sand, clay, even solid rock can require different treatments. Austin uses raised vegetable beds because her yard is on sandstone.
Soil testing can lead to recommendations for the appropriate soil amendments to best prepare that specific soil for planting.
Master Gardener plant clinics start April 1 at the Extension office and April 5 at Fred Meyer.