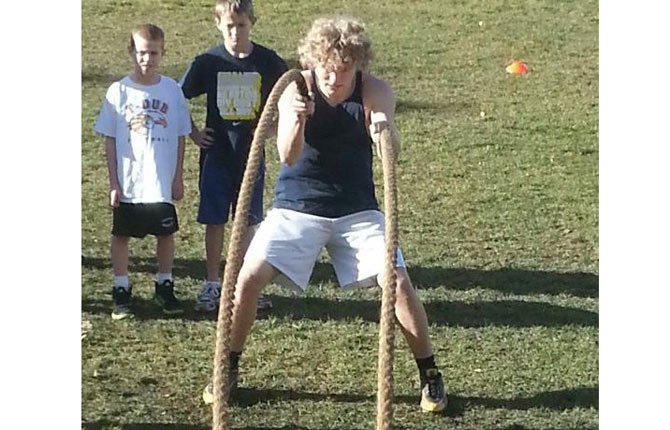 There is no more emotional moment a coach can feel than turning his keys for the final time.
All the memories gained from an experience working with children of all ages from The Dalles with an emphasis on building character and a love for football has been the life love of coach Ron Diede.
He has been coaching for the past 26 years overall, the last three as lead instructor at Training for Success.
This year, The Dalles Wahtonka saw many of those hours of work put to fruition with a winning, playoff varsity season, a win over local rival Hood River Valley, a playoff berth and 23 slots taken on the Columbia River Conference all-league list.
In addition, all league senior linebacker Kauone Sefo had his name called as part of the OSAA all-state roster as an honorable mention selection for a Tribe program for the first time since 2010.
Definitely this is a bittersweet feeling for Diede, who will watch his youngest son walk across the stage this June for graduation.
"It was a great experience for me," Diede said. "I have made some friendships that will last a lifetime."
Sefo also recognizes the efforts put in by Diede, for dedicating time in an effort to making him a better football player.
"I want to thank Ron Diede for everything he has done for me," Sefo said of the TFS program and the benefits it offered to several athletes over the years. "You made me into a better player and you sacrificed a lot of time to train me."
The simple goal for Training for Success is to start a program designed to allow the interaction of all youth who play sports in The Dalles to become better, stronger, faster, and athletes that are more confident.
From what started as a plan between Diede and his son Blake, the aim was set towards developing a workout regimen, at no cost to the athletes, to prepare them for the upcoming sports season.
In 2012, another TDW senior, Zach Cantrell did not participate in TFS, but this past offseason, he was one of the more dedicated participants.
He reaped those benefits with an all-league selection for his play at defensive back.
Cantrell has always been a believer in the program and its benefits.
"I think it did a lot of good. I was trying to get faster and I thought that TFS helped me a lot that way," he said in an earlier interview. "I noticed I got better this year. That is why I worked harder this offseason to try to get better, so we would start winning games."
With first-year head coach Steve Sugg calling the plays and setting up the offense, Blake Diede played in nine games this year and averaged a team-high 6.3 yards per carry.
He finished second on the team with 80 carries and was second as well with 522 yards rushing, adding two rushing scores to his stat line.
Through the air, Diede had 15 catches for 156 yards for a 10.4-yard average with a long of 64 yards.
The training program helped him get in better shape with increased agility and strength in time for the football season.
"I think this is a really good thing we have going here," Blake Diede said. "I am really confident in this. I think we can rally around this and bring our football program back to life. This is when the hard work starts – right now."
In the Training for Success group sessions, players from high school and middle school meet up for workouts in drills of plyometrics, 40-yard dash, agility drills, broad jump, cone drills and flex boxes in line with what the National Football League orchestrates during its annual combine every April.
One of the biggest aspects of TFS is a mentorship program, where the high school and younger athletes inter-mingle in day-to-day training routines.
The Eagle Indian coach said it has made a huge impact to see the youth mixed with older kids pushing each other for an extra repetition to improve.
As a whole, Blake, Ron and Cantrell want to see more athletes show up and work out.
In early August of last year, coach Diede said that there were more than 90 kids attending youth conditioning camp at St. Mary's Academy, and he thanked Joe and Didi Abbas for organizing such a following.
More importantly, coach Diede wants some parent or adult to take hold of the reins in an effort to continue the successful trend this program has built for the past three years.
He knows there are dedicated parents who are willing to sacrifice their time and effort to do so.
"Our goal should be to make these kids the best student-athletes they can be," coach Diede said.
For more information, call 541-993-0216 or email rip_lightnin@yahoo.com.