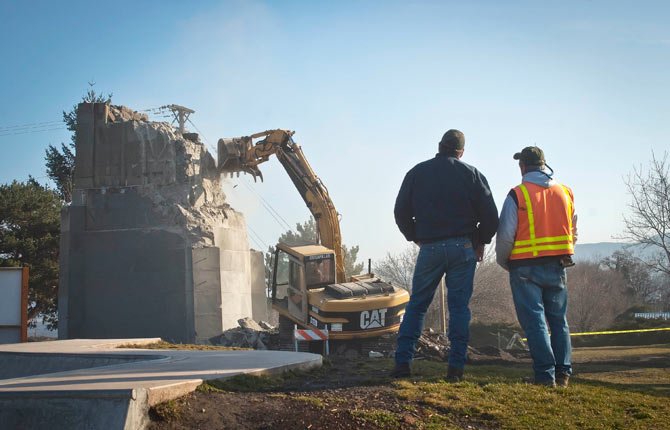 Editors note: This story was originally published in the Chronicle in February, 2013.
The unfinished base of a proposed Lewis and Clark monument memorial in Thompson Park is being removed.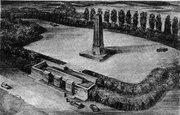 In the early 1940's the federal Work Project Administration started work on an ambitious monument to Lewis and Clark, located on property owned by The Dalles city adjacent to the Columbia River Highway (old highway 30).
The federal and state funded project was locally supported by a Memorial Association, which secured local funding for the planned project. The Association was created to help "secure by popular subscription a fund for defraying architectural and other preliminary expenses incident to a joint federal and state project to establish a monument and civic center to perpetuate historic deeds of exploration and in appreciation of two great americans," according to an undated pamphlet published at the time.
In an artistic rendering of the project, a stone tower over 60 feet tall stands in an open parking area planned by the Oregon state highway department. The tower and nearby stonework was to feature historic scenes from the Columbia River, and was topped by a round ball.
The association raised funds for "complete working drawings" for the project, as required for federal funding, and work began on the monument base: Aggregate cost of the project, state and federal, was estimated at $20,000.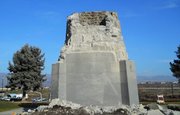 Work began in the early 1940's using stone quarried near Sorosis Park and basalt from Boyd, according to local historian and archaeologist Eric Gleason.
Only the monument base had been completed when the invasion of Pearl Harbor on Dec. 7, 1941, ended the project as the United States entered World War II. Only the base of the planned tower, about 25 feet high, remained.
Soon after the project ended, the property was transferred to the newly-created Northern Wasco County Park and Recreation District. In the 1970's, The Dalles Lions club built a wooden roof around the monument, converting it to a picnic shelter.
In March of 2013, the district board voted to remove the base, following a public hearing, citing safety concerns. Deconstruction began Jan. 16, 2014.