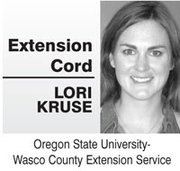 On a typical Wednesday, the smell of delicious food wafts into the hallways of The Dalles Wahtonka High School. The sounds vary from laughter and the chopping of vegetables to comments like, "Is this right?" and "Wow, it looks like a real muffin!"
The smells and sounds are not coming from the cafeteria but from the Awesome Period class taught by Lori Stepper, Wasco County 4-H staff, and Leela Patel, Vista AmeriCorps Volunteer for Wasco County Public Health.
Awesome Period is a new, innovative program at TDWHS where students choose from a variety of class offerings that teach them skills that they wouldn't otherwise receive during a typical school day.
Partnering together, Wasco County 4-H and Wasco County Public Health are facilitating this cooking class focusing on basic cooking skills, healthy cooking, and the science behind cooking/baking—skills that students will need regardless of their plans after graduation. Food and Nutrition are already part of the traditional 4-H program in Wasco County and Wasco County Public Health provides education to the community assisting in making healthier food choices. This partnership is putting the kitchen space at The Dalles Wahtonka High School to good use.
Volunteers from The Dalles have also been excellent partners in helping to facilitate this class. This semester, volunteers from OSU Extension Master Food Preservers taught a lesson on freezer jam. Many of the students commented on how proud their grandmother would be that they were learning how to make jam and they had no idea how easy it was.
Chef Carlos Flores, of Cousin's Restaurant, came in to demonstrate how to make an omelet. Carlos graduated from The Dalles High School and was very excited to share his skills and a possible career path to the next generation.
The Awesome Period class curriculum incorporates foods that teens love and gives the recipe a makeover. Instead of oil in muffins, they use yogurt; instead of refined sugar, they use honey; instead of processed white flour, they use whole grain flour. They add fresh vegetables to everything.

"I've learned how to make some of my favorite recipes healthier," says Kayla Seibel about what she learned in the Awesome Period class. Hearing such comments gives Leela and Lori the inspiration to keep offering the class and to continue coming up with new, innovative ideas.
Each lesson focuses on an aspect of food, such as sodium, fat, sugar, or fiber. After discussing the food focus, a recipe is prepared illustrating how cooking healthy can be delicious and easy. Students learn how to prep and cook fresh vegetables.
Sandra Leon was thrilled to learn how to chop garlic. "I love garlic—now I know how to cut it!"
Preparing and eating food is the basis of every social gathering and holiday.
Annika Dobo explained cooking class like this: "It is important for people of all ages to be exposed to cooking. It brings people together."
Bringing people together is exactly what this cooking class is doing. Students from different grades and social groups are coming together to cook and eat food.
Students often compare and complement each other's dishes and share tips they have learned. The class also promotes the idea of giving an item they have cooked or baked to a teacher or a friend. Not only are culinary skills being taught but also expressions of friendship and gratitude.

The class always has a line of students waiting to register each semester.
Without intentionally focusing on teaching and mentoring kitchen skills to the next generation, there is the threat of them being lost. Leela and Lori are thrilled to be providing such important lessons to The Dalles Wahtonka students. Student Lexie Popper said it best: "The class is deliciously fun and educational."