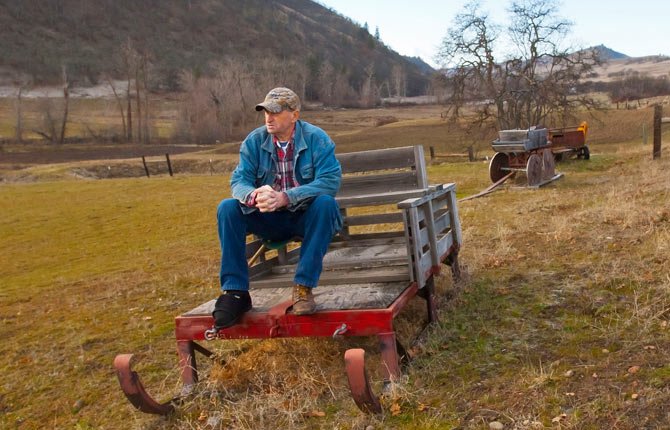 During the intense winter storm that swept across Wasco County in early December, personal misfortune paid an unexpected visit to the Harmon family on one of the coldest nights of the year.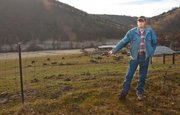 Braving the freezing night air to gather fuel for the wood stove that heats the old farmhouse out on Fivemile Road, Doc Harmon and his 14 year-old son, Lee, trudged through the snow, eyes peeled for anything they could burn.
"I spotted this stick of frozen wood that was stuck up in the middle of all the water and ice," Harmon said. "And I decided to kick at it to try and get it loose."
What happened next, he said, would come back to haunt him later.
Unbeknownst to him, the steel toe of the boot he was wearing became dislodged when he kicked the frozen stick, causing severe damage to his foot and severing one of his toes.
"I knew something strange had happened, but I really didn't feel a thing," he said. "It was just so cold, we ended up hurrying back inside, got a fire going, watched TV and then went to bed, just like any other night. All I know was that it was the first Monday of December, and Lee said he had to get to school in the morning. So I left my socks on because it was freezing in my bedroom, and in the morning my son says, 'Dad, we better take a look at that foot.' Now, I'm the type that usually does my own doctorin', so I just didn't pay him much attention. I told him I didn't think it was anything to worry about."
The fact of the matter, however, is that it most certainly was.
"When we removed the sock, Lee's eyes got real big and he said, 'Dad, you've gotta go to the hospital."
Harmon's foot had turned almost completely black overnight, and after driving his son to The Dalles Middle School, staff took one look at the injury and rushed to get help. Principal Pat Consoliver and school counselor Jenny Jesch-Collins were the first of those to immediately come to Harmon's aid.
"Pat ran and got me a wheel chair, and falling into it was the last thing I remember before I woke up on my back, staring up at the hospital ceiling, having already been operated on and with my foot hurting really bad… I honestly don't know how they got me all the way up there. I've no memory of the trip."
When Harmon did come to, he said his doctor told him that if he'd allowed the injury to go untreated for even one or two hours longer, he likely never would have woken up at all.
Harmon ended up spending the rest of December laid up in a hospital bed at MCMC, slowly working his way back to recovery with the help of his son, Lee, and an entire community that came together to "take care of things" while the eldest Harmon concentrated on getting himself better.
As his foot slowly began to mend, Harmon said it looked like it had been "filleted like a salmon; you could see chords and toes, minus the one that had to be amputated."
Later, when it was more "put back together," he said the criss-crossing stitches made it look more like something belonging to Frankenstein's monster than an actual human being.
Unsurprisingly, Harmon said he wasn't allowed to put any pressure on the foot, much less get out of bed, for most of his stay at the hospital.
"I was real worried because we run a full farm out on Fivemile," Harmon said. "There's livestock to feed and all sorts of things that need looking after every day. Even Lee, as capable as he is, couldn't do it all on his own. And, amazingly, he didn't have to."
Jesch-Collins recruited a number of eighth grade students to go out to Harmon's farm both before and after school to take care of the place and tend to the livestock.
"They helped Lee feed and do all the chores and allowed us to maintain while I was stuck in the hospital. If it weren't for them and almost all the people out there on Fivemile who came together to support us and who donated hay and feed to keep the animals fed, I don't know what would have happened. They helped us survive."
"Jenny basically took over and managed all the kids and donated her own hay, her truck, her time and her patience. She and her husband Rick did all they could and more to keep us going when I couldn't be there."
Christmas had been looking like a pretty grim prospect to Doc and Lee Harmon until Jesch-Collin's class came together to donate food and presents to the father and son in a show of community support and holiday cheer neither had expected to witness.
"There aren't enough words in the world to express how I really feel about all the things these people did for us to keep our spirits up and see us through this hard time, but I want to thank every single one of them from the bottom of my heart, as well as each and every one of those kids who came out to help."
"Farming isn't bad," Harmon said with a sigh, "but every once in a while you get these windfalls that just come out of nowhere and knock you right off your feet… I really don't think I could have made it through if it hadn't been for my son and the generosity of our friends and neighbors; these amazing people we're lucky enough to know and have in our lives."
Since being released from the hospital on Jan. 3, Harmon has returned to the about 60-acre farm on Fivemile, which is covered in what he calls "buried treasure," silver dollars, quarters and old glass jars from "way back in the war days."
"It's a wonderful place for a young man to grow up," he said.
Harmon describes his son Lee as a stellar student and "avid fisherman" already set on going to college, and can't help but smile when he says just how proud he is of him along with his other three children, who he says have grown up to be "very successful, hardworking" people.
"Through all of this, all of them have helped in some way," Harmon said. "I wish this whole world was a safer, happier place to live in than it is at this time. Sometimes you forget to appreciate the important people in your life, and sometimes it takes something big to remind you who they are. I'm just grateful I'm still here and able to tell them all 'thank you.'"
Forced to adjust the way he walks in order to compensate for the lost toe and the still-healing injury, he now gets along by walking on the back of his heal as much as he can, although he says he's no longer "nearly as accurate with my steps as I used to be."
"We're just trying to survive as people who are farmers," Harmon said, "and sometimes that isn't so easy. But I think we can make it if we've got people as good as we've got out here. You don't find that kind of community just anywhere… I've definitely got a lot to be thankful for."