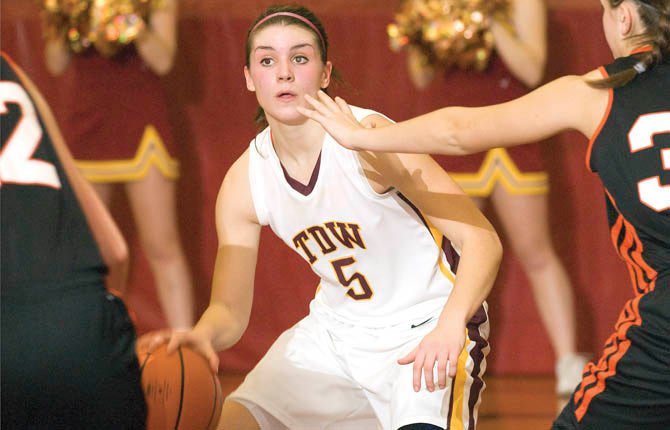 Being the youngest sibling of five has some of advantages and disadvantages.
Being the youngest sibling in the athletically gifted Bailey household is completely different animal altogether.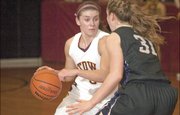 Coming from the first family of The Dalles Wahtonka athletics, senior basketball player Emily Bailey has learned from the best and has taken her knocks along the way.
She has endured scraped elbows, hurt ribs, a bruised ego and some other battle scars – and that is just from family hoops battles.
All those bumps and nicks have paid off with praise from opposing coaches and administrators and turned into one of highest forms of flattery – a McDonald's All-American nomination.
While there were three brothers, Beau, Sean and Isaac, the true knockdown, drag-outs, were between sisters, Andrea and Emily.
Andrea, a 2008 TDW graduate, was six years older – she never let up though.
"I don't remember making her cry, I don't think. I hope not," Andrea said with a chuckle. "We both play a physical game. Growing up with brothers and stuff, I think you learn how to play a more physical style of game. That is something that we are used to and something that we will always play with. I can definitely say there was some physicality when we played against each other growing up."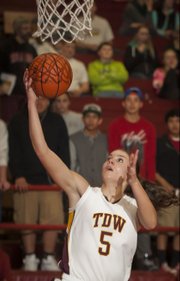 Emily used that time to acquire more knowledge of the game, develop more moves and to devise a plan on how to approach an opponent.
It has toughened her up to the level she is now —a kind of trial-by-fire.
"When we were younger, she would dominate," Emily said of her sister, who is now a volunteer assistant on the varsity team. "She was more aggressive than me and I learned from that. I put it in my mind that I needed to be more aggressive and stronger. As we grew up, we have become more equal. We have different games, but we complement each other well."
There were 984 total high school players nationwide to receive nominations from respective high school coaches, athletic directors, principals and McDonald's committee members.
Forty Oregon players were nominated, half girls.
The final roster, comprised of 24 boys and 24 girls, is going to be announced Jan. 29 on an ESPNU special.
The games will be played at the United Center in Chicago, Ill. on April 2, with the 13th annual girl's game preceding the boy's game.
In recent memory, just Neticia Enesi (volleyball) and Ann-Marie Guischer (softball) have earned the All-American distinction.
TDW head girl's basketball coach Dan Telles called Emily Bailey one player the community will not see again for a long time.
In addition to being tremendously skilled on the hardwood, he continued his praise saying that his prized senior is a strong representation of the community.
"She is special that's for sure," Telles said. "I know everyone is proud of her. She is not only a heck of an athlete and a fantastic ball player, but she is an even better person. She has those characteristics that show she is going to be a solid citizen, a leader, someone that people will follow on any given day. It is not an act. It is who she is. She is a fantastic human being."
Every time Bailey dons the crimson and gold uniform, she plays from whistle-to-whistle with her heart on her sleeve.
She is thoroughly appreciative of her teammates for making her work harder.
Wherever she goes, there is no delaying in telling others where she is from.
Emily Bailey has traveled across the state as part of travel teams, participated in numerous camps, played in countless summer league contests and done everything possible to hone her top basketball skills to an elite level.
Having her parents, Jon and Marie, with her through the entire process was a bit overwhelming.
The youngest Bailey said the love and dedication they've shown through the years is one of her greatest memories.
"They mean the world to me. My whole family means everything to me," Emily said. "My mom and dad have been there the entire time, whether it is a home game or a game 10 hours away. They have sacrificed so much to enable me to play the game I love and I am thankful to them for that."
Last season, Emily Bailey earned all-league recognition and had her name called as the Columbia River Conference Player of the Year.
In that season, she averaged 9.2 points, 6.7 boards, 2.5 blocks, five steals and 4.1 assists a game.
So far this season, she has increased her production and become an all-around threat on offense and defense, adding crisper playmaking skills and toughness under the net, scoring 11.7 points, grabbing 9.6 rebounds, 6.8 steals and 8.3 assists per game.
Currently, TDW is 11-1 overall and have the state's No. 6 ranking.
In a sport like soccer, basketball or any athletic situation, players cannot stop working.
They have to work at something to get better and improve.
In that regard, it is a relentless mistress.
Athletes have to keep faithful and loyal and fidelity is an issue there.
The Dalles Wahtonka senior basketball player fortifies that mantra with her diligent offseason workouts where focus is not on individual accolades or to the next level of play next season at the Colorado School of Mines, but winning.
While still basking in the glory of this nomination, Emily Bailey's mindset is extreme focus on the ultimate team prize in March.
"I am excited for next year, but right now, that is off my mind," she said. "I am just excited for the rest of this season in high school. These are my last games I will have with this team and I just want us to get as far as we can and make it memorable because we want to make it to the tournament. It will be something big for the community and for the school and it would be really exciting for us."