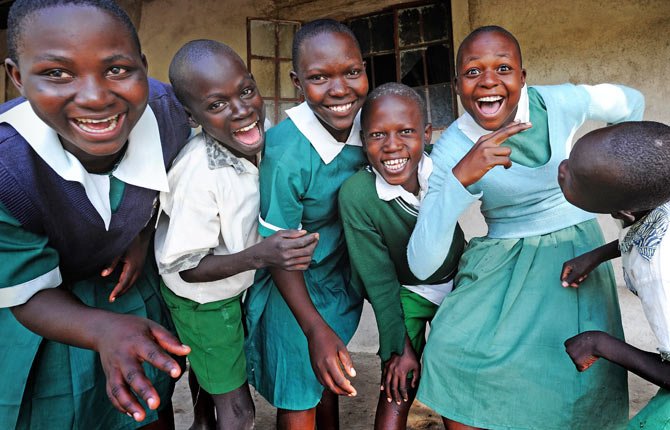 Alexa Boldt spent the last six months of 2013 helping charitable organizations in Kenya communicate with their supporters and the public, then helping middle school students speak without saying a word.
A communications and media student at California Lutheran University, Boldt traveled to Kenya on an adventure that was part mission, part study abroad. She is a 2010 graduate of The Dalles Wahtonka High School.
"My plan was to do this mission, then study," she said.
Her mission aligned closely with her future career interests.
"It could change, but as of now, I'm hoping to work in the media or communications department of an international organization — one that has a great humanitarian cause and needs media to reach people and donors," she said.
During her Kenya stay, Boldt worked on behalf of a trio of such organizations:
• Dare to Dream, which provides microloans for business training;
• Capstone Ministries, which works with street children;
• Suba Environmental Education of Kenya (SEEK), which offers environmental education for the schools in the area and creates demonstration gardens.
She found the mission opportunity through a connection with the founder of Dare to Dream.
The Kenyan population includes 47 tribes. The common languages among the tribes are English and Kiswahili. Boldt had hoped being immersed in the culture would help her gain fluency in the Kiswahili language.
Instead, she spent her first three-and-a-half months with the Luo tribe, native to western Kenya, which prefers to speak and preserve its own language. So, instead, she learned a bit of Luo and a bit of Kiswahili.
"Fortunately, they speak very good English," she said. Boldt also wanted a long exposure to the Kenyans and their culture.
"What I find so valuable about staying in a foreign place for an extended period of time is that the strange things about the culture subside and you start to understand more of the nuances," she said. "I also became better at communicating and in that way could learn even more."
In addition to learning more about the Kenyan culture, she learned more about aid organizations, too.
"Some of the most successful aid organization that I encountered were started and run by Kenyans," she said. "They know the culture … Some people get the perception about foreign aid that you have to come in and help."
Sometimes benevolent aims yield the opposite effect. Boldt used the example of a company that sends shoes to African countries.
"They give them for free because the children don't have shoes," she said. But the countries already have secondhand stores and even shoe manufacturers and the influx of free shoes can deplete the already suffering businesses.
"It can seem like a good thing, but it doesn't help the development of the area to be more self-reliant," Boldt said.
Personally, Boldt said she is reluctant to give material things, but is happy to provide education and kindness.
On Sept. 1, Boldt started the study abroad portion, which required an extended communication project.
Boldt chose to work on a participatory photography project with six seventh grade students, three boys and three girls.
Participatory photography refers to projects where participants "are supported to generate their own photographic work. A facilitator works with a group of people, often marginalized or disadvantaged, and teaches them to use a camera with the aim of supporting them to define, communicate and improve their situation," is the process explanation on www.photovoice.org.
In fact, practitioners of the field, including pioneers Caroline C. Wang and Mary Anne Burris from the University of Michigan, use the term "photovoice" extensively. The duo developed participatory photography methods as a community development tool in Yunnan province, China.
"We were talking and having discussions about things they don't like about their community, things they love, things they want to change, things that make them sad or mad," Boldt said.
From those discussions, the students developed themes for photo essays. Boldt used her own single-lens reflex camera and one borrowed from a fellow student. She sent the students out in pairs to shoot photos. She was always close at hand, but tried to stay out of eyesight to avoid tainting the reactions of photo subjects.
"It gave students the freedom to explore," she said. "Everything was from their true, authentic perspective."
The students chose a variety of themes for their photos. Friends was the most popular, but other themes included environment, hospital and the beach communities where they live.
These communities are fishing villages along Lake Victoria and are often riddled with social problems including prostitution and other forms of transactional sex, HIV/AIDS, child labor and bad sanitation.
"Child labor was a huge one — it was one of the things we discussed because of the photos," Boldt said.
Each of the eight-piece photo sets was presented at a community gallery showing at the SEEK offices.
"Each of the students gave a speech, which was huge," Boldt said.
In a society where the elderly of the community are revered, Boldt said it brought old and young together and allowed the youths to be seen in a positive and respected light.
The students then discussed the photos with the audience.
"The topics weren't so deep, but some of the dialog that happened was," she said.
Boldt had the opportunity to compare her experience with Kenyans to that of an earlier study abroad experience she had in Costa Rica.
"The Costa Ricans are much more western," she said.
In Kenya, polygamy is not uncommon, nor are the tolerance and even acceptance of domestic abuse, witchcraft and traditional medicine. Tribalism is the normal structure. As a young woman who grew up in The Dalles hearing messages of tolerance and acceptance, Boldt said, "Some things were hard to wrap my head around … We were taught to accept, or not even notice the differences among people."
Terrorists were active during Boldt's stay in Kenya. She was in Nairobi just a month after the shopping mall bombing by al-Shabab. While she was in the country she learned of church bombings and grenading of buses.
"I stayed out of danger completely, which was incredible," she said. "I do think I was divinely protected and I was also protected by the people around me like my host family and the friends I had made."