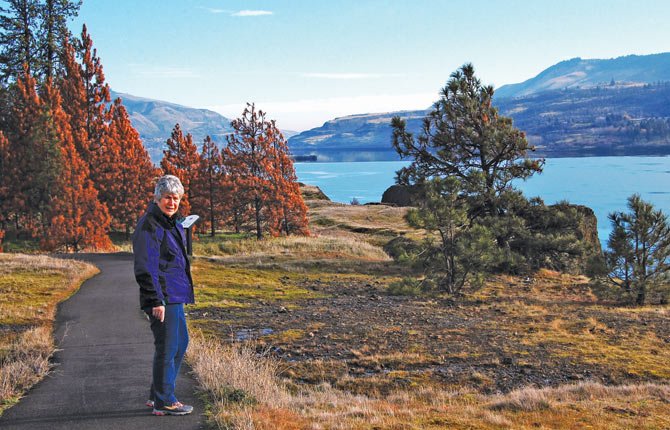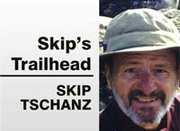 It's been a tough year to have much enthusiasm about going outside.
For us that seldom happens, but this winter the skiing has been awful. On top of that, most days at lower elevations were nothing but dreary and the bald eagles were pretty much a no-show. Last Monday we hit the wall; we had to get out of the house or we would go nuts.
We decided to drive to Catherine Creek, walk the universal access trail and feel the wind in our face. Much to our surprise, Janet found a grass widow in full bloom. Then she found two more, then another one, at last count she had found 33 grass widows in various stages of blooming.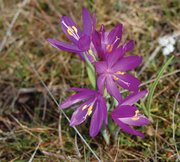 Wow, here it is mid-January and we have wildflowers. Just how insane is that?
That started me thinking about if I could hike just one place that area would be right where we were standing. There are over 30 miles of trails between Coyote Wall and Catherine Creek. By car, the trailhead at Coyote Wall is just 2.5 miles from the trailhead at Catherine Creek. Each system has a crazy spider's web of trails that wander through grass covered hills, Oregon white oak woodlands and to viewpoints that will satisfy the most demanding photographer. Ninety species of wildflowers bloom from late January to mid-June. For the energetic hiker there is also a 4.5 mile trail that connects the two trail systems.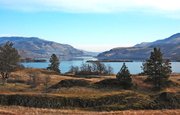 At Catherine Creek you will find two vastly different trail systems. The first is the paved universal access trail that is on the south side of the road. This is the perfect place to hike with small children and adults who need to use a walker. It is impossible to get lost and there are several loop options to make the hike as short or long as you want it to be.
On the north side of the road, the trail follows old jeep tracks and primitive foot paths. Your choices are almost unlimited. You can find nice easy paths that go to the old corrals and the natural arch or you can climb Tracy Hill or take the trail that heads west to Coyote Wall.
At Coyote Wall you will find a new trailhead complete with parking and a new vault toilet. Much of this system has been rebuilt by volunteers. Your options here are almost as great as at Catherine Creek. You can follow the old jeep road up to the fence line and from there head to Catherine Creek or follow the small creek down to a waterfall and perfect place to grab a snack.
Here is an opportunity to see firsthand the raw bones of the gorge and see evidence of how it came to be what we see today. About 17 million years ago, one of the largest-ever basalt flows to occur covered 63,200 sq. miles with basalt. For another 3 million years the basalt just kept coming until most of Oregon and Washington was covered with 41,800 cubic miles of basalt. It is difficult to believe that we all are standing on a layer of basalt that is up to one mile thick.
Jump forward 14 million years and we are nearing the end of the last Ice Age. A tongue of long-vanished glacier blocked the Clark Fork River in Montana. This ice dam created a lake that was 2,000 feet deep, larger than two of today's Great Lakes. When at its largest, this lake held back 500 cubic miles of water. That was enough to float the glacier and unleash the greatest flood the world has ever seen. Ten times the combined water of all the rivers in the world came crashing through the gorge. Everything that was in the glacier, including huge chunks of ice, large boulders and trees came crashing through the gorge at speeds up to 64 mph. If you step off of the trail here you will notice that the ground is littered with football sized chunks of granite. This is what was chipped off the wall of the gorge and added to the mix of the flood. Climb to about 600 feet above the Columbia River and you will notice that you have climbed above the flood and out of the debris zone.
To reach Catherine Creek from The Dalles take, The Dalles Bridge and Washington Highway 14 to Lyle. Cross the Klickitat River and take an immediate right onto Old Highway 8. Follow that road for about 5 miles to the Catherine Creek Trailhead. To go to Coyote Wall just continue to the west for another 2.5 miles.
Take lots of snacks, your camera and a sense of adventure.