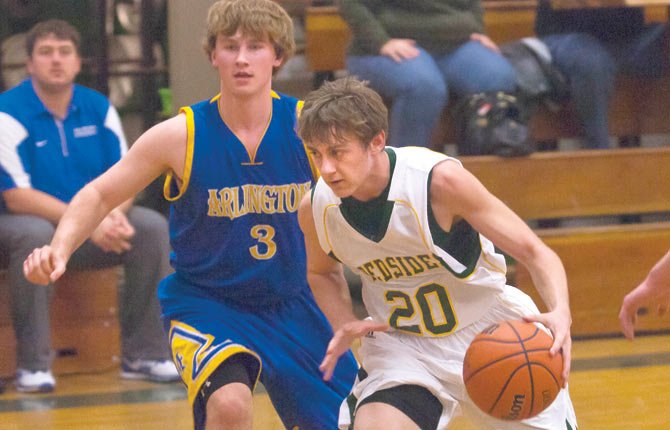 Maupin — Even with his roster physically drained because of a flu bug running through campus, South Wasco County head coach Jim Hull got the most out of his bunch in a 73-43 victory Friday over Arlington in Big Sky boy's hoops play in Maupin.
At the start of the game, Arlington stood tall in a 12-all deadlock through the opening frame.
The Redsides, who shot 5 of 25 from 3-point distance in the opening half, wound up scoring a 17-7 run in the second quarter to lead 29-19 at halftime.
Although not a major concern, senior forward Nathan Duling wants to see his team come out with the same fire in the second half to start games.
"I think it is important for us to come in with an intensity that we haven't found yet," said Duling, who had six points and seven boards. "I still believe in this team. I know we all believe in each other. If we keep working hard, we will find it."
Sickness aside, the Redsides found their stroke in the second stanza using a 19 for 38 shooting effort to post outputs of 26-13 and 18-11 in the final half for their 30-point dominance.
David Ocacio shot 8 of 26 for the game, but still led the Redsides with 25 points and four rebounds.
Loreto Morelli checked in with 10 points, sophomore swingman Brody Myers contributed nine points on 3 of 3 from the floor, Devan Dammann had nine points, four rebounds, and four steals.
For the game, the Redsides shot 28 of 81 from the field, as eight different players hit baskets.
"That is really big for our team to have so many players step in like that and contribute in whatever way they can," Duling added. "When we have that balance, it will help us in these close games and down the season too."
Arlington hit on 16 field goals, Efren Zuniga paced the offense with 11 points and Zack Blinn tacked on 10.
SWC (8-6 overall, 3-2 league) travels to Hood River Tuesday for a 7:30 p.m. tussle against No. 1-ranked Horizon Christian.