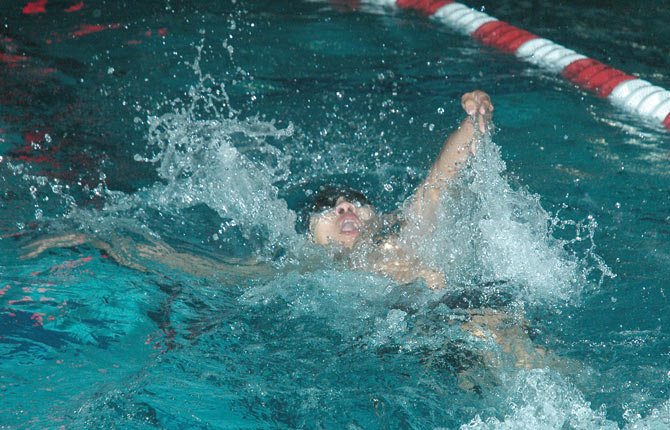 The Dalles Wahtonka swimming team went to work again at the Hood River Invitational with girls placing fourth and boys garnering seventh against some top rivals in the Columbia River Conference at the Hood River Aquatic Center.
Tribe head coach Scott McKay said that the finishes were respectable, but Pendleton and Hood River Valley are still ahead of his team in total time with three weeks to go in the regular season.
"Districts will be a different format with different scoring, so it will be interesting to see if we can catch either one of our two district rivals," McKay said. "There are going to be some interesting races shaping up for districts. And this meet gave a hint of the possibilities."
On the girls' side, the squad notched 248 points for fourth place, as they had five top-4 finishes.
Annessa Clear and Erin Nelson finished second and third, respectively, in the 50-yard freestyle with Clear touching the wall in 27.41 seconds and Nelson a few ticks behind at 27.63.
"They will both need to drop down into the 26's to make it to state, but that is doable for both of them," McKay said of his duo.
Coming off a win last week at the Eagle Indian Invitational, McKay said that junior standout Allie Wood had an off day, but still finished fourth in the 100-yard butterfly with a final tally of 1:13.14.
The 200-yard medley relay squad of Bri Stavaas-Jamack, Nelson, Wood and Clear churned out a fourth-place with a time of 2:10.29.
Wood, Stavaas-Jamack, Clear and Erin Nelson also added a second-place marker in the 200-yard freestyle where they touched the wall in 1:52.11.
Nelson added a 1:00.07 for fifth place in the 100-yard freestyle, Weeks tacked on a 1:17.55 for sixth in the 100-yard butterfly and Molly Nelson enjoyed a sixth-place output of 1:12.92 in the 100-yard backstroke.
"It was also nice to see our newer swimmers progressing with the freshmen Hannah Weeks, Victoria Little, Hannah Mazeski, Maya Hernandez and Emily Peterson, as well as seniors Danielle Perry," McKay said.
Pendleton won this event with 353 points, and Hood River carded 282 points for second place.
St. Mary's Academy (256), TDW (248), Gresham (231), Reynolds (191) and La Grande (174) rounded out the top-7 in the standings. Hermiston placed ninth with 67 points.
"The girls did well finishing fourth," McKay said. "Unfortunately, first and second were Pendleton and Hood River, both in our conference."
Fielding a group of six boys, McKay said he was happy to see them place seventh with 141 points.
Gresham lapped the field of 10 teams with 413.5 points, Pendleton added 376 points for second place, and La Grande tallied third with 305.
Hood River Valley (227.5), North Marion (188), Reynolds (143), TDW (141), Baker (129), Molalla (50) and Hermiston (34) rounded out the 10-team field.
Andrew Clifford finished third in the 200-yard individual medley, where he stopped the watch in 2:21.20. Even though Clifford competed in the medley, McKay foresees the sophomore swimming in the 200-yard freestyle, where he will be the underdog, but competitive for the top spot in the 200 freestyle.
Ming Ou finished third in the 50-yard freestyle with a time of 24.36, and he added a bronze medal in the 100-yard butterfly at 1:02.12.
"He will be competitive in both of those events at districts, McKay said of Ou.
The relay team of Christian Benson, Clifford, Ou and Max McClennan matched wits for the 200-yard medley and posted fifth place in 2:00.90, and the same group tacked on another fifth in the 200-yard freestyle with a 1:44.62.
Benson had a time of 1:09.11 in the 100-yard backstroke, Clifford added a 1:14.70 in the 100-yard breaststroke, and the duo of Denis Kazakov (31.26) and Rashed Al-Qarra (1:08.51) placed well in the 50-yard freestyle in their first meet.
"Overall, times were slower, but that has been the norm after our home meet," McKay said.
TDW has another event to attend at 10 a.m. Saturday at La Grande, before districts on Feb. 15.
"So, we have three weeks to make the difference," McKay said. "We will be in the mix for several races at districts. In four weeks, we will see if the effort pays off."