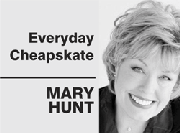 I am so excited. Do you recall me telling you what a lousy cook my husband is? Well, thanks to today's first tipster, he will not have to deal with sizzling skillets and burned grilled cheese ever again while I'm away traveling.
TOASTER BAGS. I just wanted to let you know that in the bread aisle of some grocery stores, as well as online (everydaycheapskate.com
/toasterbag), you can buy toaster bags. You butter your bread, add the cheese and place in the bag and put it into the toaster (or toaster oven). The cheese is melted completely and the bread is crunchy. You can wash and re-use the bags. This is great for people who need help with cooking. — Jeannie, email
PRESCRIPTION BOTTLE RECYCLING. Many of us collect empty prescription bottles in large amounts. But even after using them in all of your creative suggestions, we still have more! Many cities have recycle programs that take plastic items, such as pill bottles, provided they are marked with a number anywhere from "1" up to "7." These numbers are usually found in a triangle on the bottom of the item, or on the underside of the lid. Be sure to remove ALL personal identification from medicine bottles before you recycle them. Most labels can be soaked loose in warm water and quickly scraped off with the back edge of a dinner knife. To recycle, they don't have to be glue-free, just label-free for your security. Call your City Recycle Center or City Office for information about recycling in you area. I enjoy your postings and read them daily. — Dr. Helen E. Hughes, R.N., N.M.
WORTH REPEATING. I am building my wardrobe in prep for a total-hip replacement next week. My daughter purchased a heavenly robe in my favorite shade of blue from her consignment shop. Sadly, it's just a bit snug. My granddaughter joked, "Well, now we've got a Snuggie!" She and my son-in-law put it on me backward and we were all surprised at the result. Perfect for sitting in bed or a chair, pockets perfectly placed and roomy enough to hold remotes, and so forth. And I will be able to get up and walk away without getting my feet tangled in the chair! How's that for a true family of cheapskates?! I thought it was "Worth Repeating" (which just happens to be the name of the consignment shop.) I'm so glad I found Everyday Cheapskate. You make me smile! — Carol R., email
POST IT TO BE CERTAIN. We have two kids, ages 4 and 2, and one is asthmatic. This means several nights over the winter are guaranteed to mean both parents getting up several times to administer medication. It's exhausting and it's really easy to overdose little ones by mistake. We always keep a pad of Post-Its in the bathroom and a pen. As we medicate the first child, we pull out a Post-It and write down which medication was given to which child at what time and in what dose. We then stick the Post-It to the mirror. The next parent up then knows if they can re-medicate or if they need to wait, without waking a sleeping spouse. — Jennie B., Cambridge, UK
Would you like to send a tip to Mary? You can email her at mary@everyday
cheapskate.com, or write to Everyday Cheapskate, P.O. Box 2099, Cypress, CA 90630.