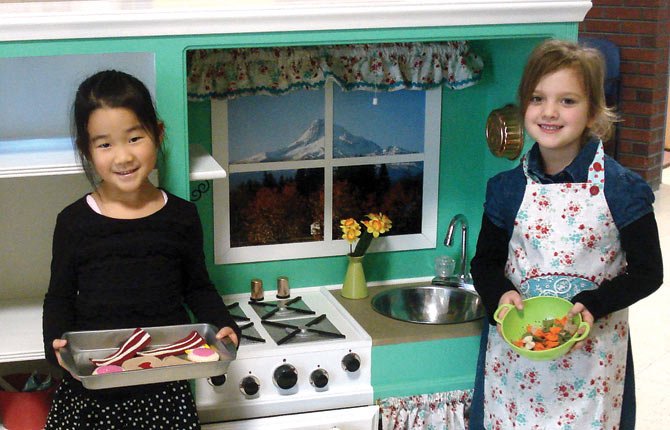 Want to do lunch at Google, enjoy a weekend at the beach, take a scenic flight or bring home a new big screen TV just in time for the Super Bowl?
Those items and more are up for auction at the 39th Annual St. Mary's Academy Super Auction, set for Saturday, Feb. 1. Doors open at 5 p.m. for the 21-and-over event, being held at the school, at 1112 Cherry Heights Rd.
The theme of the auction is "A Splash of Cherry," and the gym will be decorated in color themes reminiscent of a cherry orchard in bloom, said St. Mary's Principal Kim Koch.
The super auction includes a live auction of over 40 items, featuring motoring around at the Oregon Raceway Park in Grass Valley, and the ever-popular hosted dinners, with themes including Italian, Mediterranean and American fare.
New this year is a hosted fishing trip for four, followed by a barbecue for eight at an exclusive venue: the rooftop of Dean Dollarhide State Farm.
In addition to the live auction, up to 200 silent auction items, available at a variety of price points, will be up for bid.
St. Mary's parent Addie Case is chairing the auction, and said, "I think the exciting part personally is seeing all the donations coming in from the families and seeing them, in turn, going out with the families. I love that excitement and exchange, all for the good of the children."
She added, "It's amazing how generous people are as a community, for our kids, and I think its amazing to see no matter what you ask for, they accept it and they try to do what they can."
"The live items look amazing," she said. "There's trips and fun party packages. I think it's going to be really fun. It's so fun to see what people bid on in the live auction. I think it's intriguing." Case lauded the hard work of staff at the school. "They just do such a nice job, we're really lucky to have the staff we have. They spend countless hours on this."
The super auction buffet dinner is being catered by Jim Olheiser of Cowboy's Catering, and features entrees of pork tenderloin and coconut shrimp skewers, asparagus spears, rice pilaf, a variety of cold salads and homemade chili. Dessert will also be provided.
Marcus Morgan of Morgan Auctioneers will again be back to helm the live auction, which will conclude with a drawing to announce the winner of a $2,500 trip to Washington, D.C., famous for its cherry blossoms. Raffle tickets for the trip are still available and cost $5. Tickets are sold by any St. Mary's family, or at the school, at 541-296-6004. The planned trip can be exchanged for one of the winner's choice.
Tickets for the super auction are $40 apiece, and the event is slated to sell out this year, Koch said.
"There are only 50 seats left," she said Tuesday morning. She encouraged anyone wishing to attend to buy their tickets before the end of the week.
But if they miss out on the super auction, they can go to this Friday's St. Mary's Family Auction and Carnival, which will be held at the school. Doors open at 5:30 p.m. and admission is free. Tickets are sold at the door for dinner and carnival game participation.
New this year is a putt-putt golf course, and it joins perennial favorites including a fishing wall, a balloon man, cupcake walk and basketball throw.
Cotton candy is available, as is a decadent sundae bar, loaded with toppings.
The dinner menu includes hamburgers, hotdogs and homemade chili.