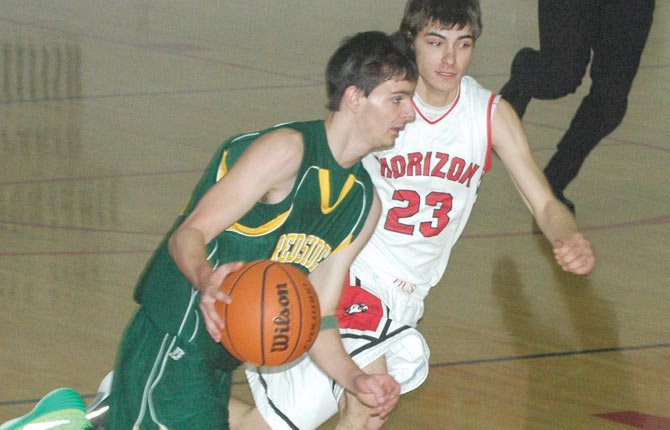 While the South Wasco County Redsides are still dealing with illness that has zapped its starting core, head coach Jim Hull has needed some significant contributions from some underclassmen to keep things on an upward trend.
Some of those names include Brody Myers, Ellis Rager and Ty Herlocker.
Another one is Devan Dammann.
Dammann scored eight points, dished off two assists and pulled down four rebounds in the Redsides' 82-51 loss Tuesday to the No. 1-ranked Horizon Christian Hawks.
"Devan is a gym rat. He is one of those guys that sees things on TV and he wants to do them in practices over and over and over again," Hull said. "With the injury to Colton (Nannini), he has stepped right in and he has done a lot of things well for us. I think he is one of those players, who once he gets more playing time, he gets stronger on the court."
Hull said the depth part has given SWC a group of 10 options to mix and match on any given moment to give his team a boost.
There have been plenty of opportunities thus far with six wins coming in blowout fashion.
"It is nice to see them growing," Hull said of his young bunch. "Hopefully, they continue to grow. Devan, Brody and some of the other young guys have just tapped their potential. We are hoping that they continue to improve so much to the level that they can be huge for us down the stretch and in districts."
In Tuesday's 31-point loss, the Redsides kept pace in the opening half with 6 of 12 shooting from the 3-point land.
Even with those numbers, the Hawks (14-1 overall, 6-0 league), who have won 14 games in a row, had spurts of 25-19 and 15-12 for a 40-31 lead at the break.
However, as the second half progressed, Horizon Christian amped up the defense, as a 51-36 lead with three minutes and 42 seconds left in the third quarter, swelled to 57-37 on a 6-1 run.
In the fourth quarter, Jared Davis busted loose for 13 points on five layups and 5 of 6 free throws as part of a 25-14 outburst to seal the win.
The Hawks connected on 17 of 27 shots in the final 16 minutes for 62 percent.
Davis led all scorers with 30 points, and teammates Mason Bloomster and Matt Totaro kicked in 14 points apiece. All told, Horizon had eight different players hit field goals.
"We came out in the second half and made some minor adjustments with our flex offense that proved well for us," said Horizon coach Darrin Lingel. "Jared got some steals early and got some layups and that kind of changed the momentum of the second half. Once we got that momentum back on our side, we were able to do some things."
For the Redsides, Nathan Duling paced the offense with 16 points, and David Ocacio tallied 13 points.
Travis Hayes and Dammann notched eight points, and Loreto Morelli was good for six points on 3 for 11 shooting.
All told, SWC connected on 18 of 54 from the floor, including a 7 for 24 split from 3-point range. The Redsides were out-rebounded 34-10 for the game and committed 18 turnovers to Horizon's 11.
Hull is relying on the first half, as some of the potential his team can show once everyone gets healthier and closer to full strength.
If a few more shots and bounces go the Redsides' way, the game could have been closer.
"It gives us a little bit of a blueprint and we will start working on a lot of our game as the season goes along," Hull concluded. "This game gives us a few ideas of what we want to implement the next time around on our own court. That is something we talk about all year. We want to get better each game and I think, in pieces, we did get better tonight, especially in the first half."
SWC (8-7, 3-3) hits the road for a league tussle against second-place Dufur (9-4, 4-2) at 7:30 p.m. Friday.