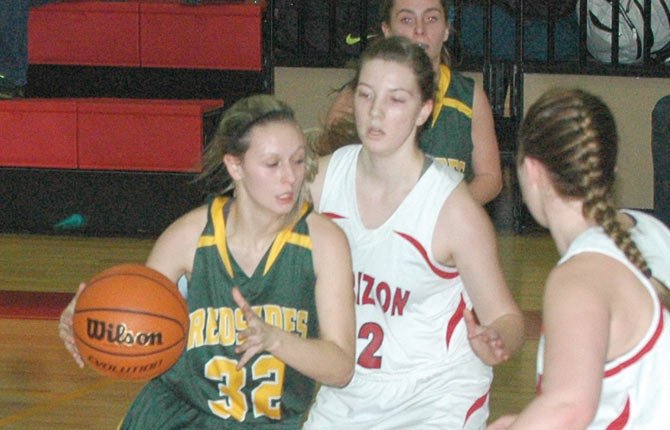 With an offense that averages in the upper 30s on the season, the South Wasco County defense is relied upon to shut down the opposition.
Entering Tuesday's matchup, the Lady Redsides had gone 5-0 when allowing less than 30 points.
Make it 6-0.
The Lady Redsides put forth a season-best performance, allowing 21 points on eight field goals in a 47-21 victory in Big Sky Conference girl's hoops play in Hood River.
"At times this year, our defense has been very good. That area has been our strength," said SWC head coach Ron Townsend. "When we get the right girls in the right spots, I think we are a good defensive team. We have been much more consistent on that end of the floor. I see progress in that."
The Hawks mustered just three baskets in the opening stanza, and then tacked on two more apiece in the final two quarters of play for their entire output.
With the defense in control, creating transition chances and pulling down rebounds, the Redsides' senior duo of Joy Kelly and Zoe Morelli combined for 24 points and both Peggy Espeland and Molly Foreaker uncorked seven points each on three field goals.
SWC jumpstarted its onslaught in the opening quarter of play with a 10-5 spurt, as Foreaker swished home four points and Espeland, Kelly and Morelli added a basket each.
Up 19-7 with less than two minutes in the half, Kelly scored a layup, and after a free throw by Horizon's Trista Hicks, who led the Hawks with 13 points, Morelli retrieved a lead pass from Roxanne O'Neal for a layup to cap the 13-4 output for a 23-9 halftime lead.
The Redsides padded their advantage to 35-15 with a 12-6 rally in the third frame, with Morelli pacing the offense on three baskets.
In a span of three minutes in the fourth, from 4:08 to 1:19, the Redsides padded their lead with a 12-0 run started by a 3-pointer from O'Neal and capped by consecutive baskets from Lisa McNamee and Foreaker to make it 47-19.
After getting past two teams lower in the standings, the Redsides next prepare for a tough part of the schedule where they iron out a few details to make a district playoff run.

"There is still a lot to improve on," Morelli said. "I think we know where we need to be, just there is a few tweaks that we need to work on and perfect in practice and in our upcoming games. I am really confident that we can start playing our best real soon. If we can get those things taken care of, we can go in the right direction."
SWC (7-9 overall, 3-3 league) currently stands in second place in the Big Sky West Division.
After Friday's 6 p.m. showdown against Dufur, the Redsides host fourth-place Central Christian at 4 p.m. Saturday.