You show up at the Olympics, and you're no longer you; you're an American Olympian. You're part of this greater whole, and the individual doesn't matter.
— Shaun White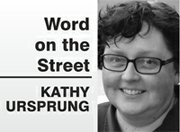 Part of the circle: Jeannie and Dan Carver may still be home on Imperial Ranch when the winter Olympic games start in Sochi next month, but a part of them and their ranch will be making history in Russia as their wool dresses the athletes in their uniform sweaters and mittens.
A preview of that event is set for this Thursday morning, Jan. 23, on NBC's "Today Show," where David Lauren and Team USA athletes will unveil the opening ceremony sweaters, made with Imperial's Erin Yarn. This story of fiber to final product is an all-American one.

"We have worked incredibly hard as a company to go across America to find the best partners to help us produce the Olympic uniforms at the highest quality for the best athletes in the world," said David Lauren, Ralph Lauren Corporation's executive vice president of advertising, marketing and corporate communications.
More than 40 vendors, including Imperial Ranch, were involved in creating the athletes' ensembles, which include a navy peacoat with a red stripe, a classic ski sweater with a reindeer motif and a hand-sewn American flag, and a tasseled chunky-knit hat.
Get involved downtown: The Dalles Main Street wants everyone to know that meetings of The Dalles Main Street committees are open to the public.
Committee meetings this month include the Business Committee today at 3 p.m. at the Whole Ball of Yarn and the Design Committee, Thursday, Jan. 23, at 6 p.m., at Westwind Frame and Gallery.
Do you have an item for Word on the Street? Email kursprung@thedalleschro
nicle.com or call 541-506-4601.