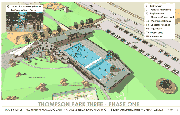 A permit for the new 50-meter swimming pool was approved by The Dalles City Planning Commission Jan. 16, but not before a neighbor promised to see the project shut down if any rock blasting occurred during construction.
Lenore Clifford, who said she is the closest neighbor to the Thompson Park property, said if blasting was attempted, she would deplete all her resources to stop it.
Scott Green, executive director of the Northern Wasco County Parks & Recreation District, said, "We don't anticipate any blasting at all."
The new pool is going in the same location as the existing one, but it will be one lane wider – making it eligible to host regional and state swim meets — so some additional earth removal will be required, Green said.
"We may be using a jackhammer," he said. "There is a lot of basalt and I won't deny we may have to jackhammer some rocks away, but no blasting is planned."
Demolition will start in May or June and a 10-month construction period is anticipated for the $3.7 million facility. By next March or April, the contractor will finish and staff will have two months to move in and test the pool before it opens.
Clifford said PUD pile drivers were once used in the area and her house shook so much her chimney was damaged and things fell off her shelves.
"If my house even trembles, I'm going to get an injunction. I'm going to stop production if I can," she said. She noted she was 86, and said, "It's frightening and I'm too old and incapacitated to put up with it anymore."
She stressed she wasn't against the pool itself.
Clifford said she also worried about transient traffic on the cliff at the southern end of Thompson Park. She asked if the cliff was going to be fenced and Green said no. He said he's been working with the police department and is looking at installing signage to make that area a no trespassing area. If people trespass, Green and one other parks employee have a ticket book to cite them, he said.
Green said moving the parks district offices to the pool will help deter any criminal activity at Thompson Park. Office windows will look directly out at the skate park, for example.
Removing the shelter that existed at the skate park reduced problems "tremendously," he said.
"They'll move on," he said. "If they don't, we'll be able to see it, or record it."
Citizen John Nelson said he voted for the pool all three times it was on the ballot. "We'll have a very good looking pool complex. Now we have something I think is going to be very valuable for the kids and their health."
A key feature will be a new slide, which will be up to 20 feet tall and visible from Interstate 84 to draw in customers.
A new splash pad will be built and it will be free to use, and will also be away from the parking lot, "so strangers can't park there and watch," Green said.
The splash pad will be operational from March to early November.
"It's a tremendous and free value-added experience," he said of the $200,000 grant-funded splash pad.
Pool architect Mark Seder said the parks district is "not only saving a lease payment downtown, we have control of the facility, and the skate park they can see directly."
The new pool will have shaded spectator seating and a concession stand open both to the paid-entry pool deck, and also to the free splash area. Locker rooms will be next to the concession. The second story of the building will house parks offices.
An awning on the building will also provide shading. There will also be restrooms that will be open year-round, Green said.
The pool will not only be a 50 meter pool, which is the same length as an Olympic competition pool, but will also have a moveable bulkhead — with starting blocks — so the pool can be configured as a 25-yard pool or a 25-meter pool.
"It makes two pools out of one," Green said.
The bulkhead will make the pool much more versatile, allowing lap swim and swim lessons to occur simultaneously, Green said. The pool offers 400 swim lessons a summer and they always fill up. Now, they will be able to offer more lessons.
The pool will also start offering water polo and kayak safety and stand-up paddle board classes, and will have a climbing wall.
Seder said Thompson Park was "a diamond in the rough. I think having the pool and new facility and having Scott and his staff down there all the time, it's going to be a night and day improvement" in terms of transient and unwanted behavior.